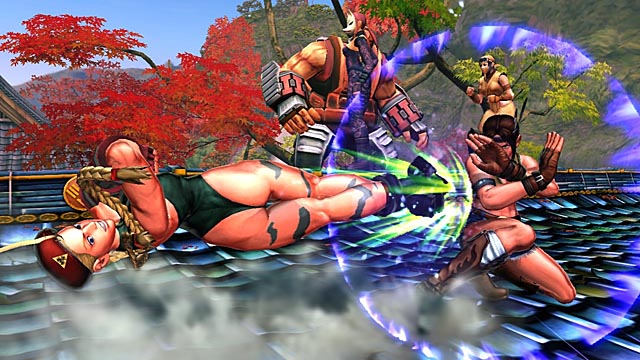 Sometimes, it's hard to imagine a time when there weren't crossover fighting games. A time when lunch breaks were spent arguing the hypothetical scenarios like "who would win in a fight – Captain America or Guile?" With every match-up from "Mortal Kombat vs DC Universe" to "Sonic Vs Mario" covered, it's baffling that it took this long to pit two of the Nineties' biggest fighting franchises against each other, mano-a-mano. Now, Street Fighter X Tekken isn't the first time that Ryu and Kazuya have thrown down, but oddly enough it is the first time they've done so in an actual fighting game.
Street Fighter X Tekken was developed by Capcom, which really shows through in the fight system. The controls and setup attempt to split the difference between classic Street Fighter combos and Tekken's one-and-done Tag system. Although the nuts, bolts and move-sets should be relatively familiar to both Tekken and Street Fighter fans, the camera, style, pace and combo timing work together to make SFXT seem more like a Turbo Capcom fighter. Lucky for wayward Namco brawlers and newcomers alike, there is a fairly in-depth overall tutorial and individual tutorials for each character, so getting a strong handle of the new system is only an hour or so of extra effort.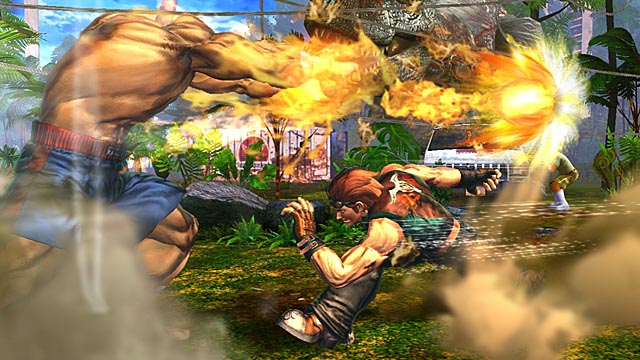 The combat feels solid. The pace is a little faster than Street Fighter IV, but not as spastic as a Vs title. The game incorporates a juggling system similar to Tekken which may be a little tougher to execute than the heavily assisted air combos of Marvel vs Capcom 3, but when you pull off a steady aerial combo, it feels great. The Tag system allows your tag-team character to be controlled by a second player, allowing for 4 player matches and Cross Assault moves, where both players fight simultaneously for a short period of time. There is also a new "gem" system, which works as an active handicap for more strategic players. Gems can be set prior to a match, and are activated by performing certain types of combos. Once activated, the gems have effects like auto-blocking throws or increased damage from launcher attacks, but only for a brief period. It rarely steers a match into unfair territory, but if used wisely, it can turn the tides in your favor.
One of SFXT's coolest new features can also be one of its most annoying. While playing arcade mode, online players looking for a match-up can interrupt your game and challenge you, as if you were playing in an actual arcade. This is a really great feature, and certainly beats sitting in a lobby waiting for a fight to start, but with the sheer number of players at launch, it translates to a challenge every time an offline fight begins. You choose your characters, you sit through a load screen, "HERE COMES A NEW CHALLENGER!" You fight that guy, you sit through the same load screen, "HERE COMES A NEW CHALLENGER!" Over and over, without end, amen. In order to get an offline arcade playthrough in you'll have to turn it off. It isn't the most compelling feature at launch, but in the future, when 90% of gamers will have shelved this game for whatever new hotness comes out next week, this will be a fantastic way for dedicated fans to interact without having to actively seek each other out.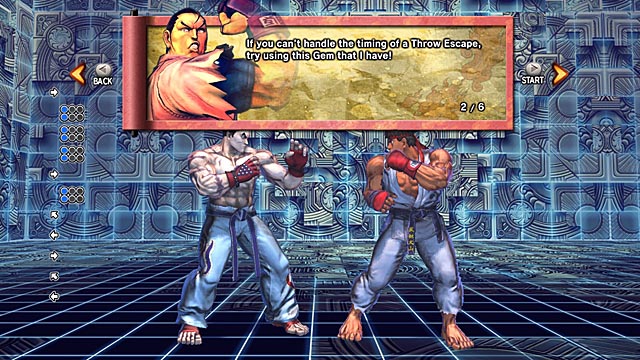 Once an online bout has started, the fight is silky smooth. The frame rate rarely drops, and I never suffered from lag issues. The sound effects would occasionally drop out, which might effect some players' timing, but I'd greatly prefer as split-second loss of sound to slow-down.
DLC naysayers may want to take note that Capcom has maintained their hard line on offering DLC.  Along with downloadable character color palettes and Cross Art Gems, there are 12 DLC characters that will be released on consoles to coincide with the Vita release. These characters will come already unlocked on that version, so Vita owners might want to reconsider a console purchase in favor of the heftier vita package. To further confuse purchasers, the XBOX 360 version is missing 5 fighters, exclusive to Sony systems, as well as having the 4 player online tag mode deactivated. Its a hard sell with so much missing, but if you're planning on having your buddies over and throwing down on the couch, the system is enough fun that I can recommend it. Just, maybe not for full price.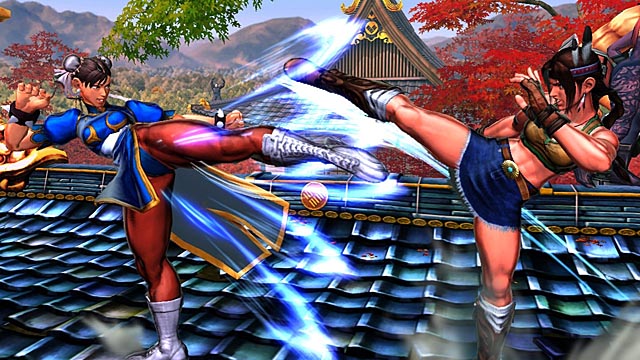 Street Fighter X Tekken is a deep, solid brawler that I can imagine we'll be seeing more of in the tournament circuit. In classic Capcom form, the combat is easy to pick up, but will take a lifetime to master. If you're looking for a new system to level the field between you and your friend that keeps kicking your butt in UMvC3, this might be a good place to look. There is a lot of variety in the different fighting styles, and enough modes to keep fans occupied, at least until Tekken X Street Fighter drops sometime in the next decade.