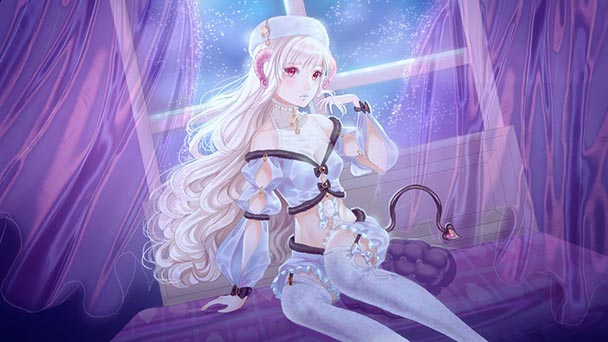 Like many situation comedies, Strawberry Vinegar's tranquil suburban setting offers a context for the peculiar. The tale's opening moments introduces readers to Sakuraba Rie, an articulate school girl with little interest in maintaining a social circle at her school. Instead, Rie shares a passion for culinary creation with her perpetually apron-clad father, Kazuki- an apologetic stay-at-home type. Perhaps some of Rie's social issues might stem from her mother's career as an actress. Instead of acknowledging young Rie as an individual, most of her peers just inundate her with questions about her semi-famous, fashion conscious mom.
While the premise is intriguing, there's not enough conflict to carry a six to eight hour visual novel. But that's where the candidly named Licia Dia Ivlis comes in. Encroaching into the quint context with the declaration, "Feed me, or I'll reap your soul", the precocious, curly-haired demon offers a food-based Faustian deal. If Rie can manage to concoct a week's worth of delectable dishes, Licia will let her go.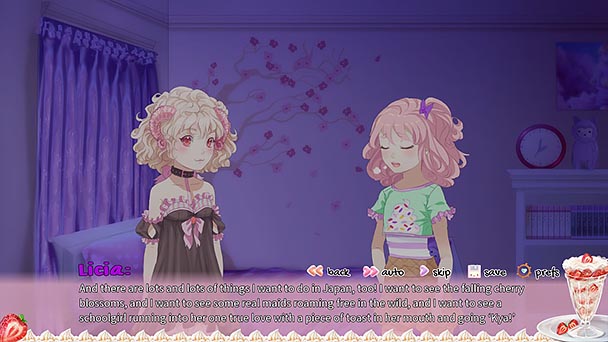 Deals with the devil work best when the pact isn't over duplicitous and when the wicked one is a charmer. Fortunately, that's the case with Licia, who shirks the stereotypical demonic demeanor, acting more like a naïve tourist. Rie's parents seem ecstatic that their consistently solitary daughter has a visiting friend. They're so pleased by the situation that the assume Licia's, ram-like horns are swaying tail are just the latest pre-teen fashion trend.
Despite a mundane first half-hour, once Licia enters the picture, Strawberry Vinegar provides a persistently procession of laughs. Using the 'fish out of water' premise, Lucia's perception of Japan stems from years of watching anime and manga, supporting plenty of comical set-ups as Rie's dismisses stereotype. For otaku, humor is also rooted in true tradition, as when Rie's family serves up natto as an introductory preview of J-cuisine.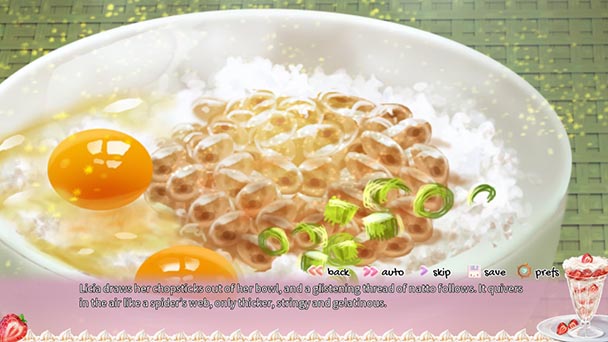 Beyond the anticipated compendium of mouthwatering Japanese dishes, Vinegar tempts with another tantalizing flavor, adding a measured taste of yuri spice into the mix. Given Rie's age, developer ebi-hime, (Asphyxia and The Way We All Go) keeps it demure, with the game's branching choices often suggesting, then admonishing, the more suggestive player selections. And while there's plenty of indication found in the novel's overall narrative, forks aren't always foreshadowed as well. In execution, this means you won't have direct control over the affinity level between Vinegar's two leads, which shouldn't be an issue for readers eager to see all of the novel's six endings.
Pleasingly, Strawberry Vinegar tracks each unlocked ending and hosts a gallery of CGs. But the novel's most valuable amenity is the ability to automatically advance text (with adjustable speed) and backtrack through conversations accidently skipped by an errant button press. Additionally, an ample collection of 72 save slots ensure there's sufficient checkpointing to work toward seeing the entirety of Vinegar.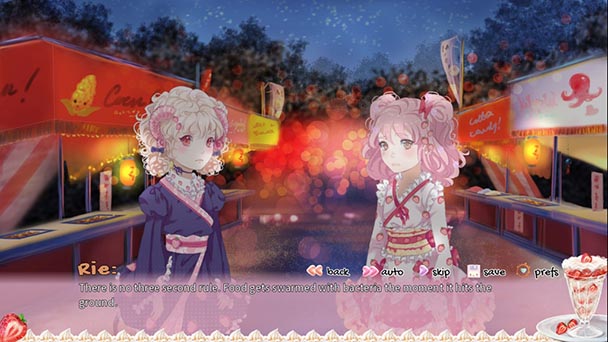 Visually, the work pulls from the culinary spectrum, with hair colors recalling the hue of strawberry icing and menu screens adorned with takoyaki. Although protagonists don't exhibit much animation, the level of detail in the artwork is impressive, whether it's the depiction of a flawlessly battered piece of shrimp tempura or Licia's frilly yukata. Unsurprisingly, the game's strawberry's seemed modeled after Sembikiya's gifting fruits. Sonically, the work's music pieces straddles the space between frothy and satiating, with Yuzuki delivering a number of upbeat, cheerful selections steeped in piano, keyboard and guitar. Fittingly, each selection is named after a different J-dish.
While rose-drenched screenshots might make Strawberry Vinegar seem like a puerile riff on Strawberry Shortcake, get past the initial onslaught of pink and the novel provides a rollicking good time. Unlike a number of VNs where focus is split among an extensive cast, a small number of characters permits ebi-hime's title to concentrate on the interplay between characters, resulting in a number of riotous moments.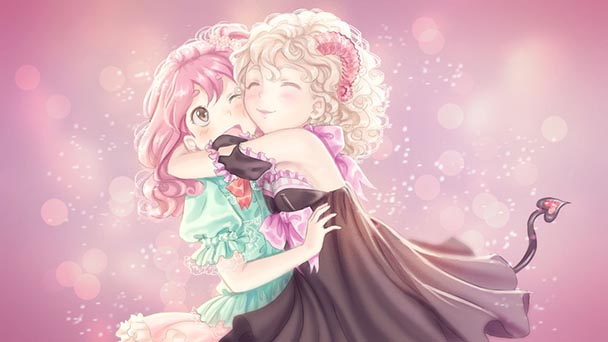 Strawberry Vinegar was played on the PC with review code provided by the publisher.
Strawberry Vinegar
Platform:
PC
Developer:
ebi-hime
Publisher:
 Sekai Project
Release date:
January 5th, 2016
Price:
$9.99 via
Steam
Review Overview
Summary : Strawberry Vinegar's color might signal a sweet concoction, but there's more than enough acerbic humor to satisfy most tastes.