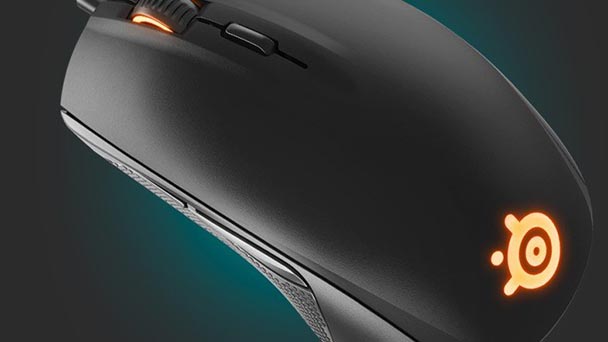 The quest to find the ideal computer mouse can often seem like a near-insurmountable task. With differences in performance, ergonomics, aesthetics, weight, size, and price, the market is filled with scores of subtle variations, making that perfect amalgam of attributes remarkably challenging to find. With the release of Steelseries' Rival 100, the Copenhagen-based peripheral manufacturer aims for the oft-elusive balance between performance and price. Adeptly, the Rival hits that target, while exhibiting a level of precision that's quite commendable.
Given the Rival's forty-dollar MSRP, purchasers shouldn't expect the extravagant luxuries that are frequently flaunted by premium mice. Once the device's protective housing is opened, all you'll find is the mouse along with a single-page quick reference guide. So if you're the type of user that likes to micro-manage the weight of their device or use software to offset the effects of in-game gun recoil, you might want to look elsewhere.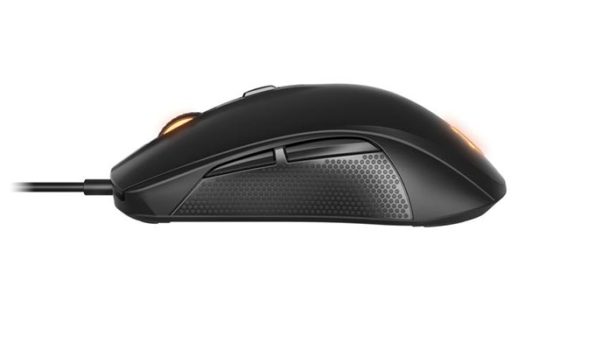 That said, the Rival 100 certainly doesn't lack basic customizability. Both PC and Mac owners can download the third iteration of the Steelseries Engine, which allows for performance tweaking. A set of dials permit the adjustment of level of precision for the Rival's optical sensor, allowing users to set the counts per Inch from 250 to 4000 across eight different increments. Enigmatically, the second adjustor extends the same range, and it's not immediately clear why the Rival needs two separate selections.
Beyond adjusting the sensitivity of the Rival 100, users can able remap each of the mouse's six buttons. For users who like to use macros, the app also includes the ability to create macros that can auto-load before a game is launched. Pleasingly, the process of creating these shortcuts is simple, with little of the jank divulged by the makeshift programs that come bundled with many budget mice. Additional adjustment allows users to tweak acceleration and deceleration speeds, angle snapping, and polling rate- all of which given visualization via attractive graphs and gauges.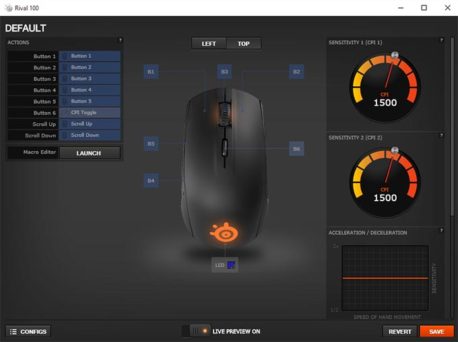 Another nice feature is the ability to change the color of the lighting in the scroll wheel and top logo, selecting a hue from the full RGB set. While the illumination is subtle and appears a bit washed out in sunlight, we'll gladly trade a muted glow for a diminished power draw. And for those who prefer stealth or spectacle, there are options to disable LED lighting or even evoke cycle coloring through spans of the spectrum. Via the Steelseries Engine, players can even have the mouse change color, to signal say ability cooldowns in DOTA 2 or headshots in Counter-Strike: Global Offensive. Tragically, the app only supports a trio of games at present.
The Rival 100 responded admirably across a series of playtests, effortless living up to its advertising assertions. With CS:Go, we set the CPI to 1000 (that setting is considered the median for pro players) and found tracking to be consistently flawless. Essentially, the SDNS-3059-SS sensor performed just as well as optical units found in mice within the next price strata. Steadily responsive, we were able to quickly scan our field of vision for enemies, before accurately aiming the cross-hair, and delivering a jitter-free the killing blow.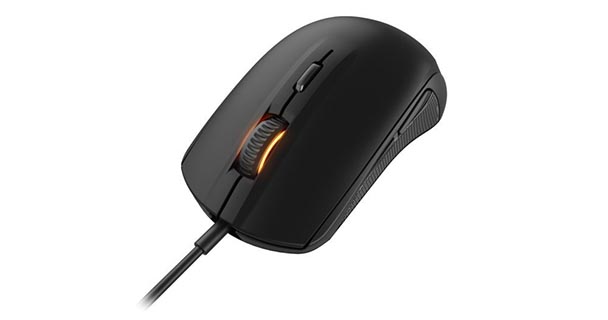 Whereas CS:GO necessitates high sensitivity, was players make quick movements to assess areas for threats, sniping is a low sensitivity activity- typically demanding precision via diminutive mouse movements. With Sniper Elite 3, we dialed down the CPI to 250, endowing us with greater exactitude as we pursued long-range headshots. Here, the Rival 100 performed just as splendidly- providing top-notch stability, control, and accuracy. When pitting against our mischief of mice in RTS' like StarCraft II: Wings of Liberty or even maneuvering across Excel cells, the Rival largely held its own against our cherished Cooler Master Spawn, Logitech G302 Daedalus Prime, and Corsair Vengeance M65, delivering equivalent levels of performance.
Of course, ergonomically, there are differences. We preferred the substantial braided cord of the G302, over the Rival's thin, plastic connector, which was prone to commute-induced entanglements. For players who obsess over button latency, the CM Spawn trumped Steelseries thanks to a shorter throw and springier action. Given that the right and left buttons extend from the mouse's main body, click responsiveness is best on the edges and mushy as players move their fingers down. Another subjective element is the Rival's size; while fairly long, the mouse is a bit thin and with the tapered midsection was a bit too narrow for a comfortable claw-grip.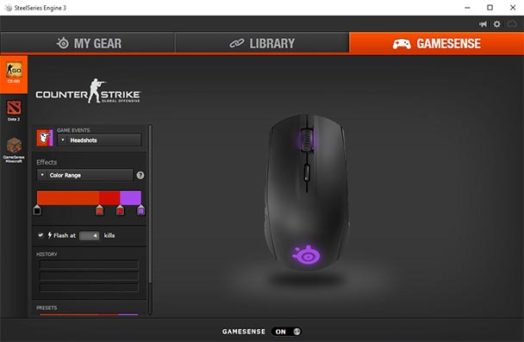 Other design decisions are bound to be lesser contentious. The Rival's textured peripheries are agreeably, extending a bit of grip during protracted play sessions. Likewise, the matte finish is praiseworthy, allowing only the oiliest digits to leave a lasting reminder. While the two buttons on the left side eliminate the Steelseries from southpaw use, the size and placement of the keys inspire intuitive use. You won't have to take your eyes off the screen to find each button.
In the forty dollar-and-under market, the Steelseries Rival 100 earns an exceedingly close second place after the Logitech G302 Daedalus Prime. For gamers unwilling to spend more on a mouse than a new release game, the Rival truly lives up to its moniker, making it one fierce competitor, indeed. See it on sale, and take this capable challenger home.
The Steelseries Rival 100 was provided by the manufacturer for review.
Tech Specs
Material: Soft Touch black, Glossy Colors
Ergonomic: Right-Handed
Grip Style: Claw or Finger-tip
Number of Buttons: 6
Switches: Rated for 30 Million Clicks
Weight: 120 g, 0.264 lbs
Height: 120.6 mm, 4.75 in
Width: 67.13 mm, 2.64 in
Cable Length: 1.8 m, 6 ft
Sensor Name: SDNS-3059-SS
Sensor Type: Optical
CPI: Increments from 1 to 4000
IPS: 140
Acceleration: 20 gs
Polling Rate: 1 ms
Tracking Accuracy: 1:1
Review Overview
Summary : From third and first-person shooters, real-time strategy titles, and office work, The Steelseries Rival 100 is an all-around consistent performer, demonstrating a commendable price-to-performance ratio.