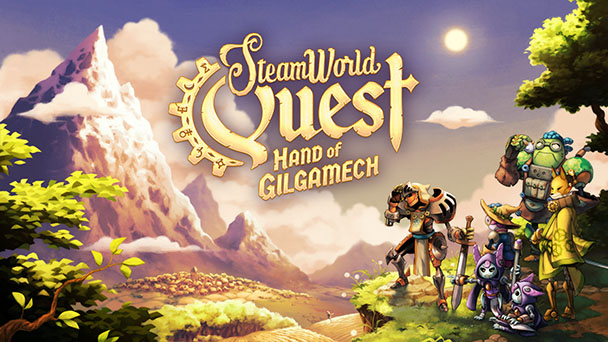 For most developers, sequels are an indispensable part of the business, with follow-ups crafted as long as they are profitable. Only when commercial interest wanes, is something different is usually attempted. But save for 2017's SteamWorld Dig 2, Sweden-based Image & Form Games has been consistently tackling new ideas. Save for one of their early titles, their efforts have habitually centered around valiant robots doing their best to succeed in an unfriendly world.
Unsurprisingly, that's the broad set-up behind SteamWorld Quest: Hand of Gilgamech. The game sees the team blending role-playing and card-battling components into a competent, but uncharacteristically unadventurous offering. While there's undeniable enjoyment to be found fighting foes with a customized deck, there are also an ample amount of unseized opportunities.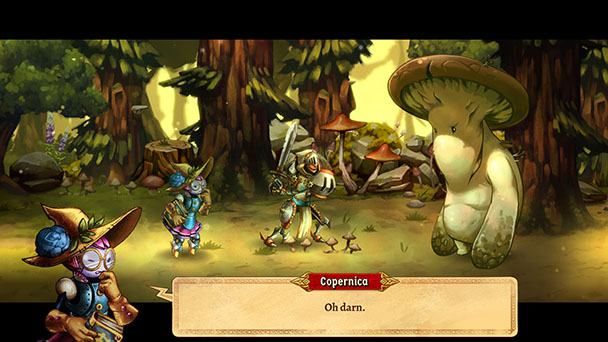 A brief prologue introduces players to the knightly Armilly and her alchemist friend Copernica. Leaving the village and entering a forest to gather a mushroom, the duo returns to find their homestead ransacked. If you've played any of the other SteamWorld titles, you'll be familiar with the studio's storytelling style, which favors fleeting bits exposition, a light-hearted tone, and an ample number of puns. While Hand of Gilgamech avoids extended dialogs, a reluctance to invest in character development means that the journey can feel a bit inconsequential.
You'll soon aquire other characters who are also provided with tragically brief backstories. An adventuring party is made with a trio of cast members, who'll confront a succession of nineteen chapters lined with dungeons. It's here that Hand of Gilgamech feels underdeveloped. While corridors have the occasional obstacle to hack through and treasure to collect, exploration is largely linear and devoid of surprise. While I was hoping to see devious traps, puzzles that would require deliberation, or at the very least, mechanics that would make navigation appealing and convey urgency.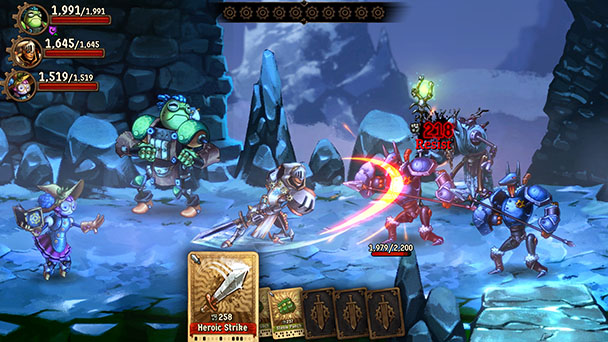 Instead, peril is found in the enemies that occasional block you path. In keeping with role-playing tradition, a well-timed button press offers an opportunity to gain initiative over foes. After that, allies and antagonists are sent to opposite sides of the screen, while cards are drawn which represent possible actions. Since enemies are equipped with a wealth of health, battling tends to be drawn out, accounting for the bulk of your play time, helping to redeem the title.
Cards come is three different varieties. Punch Cards are your basic strikes, which deal a restrained amount of damage to enemies. Upgrade Cards act as buffs or debuffs, either bolstering your own stats or reducing the potency of your opponents. Finally, there are Skill Cards which can do an array of helpful things like heal your party or decimate the entire enemy party. But you'll need a resource called SP to activate Skills, which is gradually gained during battle actions.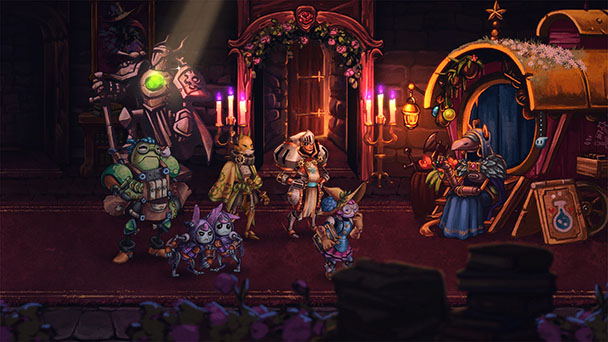 Pleasingly, there are additional nuances built into combat. Elemental weaknesses can help reduce the resilience of strong opponents, while if you play three cards for a single character, you'll be rewarded by a fourth Heroic Chain that is weapon dependent. If you ever receive a garbage hand, you can even opt to redraw cards which helps ensure you can always muster some type of offensive capacity. Fundamentally, SteamWorld Quest does a great job at balancing complexity with accessibility. Even if you've never played a card-based battler, you'll be beating baddies with ease. At least at first.
Although the combat system helps makes up from some of Gilgamech's exploratory woes, some might find issue with a few design decisions. Unless you play the game on the lowest of the three difficulty levels, you'll probably be compelled to do a bit of grinding, which feels like it's there to pad the game's ten-hour playtime. On the upside, since there you can tackle enemies endlessly, there's no resource limit, and you can make the game as easy as you want to be. While some might find the eight card per character rule constraining, it helps simplify deck management.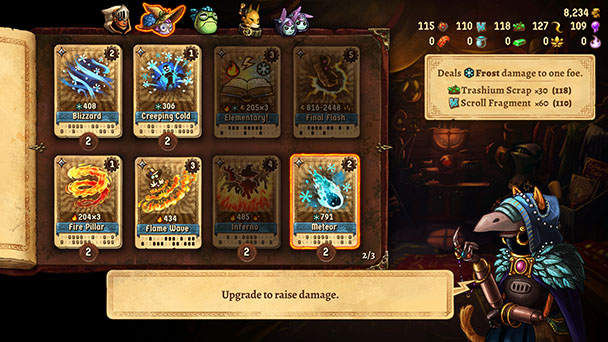 Graphically, Hand of Gilgamech is an undeniable delight. The game's sprite work is exceptionally detailed, offering enough visual detail to compensate for any expositional shortcuts. Although the game doesn't quite reach the quality of Vanillaware's visual output, the game's certainly a contender with sumptuously drawn characters and backdrops. While the game's use of Simish-like sound effects to convey robotic speech had a likelihood of growing tiring, the game ensures conversations don't last too long.
SteamWorld Quest: Hand of Gilgamech isn't quite as compelling as Image & Form's previous title. But that's a might high bar. Fortunately, an absorbing card-battling system helps to draw attention away from humdrum dungeon exploration. Had this muted component been given additional mechanics, Gilgamech could have been great. Instead, it's merely very good, which is probably enough for most players.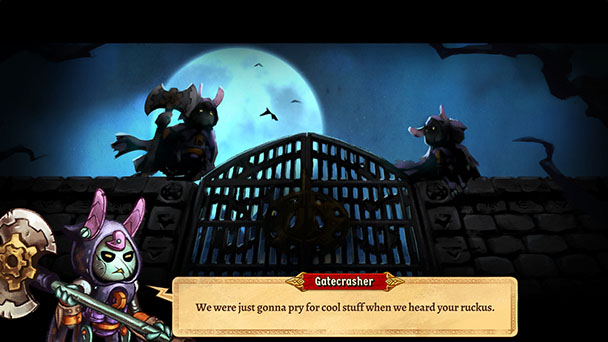 SteamWorld Quest: Hand of Gilgamech was played
on Switch with review code provided by the publisher.
Review Overview
Summary : If you're looking for an accessible card-based role-playing game, SteamWorld Quest: Hand of Gilgamech is mostly aces, uplifted by captivating battles.