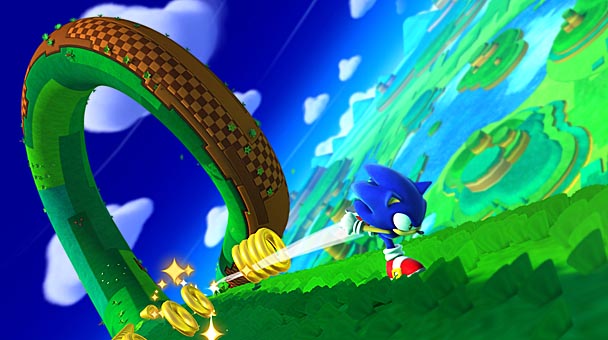 Mirroring the predisposition of the blue hedgehog, Sonic Team is rarely at rest. Ever since 1998's Sonic Adventure, the Tokyo-based studio has obsessively tweaked their formula- striving to provide the perfect polygonal home for a protagonist with a distinctly 2D background. Across the last half decade titles such as Sonic Unleashed, Sonic Colors and Sonic Generations have all attempted to translate the speed and fluidity of the Blue Blur's 16-bit career into a three-dimensional context. With the release of Sonic: Lost World for the Wii U, the developers inches that much closer to providing an adept adaptation.
Seemingly, Sonic's Olympic interactions with a part-time plumber have had a profound influence. A significant number of Lost World's environments borrow from the cylindrical and spherical sectors of Super Mario Galaxy. Much like the Nintendo title, these vibrantly-hued, oft-disconnected spaces behave like diminutive objects floating in space. The effect is further advanced by each zone's separate field of gravity and a camera which rotates in correlation to the curvature of each region. Sonic's default speed also mirrors Mario, lending enough control to navigate past environmental hazards and enemies. Should players require a burst of speed to race past a shifting obstacle, holding down the 'ZR' button brings the hedgehog to an instantaneous sprint.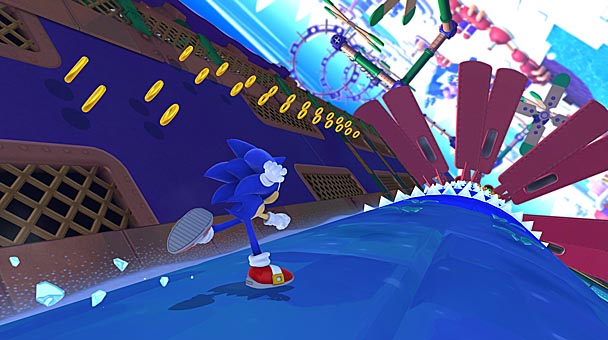 Agreeably, Lost World fuses Sonic's preexisting repertoire with a few new moves. Like any respectable twenty-first century protagonist, Blue has mastered the art of parkour. Pleasingly, the ledge clinging and wall running isn't forced on players. Instead, the technique is used to maneuver and remain on a stage's alternative routes – like the Sonic of old, levels typically have three core footpaths. Beating Badniks can typically be accomplished by the use of the familiar homing attack. Unfortunately, since the lock-on command uses the same twin-tap as a double jump, it's far too easy to inadvertently assail a spiked foe or take a swift leap into oblivion. Later in the journey, there are at least two infuriating sections that are poised to push hedgehogs toward extinction. Although the game extends the option to skip a sector after three failed attempts, these angering areas are bound to damper enthusiasm.
Like the hedgehog's past two console outings, Lost World also intermixes a healthy amount of two-dimensional platforming. These sections utilize the same skillset as the 3D sections and are a vast improvement over the faulty physics modeling of the two Sonic 4 episodes. Skillfully, these stages eliminate much of the disconnect which afflicted Sonic Generations, creating cohesion between the two visual perspectives.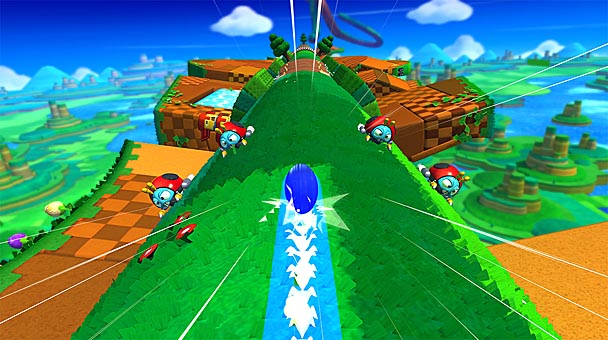 Absorbing Sonic's new arsenal across both viewpoints definitely takes time, but it's a necessity undertaking- as the game tirelessly varies its environmental obstructions and enemy behaviors. While Lost World provides an optional in-game tutorial that's activated by tapping the Gamepad, absorbing each move can interrupt the flow of the game. The return of Sonic Color's Wisp Powers also have the potential to disrupt the game's rhythm. These diversions are based around Gamepad use, tasking gamers with using the controller's gyroscopic functionality to fly or tap music notes to bounce through a section. Although some are innocuous and nearly all are discretionary, they seem shoehorned into Lost World merely to take advantage of the touchscreen. Similarly, collecting five red rings within a level sends Sonic and Tails to a bare-bones bonus level. Little more than a Breakout-clone with stylus control, this minigame pales to the Chaos Emerald stages of Sonic's past.
Following successions of standard stages, boss encounters offer a culminating conflict across each of the game's themed world. Some of these encounters evoke Sonic's early era, with baddies that are defeated by repeatedly using the homing attack. Others reflect the evolution of the franchise, requiring players to carefully study enemy strikes and uncover moments of opportunity. Contentiously, the path to these battles isn't always sequential; Lost World forces players to free a certain amount of imprisoned animals before opening up subsequent worlds. Fortunately, the requirement isn't too punitive, entailing another run or two through the game's often dazzlingly designed stages.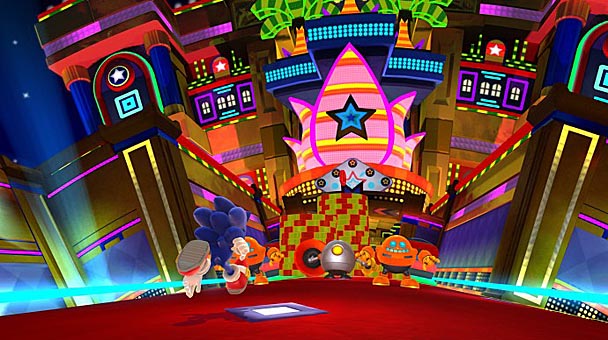 As a whole, Lost World's level design is prodigious- balancing multiple paths of varying difficulty with a healthy amount of secret areas and temptations capable of luring players into peril. Although worlds recycle ubiquitous motifs, such as forest and desert realms, bits of hedgehog homage are appealing enough to forgive the conventionality. For fans, references to the Casino Night Zone or Ice Cap Zone will be appreciated, as well as a bestiary of baddies which span the entire Sonic legacy. The only error is that traditional Sonic semiotics aren't always articulated. Although it's clear that jumping on spiked antagonists isn't advised, defeating contain foes like spiders require a bit of trial and error.
Beyond the game's single player campaign, Lost World also provides a competitive challenge for local pairs. Instead of employing a splitscreen perspective, the title simultaneously exhibits  play across both the television screen and the Gamepad. Performance wise, the title excels across components, delivering a 1080p, sixty frame-per-second output that's only marred by fleeting bits of slowdown. Musically, frequent contributes Tomoya Ohtani, Takahito Eguchi and Naofumi Hataya offer a pleasing array of memorable tunes influenced by jazz, ska, and pop.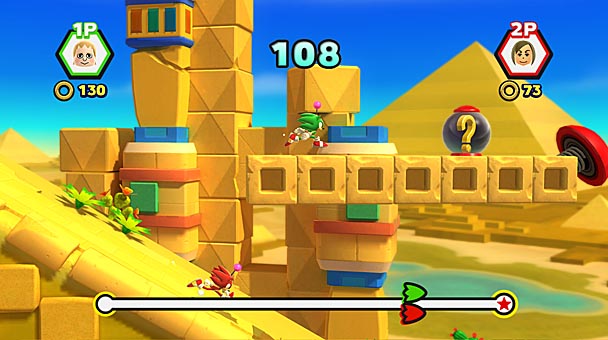 If players can look past a few control blemishes and aggravating challenge spikes, Sonic: Lost World can offer an immensely enjoyable jaunt. Although the franchise has had as many ups and downs as a speedrun through the Chemical Plant Zone, Lost World represents Sonic climbing toward a plateau that's been vacant since his post as company mascot. While SEGA has often proclaimed that each new console title was going to be the game which revisits the Hedgehog's glory days, this is the one which nearly delivers on those claims.
Sonic Lost World was played on Wii U with a review code provided by the publisher.
Review Overview
Summary : Following fifteen years of tweaking the formula, Sonic the Hedgehog has nearly acclimated to a three-dimensional world. Sonic: Lost World may not be flawless, but for Wii U owners, it's an impressive inaugural effort. Hopefully, any follow-ups receive a bit more play testing.