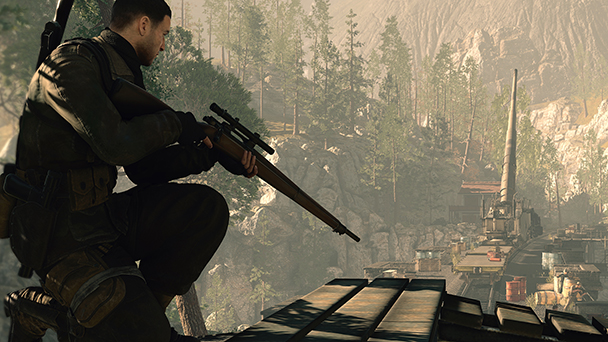 I've reconnoitered an elevated perch which offers ideal vantage point for my objective. While I could clandestinely make my way up to the ridge, staying prone and moving from cover points, thinning out enemy numbers seems more prudent- just in case anything goes wrong. I slink behind oblivious guards, killing them with knife or suppressed sidearm, searching them for supplies, and dumping their limp bodies in the ocean below. Save for the one corpse I've booby trapped, which might just kill any probing scouts, as well as warn me of imminent threat. Once I reach the crest, I carefully survey threats opportunities, devise a plan, before holding my breath a taking the shot that might just rouse a hornet's nest teeming with blood-thirsty fascists.
As game experiences go, the moment just before the trigger is pulled in Sniper Elite 4 is tremendously powerful. It's a transition between protracted moments of nervous tension and the immediate release of repressed excitement. But that's assuming that you actually role-play as an actual scout/sniper. Alternatively, all that forethought can be neglected, with players persistently evading and engaging enemies, as they move through the map with the force of a furious tiger. Of course, there's also the 'X' factor, when the best laid plans begin to unravel, forcing careful players to think spontaneously as an entire map of opponents come gunning for you.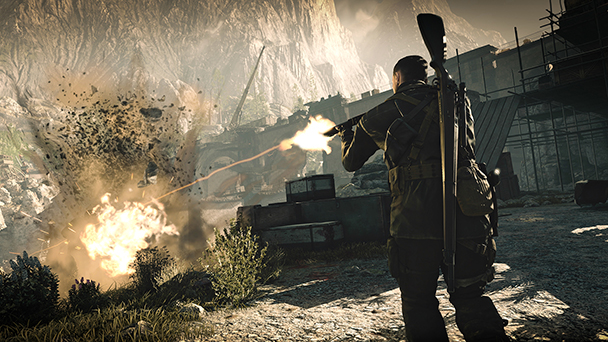 While Rebellion Development's twelve-year old franchise has gradually flirted with expansive open-world battlegrounds where gamers can cultivate their own strategies, with Sniper Elite 4 that ambition is irrevocably realized. This time out, freedom is found in the game's maps, which not only extend vast expanses of land and verticality, but shun clear-cut paths for players. To complement that amendment, enemy counts have also been escalated, presenting unfeigned threats if gamers raise the threat level. No matter how you play Elite 4, you will be hunted by hordes of foes, and dealing with antagonism with an asymmetric loadout almost always feels absorbing.
Load-time cinematics set up the context, reuniting players with the gruff-voiced American Karl Fairburne. Fresh from his expedition in Northern Africa, he's been deployed to Italy, to team up with the resistance and put a stop to the Nazis new remote-controlled missiles. While it might sound far-fetched and the finale edges on camp, the plotline is rooted in reality- referencing Germany's Henschel Hs 293 anti-ship missile. Wisely, Sniper Elite 4 doesn't squander too much time with superfluous exposition. Save for pre-mission exchanges with characters, collectables and and Fairburne's in-mission sound bites provide perspective, without slowing down the set-up and exchange of firepower.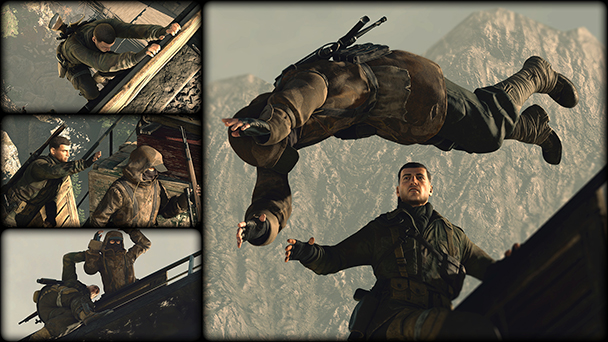 No, the real star here are the game's maps, each offering its own distinctive Mediterranean milieu. From fertile fields, fishing villages, underground tunnels, and war-emptied hamlets, Elite 4 is a picturesque travelogue, distilling beauty across the game's selection of eight, sprawling maps. Masterfully, each feels organic with plenty of foliage and places for cover, while still concealing areas that imply different tactical approaches. Since each level has sub-objectives and a plethora of documents and trinkets to gather, you'll probably want to play each stage multiple times just to see everything. As additional encouragement, Fairburne has be augmented by meeting certain tests, such as piercing twenty hearts like some kind of mischievous Cupid. And even when the game doesn't explicitly extend a reward, it's all too fun to shoot testicles, grenade belts, and the petrol tanks of vehicles, just to watch the ghoulish, slow-motion, x-ray cinematics of carnage.
Play long enough and you'll notice a few components that Rebellion might have enriched. Although the game's framerate habitually remains around thirty frames-per-second on the PlayStation 4, skulking through shrubbery produces an odd dithering effect that can slow things down. Likewise, animations could have been polished, with players likely to notice the awkward transition between a patrolling soldier and one that's alerted. Another minor nuance is rooted in the control scheme, where a stealth kill can be mistaken for a corpse grab if a button is held for a split-second too long.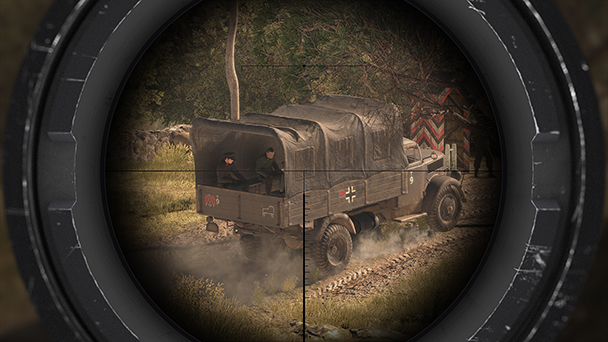 Considering the scope and level of autonomy provided to players, it's easy to forgive these trivial transgressions because the game does so much else right. One of the best elements is the upgrade to enemy AI, with opponents able to triangulate the sound of gunfire and gradually descending on your position. When they do hunt you down, they often demonstrate human-like behavior. Sure, there's the occasional reckless machine-gunner who will stand his ground, firing from out in the open.  But more common is the soldier who will gradually move from covered positions and attempt to flank Fairburne.
Sniper Elite 4 extends a range of difficulty levels, contributing assistance or alternatively adding nuances like bullet drop. While the title can be challenging, it avoids frustration via frequent check-pointing. For gamers still having difficulty, there's the option to play any mission co-operatively, which can be a lot of fun when players acts as a distraction while another picks off unsuspecting foes. For those hoping to pit their long-range abilities against others, there's are also several competitive modes. While these are fun thanks to a mix of traditional modes and variations that focus on the long-game, these don't contribute to your level progression.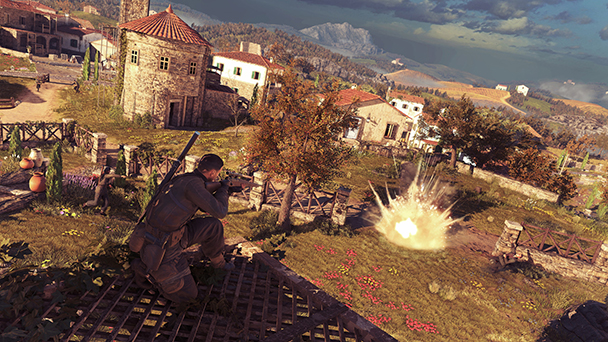 Over the past two decades, I've played sniping game I could get my hands on, from breezy arcade shooters like Silent Scope to the promising but problematic Sniper: Ghost Warrior titles. As such, I can confidently proclaim Sniper Elite 4 the reigning marksman. While most developers can simulate the operation of scoped rifles, Rebellion understands the subtleties- stealth and player autonomy separate a solid game from an exceptional one. Unquestionably, Elite 4 is a bullseye, delivering a sandbox full of some of the best warporn around.
Sniper Elite 4 was played on the PlayStation 4 with review code provided by the publisher.
Sniper Elite 4

Platform: PlayStation 4, Xbox One, and PC


Developer:

 Rebellion Developments

Publisher:

 Rebellion Developments

Release date:

 February 13th, 2017

Price:

 $59.99 via

Steam

Sniper Elite 4 review
Review Overview
Gameplay - 90%
Controls - 80%
Aesthetics - 85%
Content - 80%
Accessibility - 80%
83
83%
VERY GOOD!
Summary : Sniper Elite 4 builds on its predecessor, offering expansive battlefields where players can craft their own strategies. Whether you play prudently or rashly, the game's eight (optionally co—operative) eight missions and competitive component are right on target.

User Rating:

4.33 ( 2 votes)