Signs of ailment are evident across the Toys-to-Life genre. Next month, the ironically named Disney Infinity will cease production, after purported enjoying a substantial sales lead over the LEGO Dimensions and Skylanders franchises. Even Activision's once golden goose seems to have lost a bit of gilded sheen, with the series latest effort, Skylanders SuperChargers, seeing massive price cuts in order to move aisles of unsold inventory. Undoubtedly, the publisher needs a new strategy before Stealth Elf and friends face the same hiatus and lukewarm reinvigoration endured by Tony Hawk and Guitar Hero.
Hope might be found in Skylanders BattleCast, a free-to-play mobile title that draws unmistakable inspiration from Activision-Blizzard's breakout hit, Hearthstone: Heroes of Warcraft. Much like the immensely popular strategic card game, BattleCast is exceedingly easy to learn, offering gratifying three-on-three battles against the AI or an online player. But unlike Hearthstone's simulated deck, Skylanders has a physical component. Purchasable Battle Packs and Booster Sets contain sets of cards that can be scanned in via your device's camera, augmenting your enemy-fighting arsenal. While it might sound a bit gimmicky, within a few hours of play I was rabidly scouring local retailers, hoping to acquire a few assistive assets.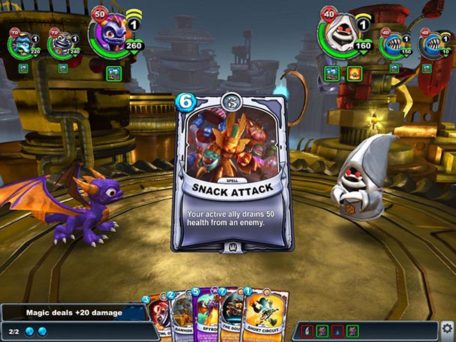 Download the game from either the App Store, Google Play, or the Amazon App Store, and the succinct tutorial will give you a trio of starting Skylanders. One of the first things you'll notice is that there's a nice sense of variety, with characters offering varying balances between hitting power and health points. Both friendly and enemy squads are arranged identically in battle, with one active character in front of two supporting, swappable teammates. Every turn, your lead gets a single attack, executed by swiping a crosshair over your opponent. An increasing number of crystals determines what else can be accomplished each turn, with players able to utilize an ever-growing variety of offensive and defense spell cards.
Currently, BattleCast flaunts a 300-card deck. Beyond combatants culled from previous Skylanders franchises and the aforementioned spells, players will also find gear and relic cards. The former can be used by anyone, or can be character- or even elemental specific- offering wearables that can elevate your stats or even curse your foes. Relics operate similarly, extending an artifact that has an effect on the entire battlefield. Collectively, BattleCast's cards for a good amount of variation and some accessible strategizing. The title's scalability even extends through its deck-building components, where it can automatically build a custom deck for players. Of course, TCG tacticians will likely want no such support, opting to micro-manage their loadouts.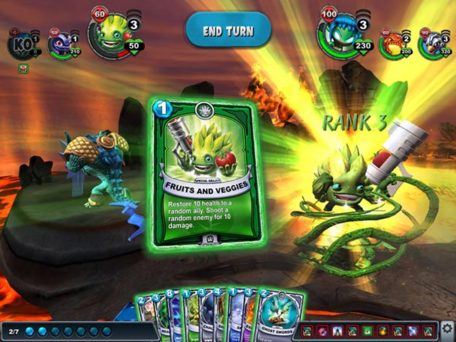 Players can either opt to tackle Skylanders perpetual scoundrel, Kaos, across a succession of 64 missions spread across eight islands or can tackle online players. With options for a friends list and even casual matches where player can field-test their custom decks, BattleCast certainly has potential. But there's either a snag with matchmaking and/or an undersized audience right now, with waits of more than five minutes before PvP matches. Considering the title soft launched last September, the delay is disheartening.
But once you do find an opponent, Skylanders BattleCast does outshine its TCG contemporaries. One of the most noticeable aspects are the characters themselves. Instead of an ambiguous analogy for battle with cards shifting around and skirmishing, it's the Skylanders who execute the bulk of attacks, using their renowned repertoires on foes. Gather enough crystals for an advanced assault, and BattleCast delivers a visual payoff, with animations likes giant hooves tramping the entire enemy team for colossal amount of damage. While tapping on Skylanders has no real practical effect in game, the developers even coded in reactions for the creatures.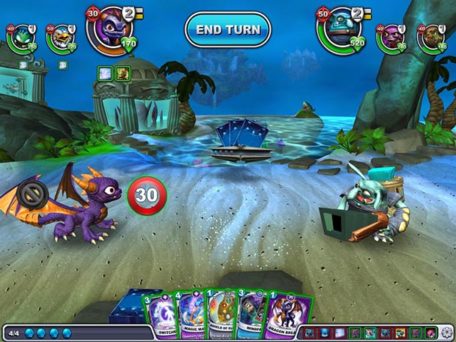 The single-player campaign devotes enough coin to purchase additional cards and tosses enough freebies toward players to keep them coming back, but there are a few blemishes with the game's battle plans. For one, the game requires an internet connection for its single player campaign, limiting its potential. And while it installed on every Apple device we could find, we could get the game on a number of Android tablets, like the Lenovo Yoga Tab 2. There's also a lack of an account system, meaning that once you've committed to one ecosystem, there's no crossing over. With the lack of accounts, I worry that if I accidently delete the app, I lose all my purchases. Right now, there's no indication of Activision keeping track of my Card-to-Life purchases.
If you're hoping to trade BattleCast duplicates with a real-life friend, things get a bit tricky. Once a card has been scanned in, it can't be used again, unlike your Skylander figurines. When you obtain a card you don't want, you can potentially swap it, but there's no way of telling if it's already been used. Alternatively, you can keep it, using it to augment your existing cards, but you'll probably have to ante up a small random before you come close to reach the golden twentieth level cap.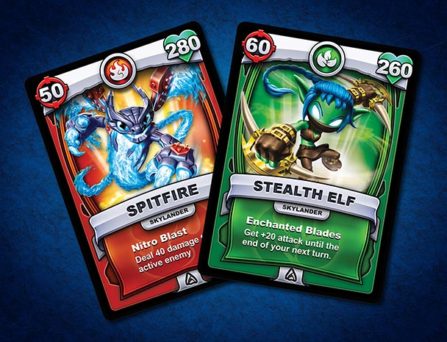 Despite a few potential technological snags, there's a lot to like about Skylanders BattleCast. Not only is does the core game balance accessibility with advance play strategies, but there's a familiar delight in having real-world objects appear in game. Sure, it's not far removed from the strategy utilized by digital goods, but owning real cards makes things feel a bit less ephemeral. Try the free download and see if you can resist Spyro's siren-esque call.
Skylanders BattleCast can be downloaded from the App Store,
Google Play, or the Amazon App Store for Android