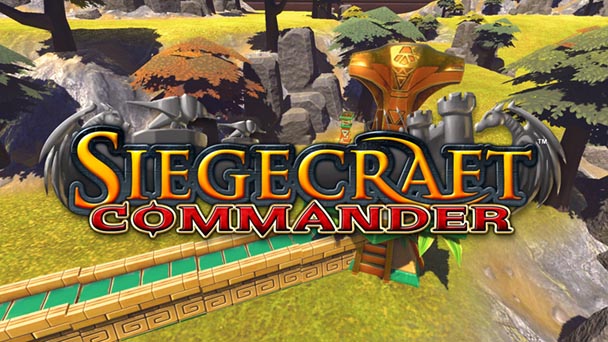 Base building in real-time strategy titles is often a thankless affair. With the release of Siegecraft Commander for the PlayStation 4, Xbox One, and PC, developer Blowfish Studios attempts to inject the unappreciated chore with a bit of excitement- tasking players with flinging forth each succeeding structure. Conceptually, it's rather cunning, with gamers having to carefully plan their web of offensive and defensive systems. But in execution, it's also a bit fiddly, which can be frustrating when your opponent is relentlessly attacking your intricate empire from all sides.
Each of Siegecraft Commander's sixteen stages begin with players in charge of a single keep. Unsurprisingly, if that building gets overrun, you're lose the battle. To resist annexation, you'll need to build two main types of structures. The first are outposts, which act as nodes, allowing gamers to expand their realm across the land. Pleasingly, they're not too vulnerable- with players able to seize control of any outpost, launching explosive barrels at either infantry or buildings. Although there are no caps on their numbers, having too many outposts leaves you decidedly prone. And when one falls, all of the buildings that branch off from an outpost are demolished as well. To be successful, you'll definitely need to build your empire with prudence and patience.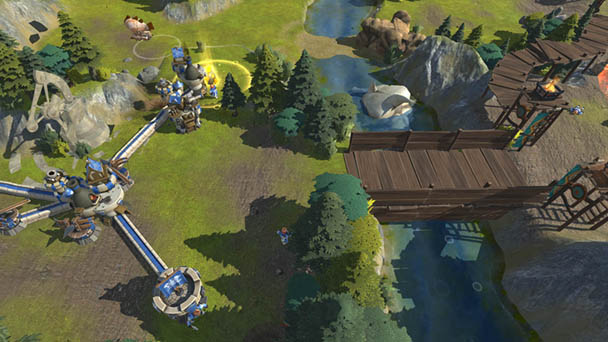 Commander's other construction type are dedicated structures. Some, like libraries that are required to produce magic-based buildings, or garrisons needed to produce knight-generating barracks, gate different technologies. Although the game's two different single-player campaigns lock away the more exotic skills until you're either made progress across the levels or have captured a resource area, restrictions seem looser than most titles in the RTS genre. Typically, infantry limits and cool-down timers are the most prominent constraints.
Regardless of whether you are placing an outpost, dedicated structure, or launching a defensive explosive like an explosive barrel or boombah, Siegecraft Commander's method of deployment remains the same. Using wither a mouse and keyboard or controller, players a spin translucent crossbow icon, around a building, and set the strength of the draw-weight, before launching their output. If it's a structure, the you'll automatically lay down a connecting wall than control the flow of foot soldiers. But flinging constructions can be a finicky and occasionally frustrating endeavor.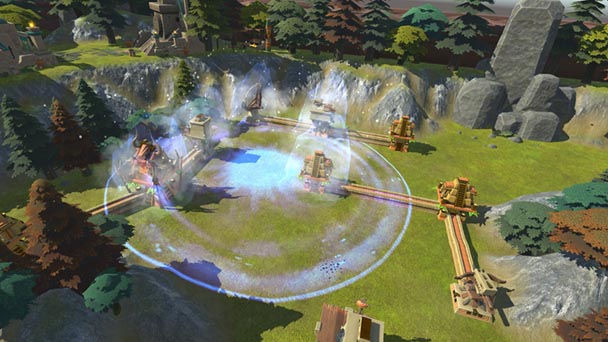 Attempt to build too close to another structure, near water, or a multitude of other enigmatic factors and our barricade and structure will crumble to pieces. While that's not devastating when you're building a garrison with a three-second cool down, a botched building can be devastating when you're dealing with the half-minute window required for barracks. Complicating the issue is the control of tossing. Even after ten hours of play, I was still tossing out the occasional wild miss, with an explosive barrel that inadvertently damaged an outpost. Targeting enemy infantry proved to be a bit vexing, with throws either over- or undershooting their intended target. Sure, there's an aiming indicator but measuring the exact distance when you're opponent in mounting a blitzkrieg can be challenging. An option to show the exact range of your fling would be a very welcome inclusion. For those you don't appreciate the sense pressure, Commander offers a turn-based option, but the inclusion tends to make already lengthy rounds even slower.
[pullquote]Not having to micro-manage every element of a conflict can be gratifying reprieve for RTS junkies.[/pullquote]
Woefully, problems with precision wasn't the only issue with Siegecraft Commander. Occasionally, infantry couldn't pass narrow stretches of land, and would pool together in one place while invaders battered my outposts. Since you can't automatically dismantle buildings, several matches ended with an unceremonious restart. Given that games can last as long as an hour, this can be demoralizing. Some might take issue with not being able to control the direction of soldiers, dirigibles and flying wyverns. As such, when you are fighting on two fronts, the lack of autonomy can cause a few strategic SNAFUs. On the upside, not having to micro-manage every element of a conflict can be gratifying reprieve for RTS junkies.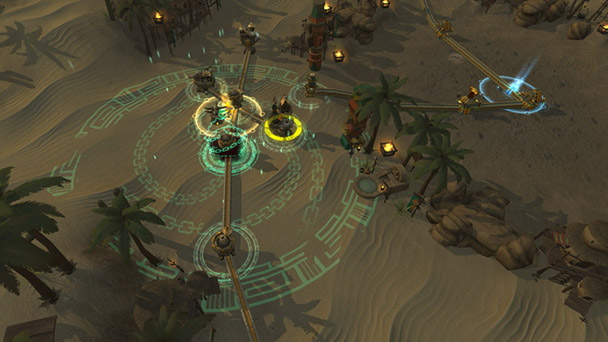 Despite these transgressions, session of Siegecraft Commander can be absorbing and even addictive. I found myself habitually playing longer than I had wished, and habitually repeating stages trying to improve the effectiveness of my network of nodes. Much of the enjoyment stemmed from the game's emphasis on base building and the meticulous nuance that's built into the process. Although victory entails building a solid defense, the size, structure, and methods of your offensive force is largely up to you. As such, if you're a bit fatigued of the conventional rock-scissors-paper conflict that's ubiquitous across RTS games, Commander in an engaging experience.
Beyond the two single-player campaigns, gamers can also confront online opponents across multiple platforms. Given some of the issues with precision, confronting a trio of other participants can help to equalize the proceedings, even if console players don't have access to the mouse and keyboard control systems of PC owners. Agreeably, boasts four different factions, each with their own technologies as well as the ability to invest any war dividends into a trait-tree. While that gives experienced players an advantage, hopefully the game's matchmaking takes familiarity into account.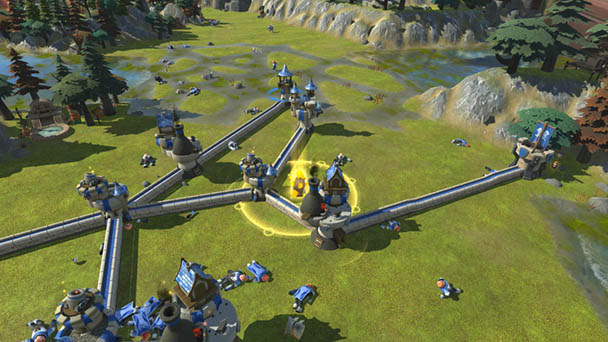 Utilizing the Unity Engine, Siegecraft Commander looks clean, although the game doesn't exbibit a great deal of detail. Drawn with bold lines and bright colors, the title offers a cartoonish take on conflict which complements the fantastical flinging and instant construction of structures. On both a Nvidia GTX 960M and 1080, the game ran expectedly smooth, flaunting a sixty-frame-per second delivery that never floundered. Sonically, the game doesn't fare quite a well, with seeming semi-pro voice actors reading the script with accented inflictions. Perhaps it would have worked better if the writing wasn't so mundane.
For those who appreciate real-time strategy but don't like having to micro-manage, Siegecraft Commander's take on the genre will be welcome. Sure, there are a few executional flaws and both campaigns don't exactly deliver a sense of closure. But if you look past these blemishes, building your own web of fortifications can provide a week of fulfilment. As a bonus, the title offers HTC Vive support, making it one of the better experiences for those who have ventured into VR.
Siegecraft Commander was played on PC with review code provided for review.
Siegecraft Commander
Platform:
 PlayStation 4, Xbox One, PC
Developer:
Blowfish Studios
Publisher:
Blowfish Studios
Release date:
January 16th, 2017
Price:
$19.99 via
Steam
, currently on sale for $13.99
Review Overview
Summary : Sure, Siegecraft Commander's base building can be finicky, but it's also much more enjoyable that most RTS titles. If you're looking for a conflict where skill and approach are more important than unit orders, you might find delight on this battlefield.