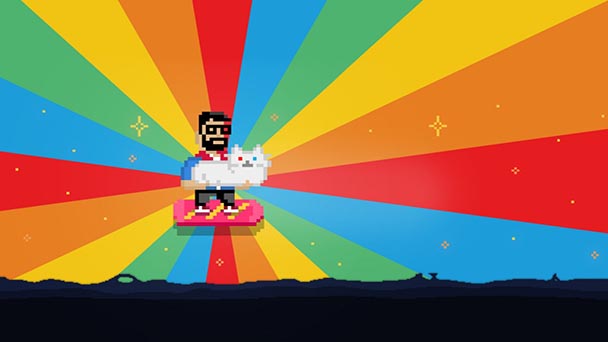 Shooting Stars makes me feel like a 90 year-old who has ventured onto the internet for the first time. The game's pixelated visuals do a convincing job of mimicking the decline of visual acuity. The hook here is that a non-stop procession of pop culture parodies serve as targets, but I feel that some of my perceptions could be off. "Is that Rebel Wilson I'm shooting at?" I ask when spotting a corpulent and antagonistic blonde sprite. Since I'm not certain, I pretend it is, chastising the actress for the inevitable incursion of Pitch Perfect sequels.
Sure, some of Shooting Stars' luminaries are identifiable. The game's bosses offer a bit of naming wordplay and dialog to help kindle the flames of recognition. There's the unfortunate inclusion of Hulk Hogan, along with Justin Bieber and Kayne West. But there's also a number of YouTube "celebrities" who make an appearance. I didn't know who many of them were and neither did many of my gaming friends. Most assumed a boss character who lampooned Greg Miller was a bit player on The Big Bang Theory, at least until the character mentioned he wouldn't stream Shooting Stars. Another enemy named Tom seemed to baffle everyone. But if you favor watching others play games rather than enjoying them yourself, there might be some superficial amusement found in Shooter Stars.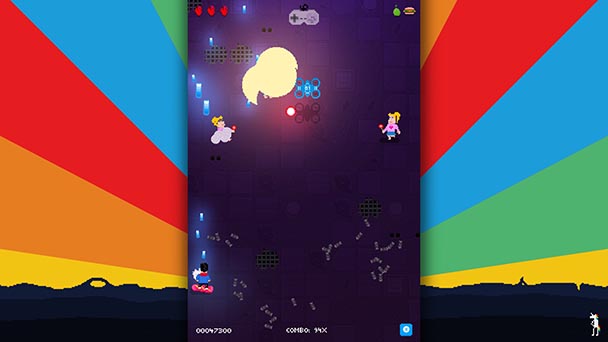 But even when the allusions are obvious, Shooting Stars rarely tickles the funny bone. "Ronald" Trump shows up, delivers a non-sequitur, which might seem authentic, but it's not all that amusing.  A few lines of conversation offer little room for comedy, and instead the text becomes filler- delaying the requisite end of stage showdown. Elsewhere, memes erupt, but their appearance is sporadic enough to make them seem like an eleventh-hour addition.  Occasionally, the title comes close to producing a faint smile, such as when TOP N0TCH states "Success in measured in candy dispensers". But you'd have to be pretty keyed in to know that Markus Persson's Hollywood mansion has a number of floor-to-ceiling sweet machines.
But where the comedy rarely hits, the game's shooting action is reasonably solid. Shooting Stars' procedurally generated levels delivering a gradual increase in difficulty, permitting players to get accustomed to the vertically-firing play mechanics. The occasional dropped edible functions as power-up, increasing say, the number of simultaneous laser blasts the game's 'hipster on a hooverboard with a laser-shooting cat' can fire. Other perks include the automatic discharge of homing missiles whenever your protagonist gets hit by enemy bullets. Pleasingly, you can carry multiple power-ups, allowing you to take on the incessant invasion of Rebel Wilson, Mr. Destructoid heads, drones, and duck faced-John Travoltas. At least I think that square-jawed sprite with a black jacket is Pulp Fiction's Vincent Vega, but maybe I'm showing my age again.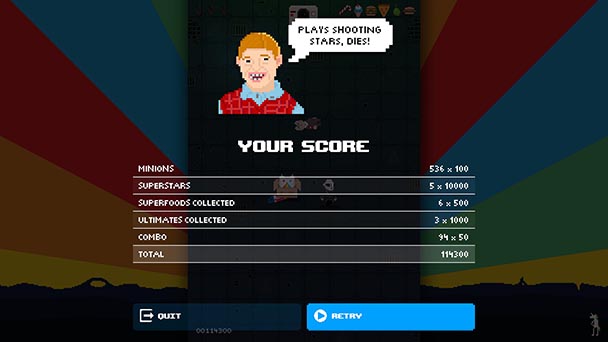 Even better is Shooting Stars' approach to secondaries. Collecting non-edible icons in the center of the screen endow your hipster with a myriad of impressive special weapons from disco balls, NES controllers that release spinning rainbows, and even Facebook likes that put the hurt on enemies. While they're all effective and regulated by a cooldown timer, if you crave variety you can hoover over another dropped weapon to make an exchange.
While the weaponry is fun, it's your opponent behaviors that can be slightly disappointing. While bosses offers a variety of bullet patterns, all too often they dance around the center of the screen. As such, players can just wait on the peripheries, periodically firing their secondary until the threat is finally subdued. Typically, foes in shmups have distinctive attack patterns, forcing players to forecast their flight trajectory and shot patterns. But, Shooting Stars has a bit too much variance, with the same opponents shooting diagonal lasers one minute and clouds of pellets the next moment.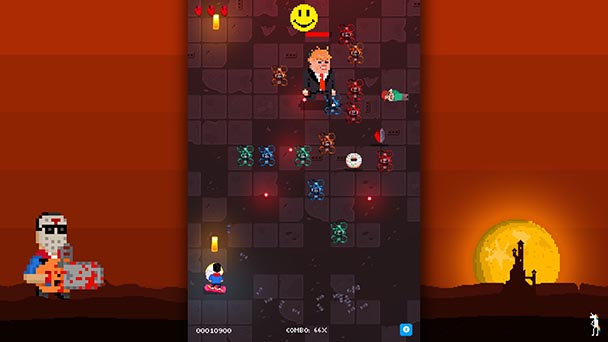 Look past the lo-fi visuals, and you'll see a number of visual perks which hint at developer Bloodirony's coding talents. Every fired shot has a faint glowing aura while getting hit produces a disorienting but attention-grabbing screen judder. Support for gamepads, keyboard, and mouse offers a variety of control option, but we experience some micro-stutters when playing our pointing device. Other than those instances, the game's framerate stays stable even on underpowered netbooks. Aurally, the title's chiptune soundtrack seems spirited, but it's buried underneath laser fire in the sound mix.
About as funny as getting Rickrolled, Shooting Stars attempts at humor are neither fun, witty, nor acerbic. Instead, they seem like the written by middle schooler who spends his waking hours on YouTube. While the actual gameplay isn't bad, there are enough minor flaws to spoil the experience. Maybe pixelated Mr. Miller made the right decision to not stream this one.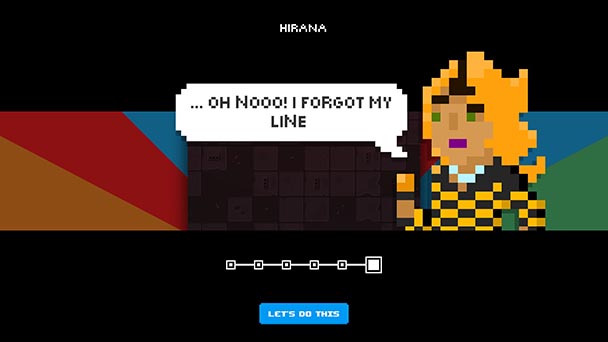 Shooting Stars was played on the PC with review code provided the publisher.
Shooting Stars
Platform:
PC
Developer:
Bloodirony
Publisher:
 Daedalic Entertainment
Release date:
January 19th, 2016
Price:
$1.99 through February 12th, regular price $4.99, available via
Steam
Review Overview
Summary : Shooting Stars misses its target by a gap that would make FPSRussia cry. While there's some fun to be had, there's a plethora of better shmups out there.