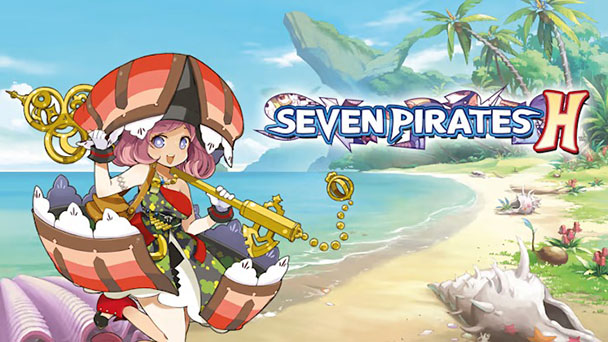 Like a softcore parody of Disney's Pirates of the Caribbean, Seven Pirates H delivers comedy, cleavage, and even a few gropey tentacles. With a surprisingly accessible turn-based combat system, Compile Heart's and Felistella's RPG delivers a puckish and pleasurable tropical escapade.
Seven Pirates H
Platform:
Switch
Developer:
Compile Heart, Felistella
Publisher: eastasiasoft
Release date:
May 12th, 2022
Availability:
digital
Price:
$39.99 via Nintendo
eShop
, $33.99 launch discount price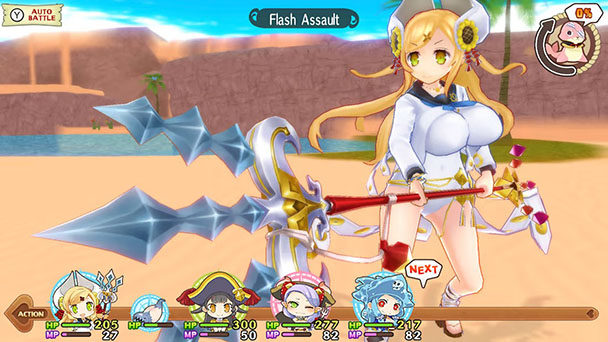 The first Amendment of the United States Constitution allows for a wide range of artistic expression. Persistently, corporations are the ones that limits on what can be depicted. A notable example of this is rooted in the release of Mortal Kombat on the Genesis and Super Nintendo. Sega allowed for ruby-red bloodshed and Fatalities that mimicked the gore of the original arcade game. But Nintendo adopted a far more prudish policy, recoloring blood to grey 'sweat', and toning down the violence of what were renamed "Finishing Moves". Essentially, all references to death were removed.
Over the years, the toy chains that sold games were shuttered, and the medium gradually became recognized as more than just a hobby for children. Players grew up, and along with them the games grew more explicit, with corporations generally allowing for more overt depictions of sex and violence. Of course, there are often exceptions and Sony's recent reversal on stylized sexiness is yet another example of corporate meddling across the medium.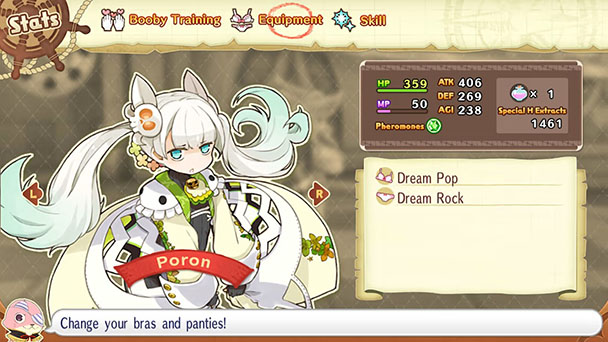 But Nintendo's stance seemed to have matured and they've taken a more hands-off approach to digital curation. As such, one of the unlikeliest of series has made its way stateside, with the Genkai Tokki games offering a persistent barrage of partially dressed monster girls along a wonderfully perverted otter-like sidekick named Otton. Following the Switch releases of 2019's Moero Chronicle Hyper and 2020's Moero Crystal H, Eastasiasoft's publishing of Seven Pirates H is yet another effort that shows how entertaining an eroge (or erotic games) can be. And after years of corporate puritanism, it's refreshing to see a titillating romp intended for adults.
Rated ARGH for Implied Nudity
Pirates is a standalone spinoff, so expect only a few connections to previous Genkai Tokki titles. As the moniker indicates, the game leans into a swashbuckling motif. Here, lead sailor Parute Kairi sails the Monsupi Seas in hopes of unearthing treasure. But her adventuring is temporarily interrupted by Otton falling from the skies above, adorned with a bikini top is place of an archetypical eye patch. Like most of the other Genkai Tokki games, the banter is playful and capricious, and untiringly fixated on female anatomy. Similarly, the game's cast of enemies were conceived with a preoccupation of phallus and testicles, adding another layer of silliness. And yes, the bigger ones are more powerful, so approach them from behind to gain initiative.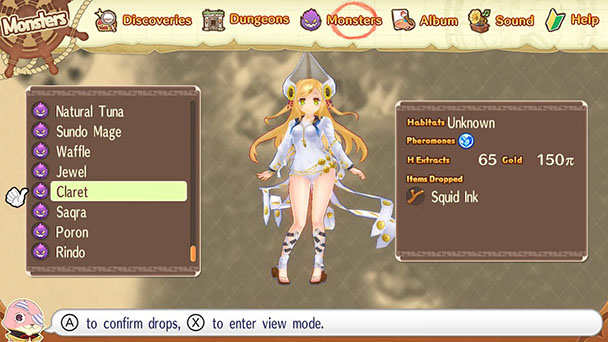 Within moments, Otton is exceedingly eager to explain the game's Booby Training system to Parute. Satirizing how games provide armor bonuses to scantily-clad adventurers, Seven Pirates H lets you massage breasts to manipulate a character's stats. So, larger cup sizes augment your attacking power, while smaller ones increase your agility. Perkiness can also intensify damage while a bit of softness enhances your health. Yes, there are variables for wide and narrow cleavage, as well as firmness. It's difficult to not imagine the development team having a riotous good time thinking up all the correlations.
We Must Intensify the Bust
You can perform Booby Training with either the analog controls or by using the touchscreen in handheld mode. They're equally effective in 'shaping' your party and there's something silly about tapping boobs and seeing them flop around like water balloons. But that's hardly the only potential for public embarrassment. There's also a mini-game, where the girls crack collected eggs in their cleavage in hopes of winning a prize. But even if you don't obtain a rare item from the gacha-gone-wild round, you still win a 'booby prize', which is suggestively yolky fluid. I'd love to meet the mastermind behind that idea.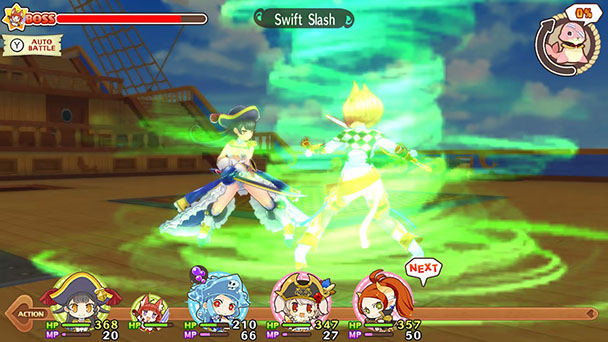 Seven Pirates H's main gameplay centers around sailing a ship across an overworld map, sporadically coming into contact with event markers and small islands.  While the former deliver exposition and random events, the latter serve as the game's dungeons. Expect layouts that are simple enough that you probably won't need the in-game map. But there are enough forks and shimmering resource collections spots to encourage a bit of exploration. And occasionally, the game will recycle this island venues.
Turn-based Turn Ons
Combat allows for pirate parties of up to four girls and its simple enough that auto-battling can be effectively used against subordinates. These skirmishes will be straightforward for anyone with even a passing familiarity of role-playing games. Turn order is displayed on a row at the bottom of the screen, and the user interface offered options to attack, defend, employ magic, or use an item. While your basic attacks are weak, both dishing out and receive damage builds up muramura (ムラムラ or sexual attraction) points. This is the method for defeating the bosses, who extend the incongruous moments of difficulty in an otherwise carefree jaunt.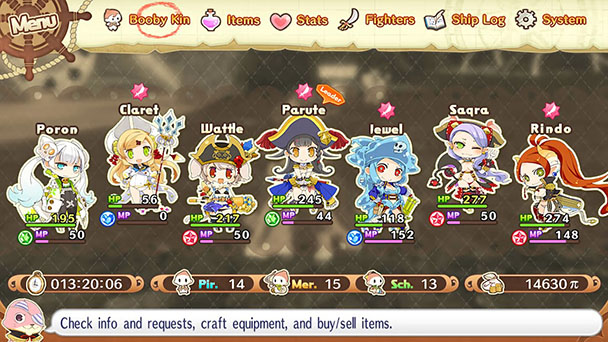 While you can expend muramura points for basic magic attacks, you can also save them. The first threshold puts the girls in a state of ecstasy which boosts stats and provides immunity to some status ailments. But the best part is letting loose with an orgasmic assault once a girl has reached peak arousal. Even when the girls aren't blushing, basic battle animations are a joy to watch. They're highlighted by moves like graceful pirouetting. And when the ladies get worked up, they'll rub their bodies in fits of pleasure, emitting the sporadic moan.
But here's the thing: as libidinous as Seven Pirates H is, it's more comical that outright candid. Sure, there are some cutscenes that barely conceal the genitals, but it's quite cartoonish. While there's probably some players who might find it rousing, I found it Seven Pirates persistently playful. Seeing girls in frilly pirate costumes beat down phalluses the type of things we don't get to witness is games.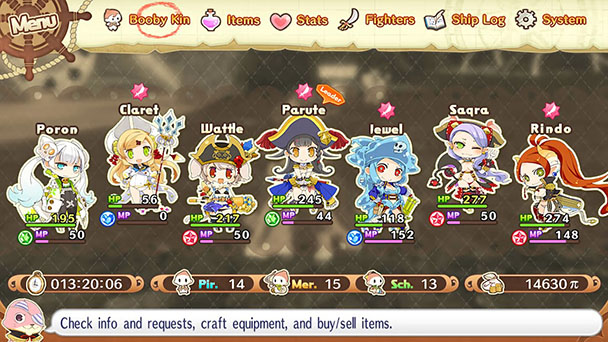 Of course, not every joke makes it into this Switch port. The original Vita version had players making masturbatory gestures with their handheld before letting loose with Otton's canon. Fortunately, you just use the triggers, which is probably a bit less traumatizing for observers.
Conclusion
Underneath all the perviness, Seven Pirates H is a simple, but solid role-playing game. Strip away all the bouncing boobs, scrotum monsters, and dick-nosed foes and it would still be an enjoyable expedition. Laugh, let your canon fire freely, and be glad at this moment corporations are permitting this kind of puckishness on their platforms.
Review Overview
Summary : Just a few years ago, it would be inconceivable to see a game like Seven Pirates H on a Nintendo platform. But attitudes are gradually changing and it's great to see a role-playing game that's not restrained by Western puritanism.