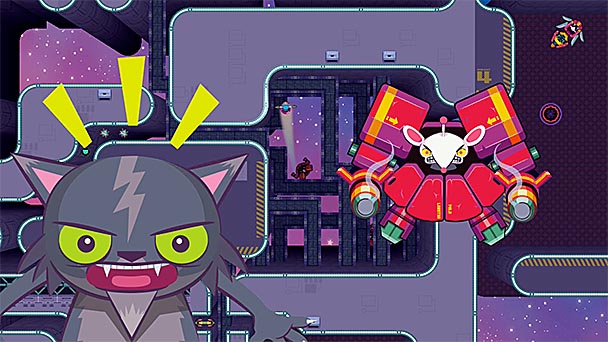 Players can be forgiven for assuming that Scram Kitty and His Buddy On Rails is a Japanese game. From the madcap moniker which seems like an uneasy translation, the anime-inspired art style, or the spirited soundtrack which sets an elevated cadence for the on-screen action, many of the game's elements seem to suggest a voyage from the Land of the Rising Sun. And while Cardiff-based developer Dakko Dakko is at least 5,500 miles from Nippon's westernmost prefecture, Scram Kitty adeptly apes one of those eccentric titles that stateside players might have uncovered during the Dreamcast era.
Many of yesteryear's exemplary titles attained distinction through a single, novel gameplay mechanic. Scram Kitty's hook, is at the title suggests, the protagonists' propensity to glide along each stage's elaborate network of railings and objects. To make things interesting, the feline's friend isn't locked onto the track. A press of the jump button sends the character upward. If contact is made with another piece of track, he clings to the new object- recalling the transplanetary traversal of Super Mario Galaxy. Alternatively, a double-tap transforms the companion into a whirling fireball, capable of eliminating enemies as well as providing a loftier leap.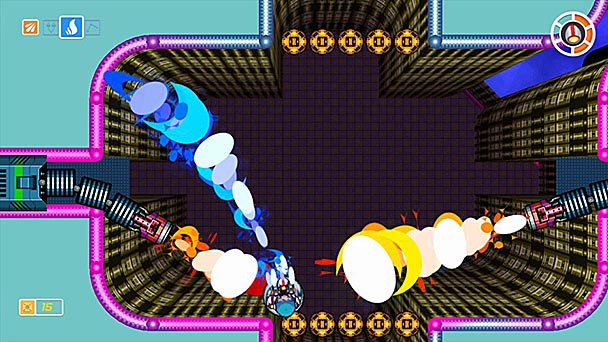 Initially, navigation along the title's railings can be a bit tricky. Depending on the character's speed and the angle of the track, the protagonist can be launched in some tempestuous trajectories- with a careless button press capable of slingshotting the character into extinction. But spend a few hours with the protagonist and his spinboard becomes much more manageable. Considering that the character has a health meter which allows for a bit of contact with enemies and their projectiles, death is almost always the fault of the player rather than the programming.
While navigating your way to each stage's exit typically isn't too testing, the real challenge comes when attempting to rescue Scram Kitty's fellow felines. Some of these cats requires players to gather a specific number of collectables scattered around the level, while others need to be chased down before a timer counts down. One other kitten emerges only after players have defeated a stalwart mouse commander. Nabbing these compatriot cats opens up additional levels, shaping the game's structure. Most likely, gamers will be revisiting locations, as attempting to rescue an entire menagerie on a single run can be extremely difficult.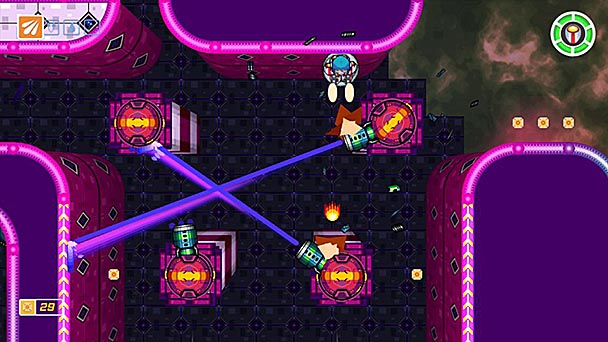 Although careful steering of the spinboard is a crucial mechanic, sending a stream of feline-defending firepower also helps to save your fur. Equipped with a powerful default weapon, the player can fill an area with projectiles in an effort to reduce zones of respawning rodent infestation. Pleasingly, the game also offers a several power-ups which temporary augment the player's mouse slaying capabilities. Following Scram Kitty's introductory levels, these new weapons quickly become invaluable, as later stages like to bombard players with a plethora of projectiles.
And once players have passed those preliminary warm-ups, Scram Kitty shows his formidable claws. It's here the title fuses its components together, forcing gamers into a state of deep concentration as they simultaneously shift, shoot, and spring past an escalating number of ensnarements and obstacles. Gradually, Dako Dako deftly throws in complications to the mix, from railings which move the spinboard in a specific direction to hazardous railings and spike pits. While the challenge bar is set high (and raised regularly across the procession of 29 stages), Scram Kitty goads gamers toward success with a level design that rewards plain old perseverance. Like many games of old, you'll learn from each small mistake until you've able to complete each stage with savant-like precision.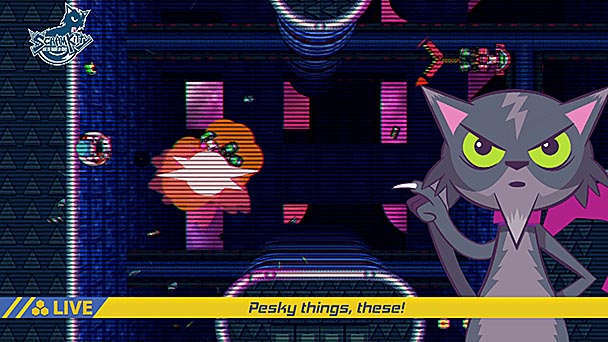 For the most part, you'll be the impetus for success. Although the game's eponymous star will pop up on either the television screen or Gamepad to offer a few pointers, most of the game's intricacies will only be gleaned through plenty of trial and error. If there's a downside to Scram Kitty and His Buddy it's that the title doesn't do more with the Wii U's capacities. Leaderboard functionality would have been a welcome addition and while there's support for the Pro Controller, a cooperative mode with two gamers coordinating movement and munitions would be been appealing.
Amidst during the rescue of 79 captive cats, Scram Kitty and His Buddy On Rails' scoot and shoot elements gel together into a cohesive, distinctive play style. Once players acclimate to this curious mechanic, the title show its potency, bestowing a solid eight to ten hours of feline wrangling playtime. While that duration might be punctuation with a few challenge-induced hisses, expect a gentle purr to serenade the majority of Scram Kitty's playtime.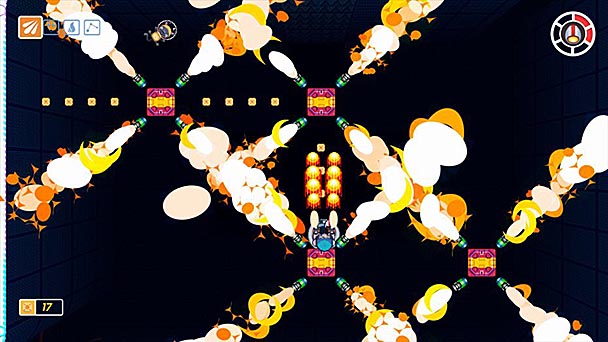 Scram Kitty and His Buddy On Rails was played on the Wii U with review code provided by the publisher. The title is available in the Nintendo eShop for $9.99.
Review Overview
Summary : Much like the many of the cherished titles of past, Scram Kitty and His Buddy On Rails is built upon the foundations of a singular, satisfying type of gameplay. While tough, it's also as addictive as catnip.