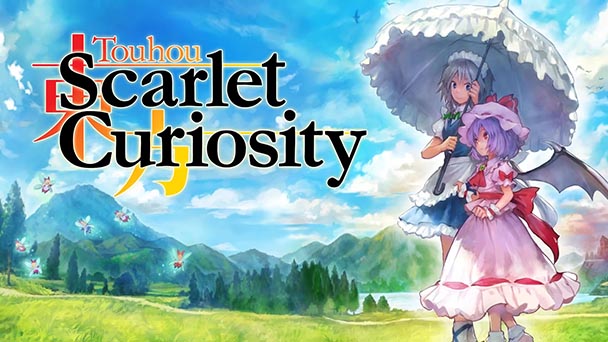 While it might seem hard to believe, Steam was a relatively unfamiliar platform in Japan six years ago. But the PC port of Dark Souls changed that, and when sales of FromSoftware's title greatly exceeded expectations, developers took note. In the ensuing years, players have become privy to franchises that were once console exclusive, with properties like Resident Evil, Tales, and Legend of Heroes arriving on Windows-based systems. The release of Touhou: Scarlet Curiosity signals the trend careening toward critical mass, adding yet another top-tier doujin to Steam's growing library of niche fare.
While not necessary for the enjoyment of Scarlet Curiosity, a cursory awareness of context might add to the game's enjoyment. The game's moniker divulges heritage to Project Touhou, a series rooted in shoot-'em-ups crafted by the one-man programming team known as Team Shanghai Alice. With output that was both prolific and polished, the studio's efforts spurred a flurry of fan-produced spins-offs across the fighting, platforming, puzzle and role-playing genres. While each has a remarkably divergent set of gameplay mechanics and rules, there are a few unifying elements in Touhou titles, most notably a realm known as Gensokyo, where humans and yokai intermingle.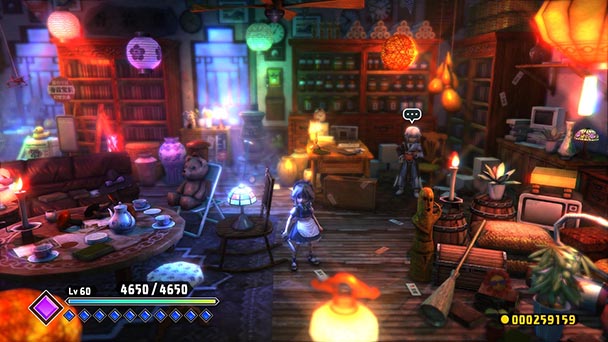 As the commencement of Scarlet Curiosity, players are re-introduced to Remilia Scarlet, a 500-year-old vampire with a Lestat-like malaise: immortality has instigated a case of acute boredom. Following her debut as a final boss in Touhou Koumakyou: The Embodiment of Scarlet Devil, she went on to be a playable character in a number of Touhou titles, from Immaterial and Missing Power, Imperishable Night, to Scarlet Weather Rhapsody.
Hoping to escape from her existential slump, Remilia reads the local newspaper, discovering blurry photos of a giant creature and sets off to confront the mysterious monster. Scarlet's curiosity soon devolves into vengeance, when she returns home after her first expedition to find her mansion in shambles, with the colossal creature seemingly the only entity capable of such committing such gratuitous destruction.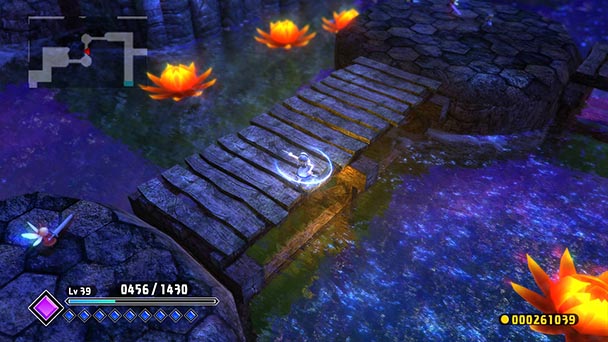 Sure, the set-up might lack a riveting subtext, but the impetus is strong enough to propel Remilia through a series of stages that pay homage to Falcom's Ys franchise. As players guide Remilia or her throwing dagger wielding hand-maiden Sakuya through a succession of maps and boss battles, bits of exposition are revealed through concise conversations. Adeptly, the dialog is enough to convey a sense of discovery, without slowing the momentum built by Scarlet Curiosity's action-driven combat.
It's during these encounters that the title truly shines, with both protagonist and enemies trading blows via energy-based beams and projectiles. Beyond a basic melee attack, Remila and Sakuya's customizable load-out also extended ranged attacks, dodges, devastating specials, and in the case of the vampire, an attack that can be triggered when descending from a jump. While regulated by a cool-down meter, there's a definite synergy to be found in your offensive arsenal, as you weaken foes up with ranged strikes before dashing in close to finish them off.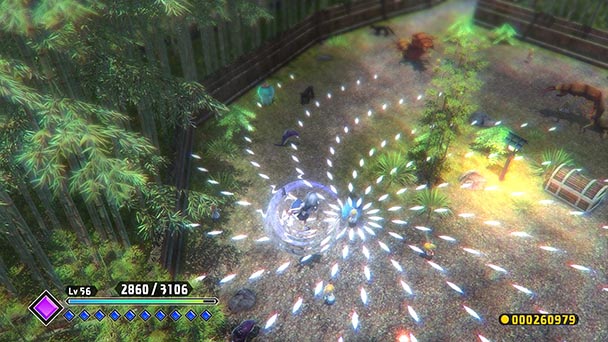 Given the game's emphasis on combat, you'd think that tedium might be Remilia and Sakuya's toughest opponent. But Scarlet Curiosity manages to keep things fresh. Although the number of enemy types isn't lofty, when combinations of different opponents are clustered together you'll be pressed to develop tactics to reduce their lethality, whether it's keeping your distance from poison-spewing flora or leaping to avoid clouds of bullet hell-like projectiles.
Variety it also rooted in the sporadic acquisition of loot, where a trip to the equipment screen shows a role-playing like breakdown of any statistical advantage your newfound gear might offer. Similarly, you can also change out your attacks, utilizing new skills bestowing after beating the end of stage boss. These battles are poised to be Scarlet Curiosity's most divisive element. Without any kind of guarding ability, they tend to be a bit simple, with players able to achieve victory by relentlessly assaulting opponents and cracking open any health-replenishing urns when hit points become meager. Don't be surprised if you crave a bit more strategy or complexity during these stage-punctuating confrontations. On the upside, the game instigated additional play, either through the reveal of a bonus dungeon after completion and disclosing its real conclusion by venturing even further.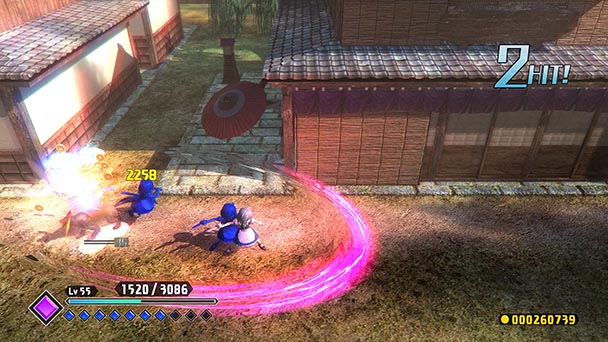 Visually, Touhou: Scarlet Curiosity looks stunning on PC monitors. Sporadic close-ups reveal the detail in the game's character models, making them look like diminutive Nendoroids come to life. Environmental details also shine, with settings like a bamboo forest that recalls the majesty of Arishiyama or an Edo-era village that evokes rustic charm. While enemy counts can be a bit constrained, the title doesn't hold back on its projectile count, summoning curtains of on-screen bullets. But arguably, the biggest pleaser is Scarlet Curiosity's soundtrack, which provides the type of plaintive piano melodies and lush orchestrations you might hear in an epic role-playing game. Honey Lemon's work is nothing short of stunning.
Performance-wise, the PC iteration brings 4K fidelity, which eliminates some of the aliasing, but doesn't offer any significant improvements to texture quality. On the upside, even with a midrange graphics card, you'll be able to get the game fluidly, with 1080p/60FPS output. If you do encounter any issues when running the game, trying kill your virus program. On one test machine, the app was prohibiting play.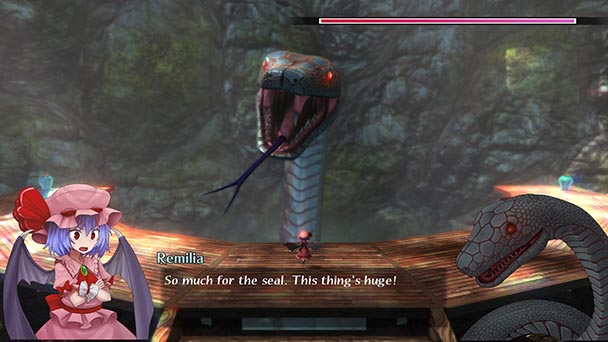 Originally released at Comiket 86 four years ago, Touhou: Scarlet Curiosity is a masterful doujin that can hold its own against big budget efforts. Although milieus can be a bit sparse at times, it's hard to focus on the environments when enemy extermination is so enjoyable. For a meager fifteen dollar price (and even cheaper at launch), you get a comforting sense of player progression and the realization that you might be helping other top-notch, fan-crafted works make it stateside.
Touhou: Scarlet Curiosity was played on PC
with review code provided by the publisher.
Touhou: Scarlet Curiosity
Platform:
PC, previously on PlayStation 4

Developer:
Ankake Spa

Publisher:
 XSEED Games/Marvelous USA, Inc.

Release date:
July 11th, 2018

Price: 
$14.99 via Steam, $13.49 launch discount through July 18th
Review Overview
Summary : Touhou: Scarlet Curiosity is yet another remarkable fan-made effort in the franchise and arrives on PC with a few pleasing additions like 4K support and an adjusted difficulty.