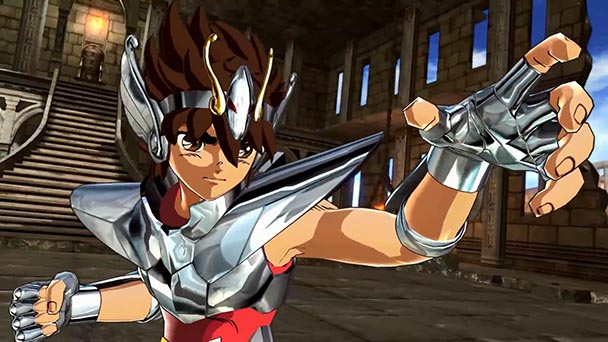 In Japan, Saint Seiya is nothing short of a national phenomenon. Even after the manga sold 34 million copies, interest hasn't waned, with the Saints spurring an anime, four films, and even a musical. Purportedly, the property played a pivotal role with directors, with the creators of Bleach and Mobile Suit Gundam Wing stating they were inspired by Seiya. In other parts of the world, the series proved just as popular. Showcasing one of the rare Brazilian protagonists depicted in manga and anime, Saint Seiya become huge in not only that country, but throughout the rest of Latin America.
About the only location where Seiya wasn't well received was in the U.S. Blame a bowdlerized, reedited effort that aired sixteen years after the original production and it's little wonder that the Cartoon Network pulled the plug on the anime after only 32 episodes. So while South America receives a boxed copy of Saint Seiya: Soldiers' Soul with both a Portuguese and Neutral Spanish voiceover track, the U.S. only receives a subtitled digital version. But regardless of how you watched Seiya, you can relax knowing that developer Dimps (Dragon Ball Xenoverse, co-developer of Street Fighter IV) have created a largely commendable adaptation of the eighties-era anime.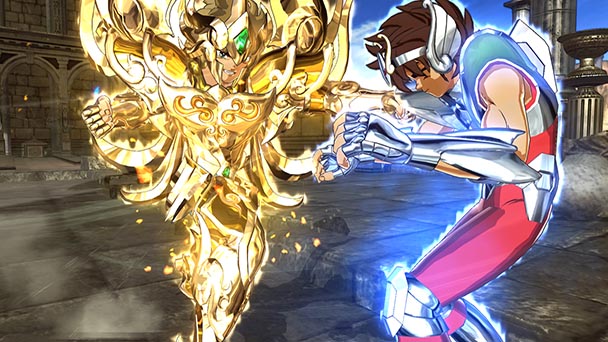 Jumping into the game's Legend of Cosmo component gives the option of progressing through a contenting compilation of four story arcs culled from its animated source material. Whether players select Asgard, Hades, Poseidon, or Sanctuary, the structure of each journey is similar. Employing a map to chart progress, you'll be sent through a succession of cutscenes and battles which aim to offer an abridged rendition of Saint storyline.
While there's divergence to accommodate the transition to single match, one-on-one, health bar-driven fights, Soldiers' Soul captures the much of the essence of each showdown. In execution, that typically means multiple fights against the same foe, with enemies having additional health in subsequent matches to signify an enemy's unveiled power. Interestingly, special challenges task players with mimicking the finishing strikes of the anime, so when Seiya faces against Sea Horse Baian, burning Cosmos to the Seventh Sence, earns additional credits that can be used to unlock Soldiers' Soul's bevy of in-game collectables.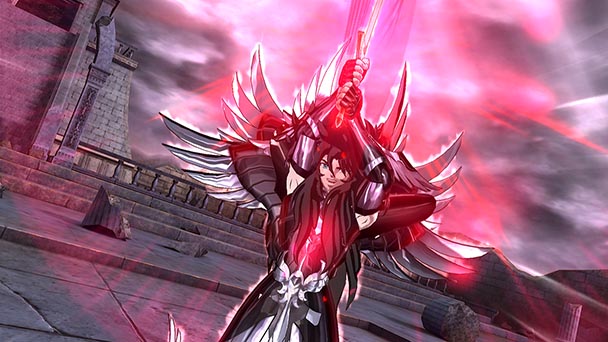 For better or worse, the game's fighting doesn't veer wildly from the pugilism found in the Naruto Shippuden and Dragon Ball Z adaptions. Soldiers' Soul employs the same perspective, with the camera continuously framing both characters as they dart around a bounded ring. Favoring accessibility, the game shirks complex combos, instead allowing players to execute a powerful string of strikes through successive presses of the light or heavy attack buttons.
Beyond these basics, fighters can block, dash, and dodge, as well as utilize special abilities that are tried to your Cosmo gauge. While this meter fill as you attack, you can also charge it up manually by holding down the left trigger- ideal for when your opponent is downed. A combination of trigger and keys commands offers access your special moves, which provide a gratifying recreation of each character's abilities. Dimps intent on keeping Soldiers' Soul accessible to aficionados is evident, with a low slung learning curve and control consistency among the title's roster. But, there are also concessions to nuance, best illustrated in a full Cosmo meter. In archetypal risk/reward fashion, players can empty their saving on a flashy Big Bang special or engage their Seventh Sense- which augments a character's abilities, extending the possibility of inducing even more damage.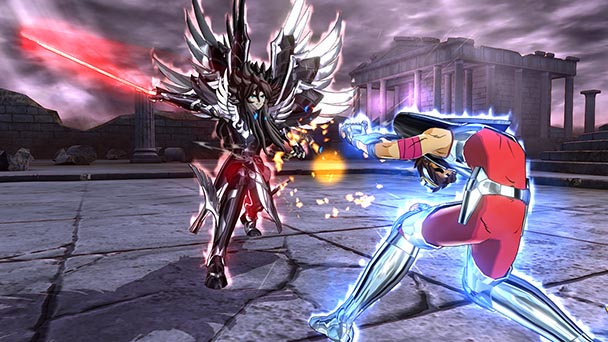 Wisely, incentive in Soldiers' Soul extends beyond playing through familiar plotlines. Fans will undoubtedly find themselves absorbed in the chase to unlock all 60+ character variants, even if a large portion of the final roster are Saints in bronze, gold, and God clothes forms. What's more currency can be uses to purchase Assist Phrases, which are used to augment the abilities of a character in addition to the customary sundry of collectables that range from background music, art, and a multitude of additional costumes.
Beyond Soldiers' Soul robust quartet of campaigns, there are a handful of additional play modes. Battle of Gold offers a non-canonical collection of duels for the revived God-clothes Saints. To keep players from careening through this indulging diversion, torches are required to proceed, each available through a heaping portion of in-game credits. Meanwhile, the title's Tournament recreates the Seiya's Galaxian Wars contest, playfully adding commentary delivered via the DualShock 4's speaker.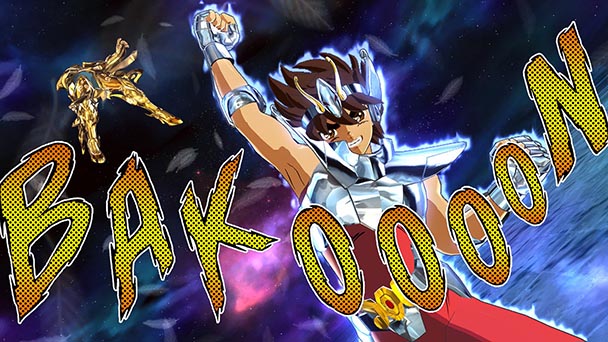 Naturally, players can burn Cosmos in both local and online battles. Unfortunately, a few blemishes spoil the net-based skirmishes, stemming from the game's netcode. Unless matches sported a top tier connectivity rating, lag has the tendency to creep into games. While that might be patchable, the game's rooster balance is a much bigger issue. With gamers gravitating to characters with powerful ranged attacks, Saint Seiya seem better suited for solitary play rather than a match striving for equality.
Building on the engine used in 2013's Brave Soldiers, Saint Seiya: Soldiers' Soul offers a largely capable visual delivery. While the juxtaposition of cell-shaded characters against non-shaded backdrops or the sporadic instance of a low-res texture might concern some, these deficiencies are largely outweighed by the game's other graphical virtues. From a consistently fluid, sixty frame-per second framerate to stunning special attacks, Soldiers' Soul offers just enough trimmings to justify a now-gen release.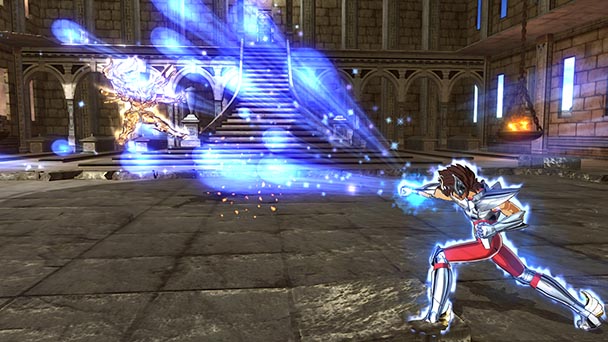 Although Saint Seiya might not be a household name in the North America, for other parts of the world it's earned a spot in the anime pantheon, with Athena's guardians inspiring a number of consequent efforts. For those who followed the anime or manga, Saint Seiya: Soldiers' Soul is a solid helping of fan-service, offering a proficient fighter that's entrenched in Saint lore. Enthusiasts don't be disappointed.
Saint Seiya: Soldiers' Soul was played on the PS4 with code provided by the publisher.
Review Overview
Summary : If you strip away the license, Saint Seiya: Soldiers' Soul remains an accessible, albeit ill-balanced fighter. While fighting fanatics might scoff at the mechanics, Saint stalwarts will likely appreciate the game's adaptation of source material.