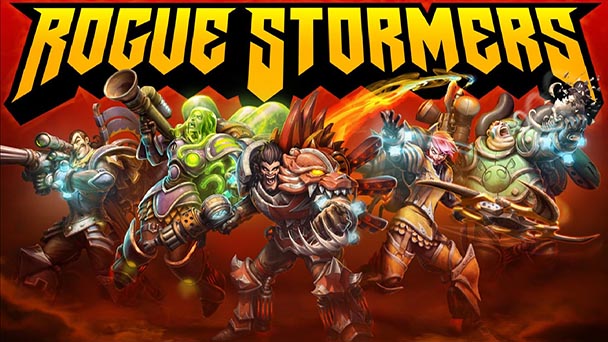 Despite the advent of indie developers and a resurgence in several genres which had fallen out of style, it seems short, difficult action-oriented games similar to classic series like Metal Slug or Contra have yet to find their groove. Yes, we've had the occasional new release such as Hard Corps: Uprising, but even these felt a need to add persistent upgrades and light-RPG features as a way of appealing to today's audiences.
Keeping in line with this theme, Black Forest Games, the studio behind Giana Sisters: Twisted Dreams, recently launched Rogue Stormers, a fast-paced run n' gun with light RPG elements.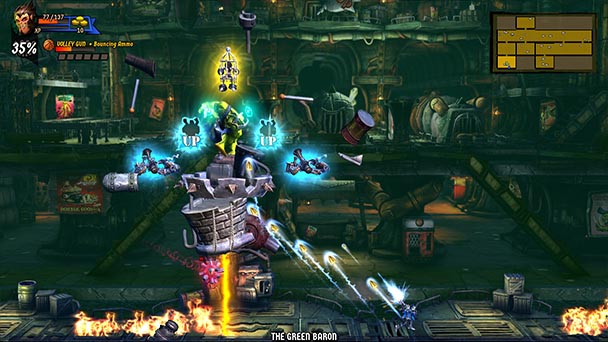 The concept is simple, in the old days, a game over sign meant players had effectively lost all their progress. While much of that still holds true in Rogue Stormers, the numerous conformed kills sprayed throughout your playthrough add up and allow you to level up, earning new skills which remain with the character even after death.
In essence, this makes each consecutive play easier as your chosen character will jump higher, do more damage and generally becomes more deadly. With that said, Rogue Stormers touts itself as possessing roguelike elements which are twofold; procedurally generated stages and randomized upgrades.
The first, as its name implies, means the level layout and enemy placement will be different every time you play. While I appreciate how this encourages multiple playthroughs, I can't help but feel that it misses a crucial point of what made Contra and Metal Slug so memorable. The olden classics had their challenges meticulously calculated and it was up to the player to devise a path through the hordes of enemies. In Rogue Stormers, memorization, pattern learning and level-specific strategies rarely come into play, if ever. It sacrifices part of the run n' gun formula for a feature which sounds good in paper, but I would argue ends up creating a less exciting experience.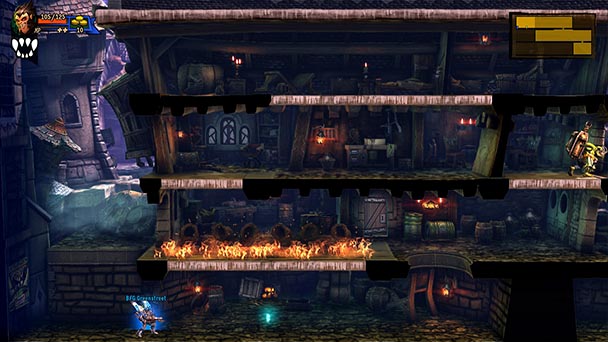 Players will often come across gold, shops, keys and locked chests. These will reward you with secondary weapons or upgrades which last until your next game over. Said upgrades are where the second roguelike element comes in, as a lucky streak can provide with you plenty of opportunities to improve your character, not to mention some power-ups and upgrades are inherently better than others.
While I greatly enjoyed powering up my main character, it also serves to destabilize gameplay, as each playthrough drifted from brutally difficult due to exceedingly easy depending on which and how many items I came across. Once again, despite the high number of threats constantly trying to kill me, I felt that the main factor for success was luck rather than skill. In one particularly fortuitous streak, I reached and completed the final stage with so many upgrades I was practically indestructible.
Enemy designs and abilities for example are well executed, forcing players to constantly adapt to different patterns and strategies all while being given a fluid skillset. The game even features 4-player couch and online co-op, though sadly, when trying out the latter, I only found empty lobbies.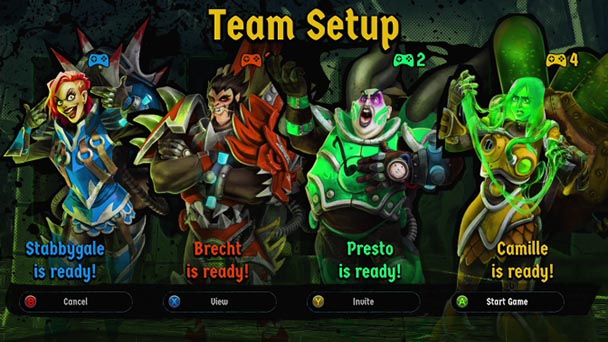 Progressing through the main campaign will also earn you new characters to play as, all which vastly different play styles and a unique rechargeable ability. Initially, you can only play as a standard machine-gun toting hero whose attacks mimic that of Contra's whose special move increases the firing rate for all players.
With enough persistence though, new members are added to the roster including an explosives expert with a slow fire rate or a shotgun wielding maniac whose weapons have a low range, but a high spread. Sadly, by the time I unlocked every character, the game had already grown stale, and playing through the same stages again, even if randomized did not held any allure for me.
It may sound like I'm being particularly harsh on Rogue Stormers, but rather, my issue here is disappointment. Black Forest Games understood what makes a great run n' gun title, but destabilized it by adding roguelike elements. Yes, we now maintain some progress upon dying, but eventually its challenge dissipated, and the procedurally generated levels are not as well designed or memorable as the games it tries to mimic.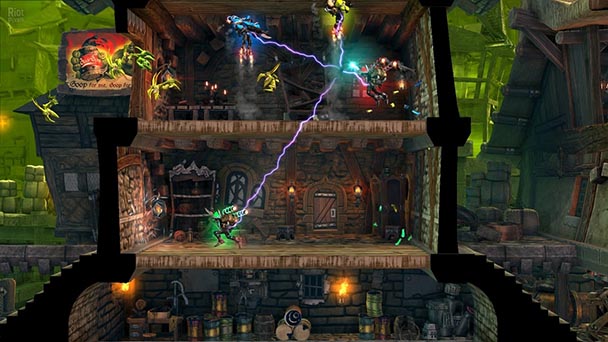 Rogue Stormers was played on PC with review code provided by the publisher.
Rogue Stormers
Platform:
 PC
Developer:
 Black Forest Games
Publisher:
 Black Forest Games
Release Date:
 April 21st, 2016
Price:
$19.99 via
Steam
Review Overview
Summary : More is not always better, and in Rogue Stormers' case, what could have been a beautiful homage to classic run n' gun games, feels slightly sloppy due to the addition of roguelike mechanics.