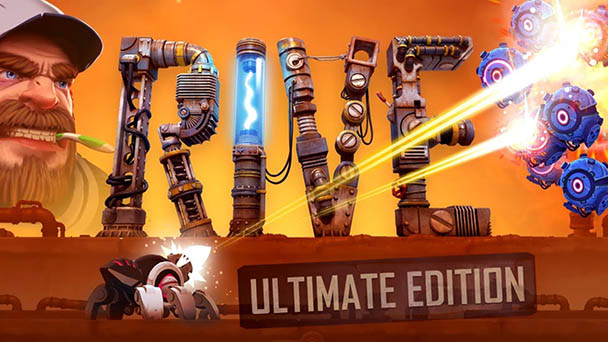 Typically, a developer's final project is an imprudent mess, if not an outright disaster. From Ion Storm's Daikatana, Maxis' SimCity 2013, Realtime Worlds' APB, Flagship Studios' Hellgate: London, to Free Radical's Haze, there's been a horde of half-baked efforts that resulted in the closing of their respective studios. But Netherlands-based Two Tribes refuses to end things on a setback, after the wild ambition and middling sales of Toki Tori 2. Instead, the release of RIVE: Ultimate Edition serves as the developer's swan song, celebrating gaming's controller-clenching past.
Our chaperone through the blistering journey is Roughshot, a trucker-hat wearing compendium of blue-collar stereotypes, albeit relocated in an intergalactic context. There's little in the way of identification with the stubborn protagonist. Instead, it's a delight to watch him plow through every obstacle with a blend of brute force and dogged boneheadedness, while emulating a Stallone-like inflection. Playing off Roughshot's limited acumen is a sentient being named Daryl, who often seems astounded by the cowboy's continued survival against the persistent procession of threats that the AI created. By all means, Roughshot shouldn't survive.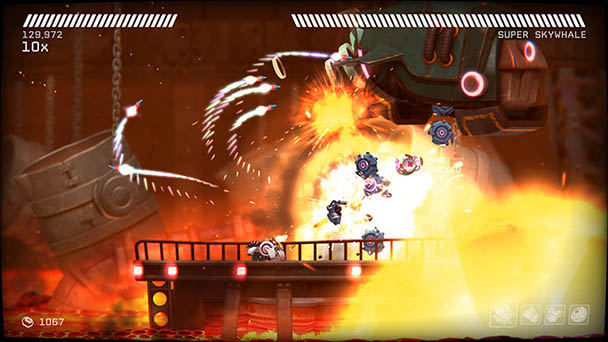 And if you've played the previously released PlayStation 4, Xbox One, or Steam iterations of RIVE, you'll know he habitually doesn't. Recurrently, the level of opposition rises to life-threatening levels, and if you haven't memorized how to handle each menace, Roughshot will repeatedly expire like a cyber-Viking, his passing honored with a screen-illuminating explosion. While that style of play might sound like a shortcoming, generous checkpointing and shrewd design decisions ensure that every death is a micro lesson, one small seminar in a master's degree worth of memorization.
At least some of the education stems from acquiring the multitude of game types that RIVE throws at you. Often, your Spider-Tank will be affected by gravity, as you use one analog stick to navigate and another to aim your mighty machine gun, that capable of decimating a barrage of encroaching baddies. With the ability to double-jump across platforms, here RIVE recalls the virtues of Sunsoft's Blaster Master, where a series of leaps are punctured with moments where you dispense lethality. But RIVE is remarkably fluid, and occasionally you'll be slinking down shafts to outrun a tide of red-hot magma. Sometimes, your guns are locked forward, converting the game into a horizontally-scrolling shooter. In other moments, gravity is removed and you'll floating freely. Periodically, the game combines the two, positioning weightless fields that players can leapfrog across. Fun and frustration stems from not knowing what the game will throw at you next.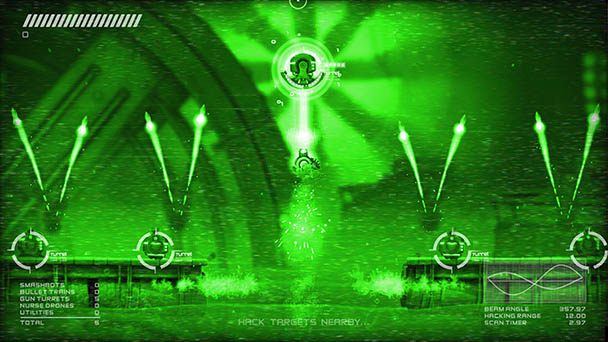 Variety isn't the only trick RIVE has up its sleeve. A press of the right trigger puts Roughtshot's ship in hacking mode, establishing a connection with any nearby beings. Linking with a nurse-bot and the diminutive assistant will follow you around, capping off your health whenever you are attacked. Alternatively, you can also hack turrets, which is an effective strategy for when you're feeling outgunned.
Given the game's elevated level of difficulty and the regularity of deaths, you might assume that boss battles could produce an outpouring of cursing. While they are consummate tests of reflexes and the ability to quickly identify attack patterns, these showdowns are not exceedingly arduous, congruent with some of the challenges that inhabit each stage. What more, these sequences permit ample use of your special weapons. Although you are only allowed a single shot, defeated foes drop plenty of ammo to assist your assaults.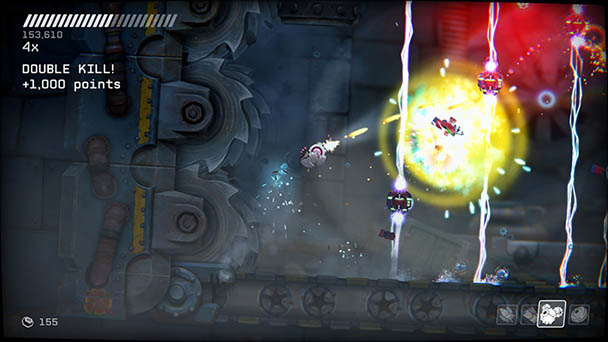 With formations of kamikaze, a steady stream of offensive fire, and an array of particles, RIVE: Ultimate Edition should probably lumber along on Nintendo's handheld system. Yet even undocked, the title maintains a rocksteady sixty frame-per-second framerate. Another addition is copilot mode, where a pair of participants share control of the Spider-Tank, with one tackling navigation while the other serves as a gunner. Whether you bring in a dedicated controller or split up the JoyCons, you can be assured that copilot mode will be a consummate test of coordination. Rounding out the options are speedruns, and challenges which recycle stages from the main campaign.
Save for a font size that's a bit small and a challenge level that might be too lofty for some, there's little fault to find in RIVE: Ultimate Edition. For an affordable price you're getting an intense experience that feels crafted for the Switch- not haphazardly ported from other platforms. As an exit, Two Tribes couldn't have hoped for more.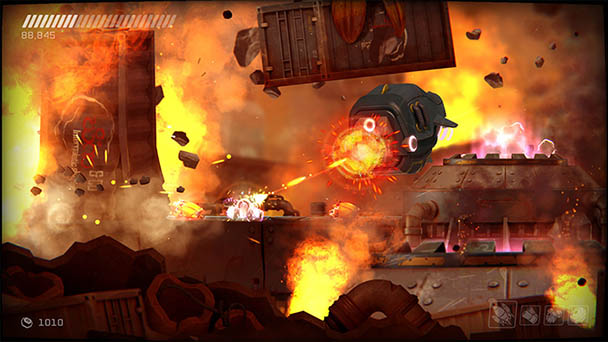 RIVE: Ultimate Edition was played on the Nintendo Switch
with review code provided by the publisher.
RIVE: Ultimate Edition

Platform: Switch, Previously on PC, PlayStation 4, Xbox One


Developer:

 Two Tribes

Publisher:

 Two Tribes Publishing

Release date:

 November 17th, 2017

Price:

 $12.75 via

eShop Difficulty:

 Hard

RIVE: Ultimate Edition review
Review Overview
Gameplay - 85%
Controls - 80%
Aesthetics - 90%
Content - 80%
Accessibility - 65%
80
80%
VERY GOOD
Summary : RIVE: Ultimate Edition feels built from the ground up for the Switch, demonstrating an unmitigated level of optimization. If you like your shooters challenging and with an ample amount of variety, you'll want this on your memory card.

User Rating:

4.04 ( 6 votes)