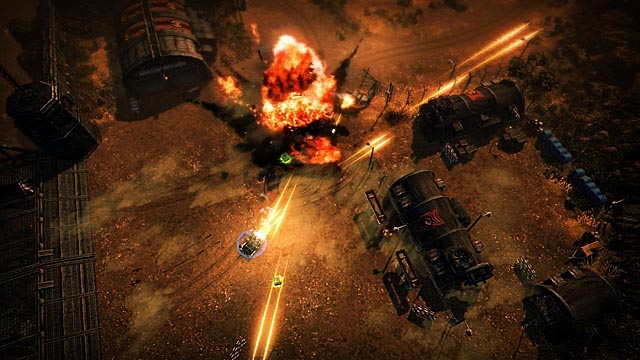 What's the concept? Taking a cue from the 1991's coin-op classic Total Carnage, Renegade Ops is a twin-stick shooter which shirks the concept of sniping abstract shapes, allowing players to execute a full-auto assault on battlefields filled with enemy tanks, turrets, LAVs, copters, and personnel. Unlike most entries in the genre, the player's vehicle isn't just an inertia-free reticle. Instead, Renegade delivers a robust physics engine, allowing players to perform precarious drifts over canyon corners or send their vehicle end-over-end through an enemy building- collapsing the structure and disarming any hostiles inside. The title also rises above its contemporaries through pure spectacle- typically, conflicts result in some of the most satisfying and sumptuous fireworks seen this generation.
Augmenting the game's intense action are two light-role playing components. Not only can players choose from four protagonists who each have their own varied vehicle and special ability, but the game also gives each character their own tech-tree. Experience for each hero in tallied separately, encouraging multiple play-throughs. For some Renegade Ops' combat is gratifying enough to make revisiting the game's nine levels not seem like a chore. Other may want to return to the game's twenty-minute missions with a split-screen partner, or via the game's four-play online mode.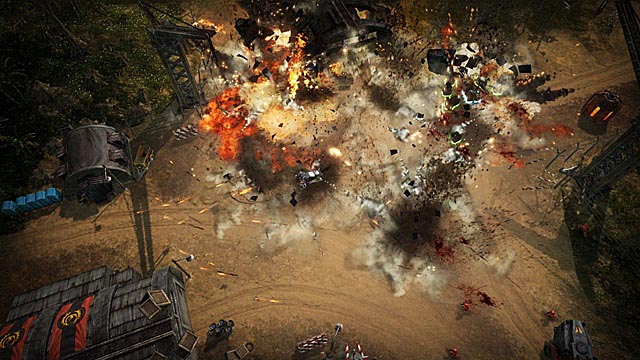 What are the game's strengths? Visually, Renegade Ops' 2GB size means that the overhead shooter rivals the fidelity and variety of many disk-based titles. Using a vehicle's flamethrower (one of the game's secondary weapons, along with an armor-piercing railgun and formidable rocket launcher), produces a pleasing incendiary effect, as damage points peel off fiery foes. From dusty trails left by rushing vehicles, sparks which emanate from scrapes from environmental scrapes to depth of field effects which enhance a disparity in elevation, Renegade delivers a bevy of attractive visual effects. While the title's single-player framerate is consistently rock-solid, regretfully there's a bit of stutter in cooperative games.
Smartly, Renegade Ops' complements its compulsory missions with an agreeable amount of optional side missions. With pointers for main and secondary assignments as well as a toggleable map, developers Avalanche Studios don't permit players to get lost, wisely dispensing firefights at a regular frequency. Together, the pace and potency of battles produce a wonderfully intense experience capable to evoking a vice-like grip around the controller. If I blinked during the game's final stages, I didn't notice.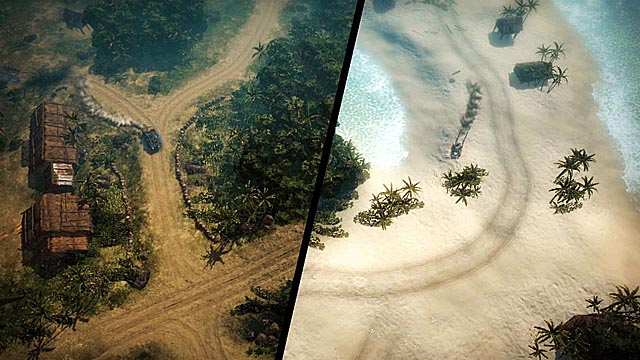 What could have been improved? Taking over an enemy stronghold tasks players with a button-mashing quick-time event, which when measured against the superiority of Renegade's scoot-and-shoot action, is uninspired. The game could have used more sequences like the bit where players transport a fragile warhead on their back of their vehicle- smashing through checkpoints and running over enemy soldiers with wild abandon. While some might not enjoy the comic-paneled storyline and campy dialog, at least a few of the game's voice-overs are bound to elicit a giggle.
Is it worth the money? Capable of cultivating a refreshingly cathartic experience, Renegade Ops' on-screen action is a throwback to when titles like Robotron:2084 and Smash T.V. would bewitch gamers. By keeping the ammo unlimited and the adversaries persistent, Renegade's capability to absorb players justly warrants its fifteen-dollar price, providing revitalizing relief for any gamer with an itchy trigger finger.