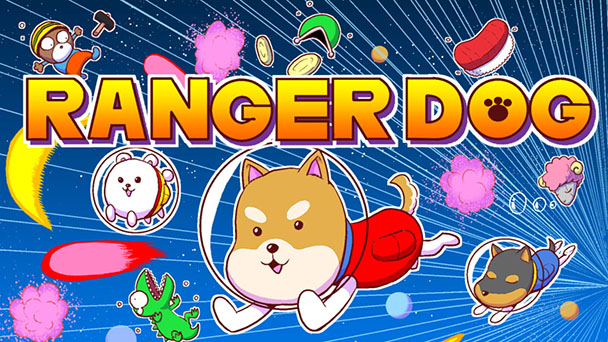 Rangerdog is a shooter where you'll never know where the next stage will be set. You'll travels from space, suburbia, and into the jungle, encountering unlikely enemies and unexpected bosses. Fans of games like Gradius will want to adopt this doujin charmer.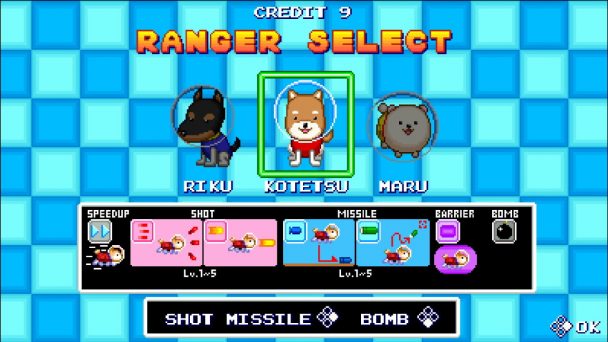 In a perfect world, Konami would still be making Parodius games. But sadly, the five-game cute 'em up series ended with 1996's Sexy Parodius, before spinning off into a turn-based strategy title. The franchise's title was both a clever portmanteau and effective descriptor, signaling that the games were a parody of Gradius.
But Konomi's classic horizontally-scrolling shooter was hardly the only reference. Everything from Yu-Gi-Oh! monsters, robots from the TwinBee series, and even an appearance from Goemon1 made it into the quintet of Parodius games. While some of the fun stemmed from catching all the references, there was also enjoyment in flying through the annals of the absurd. You really didn't know what to expect from the next stage.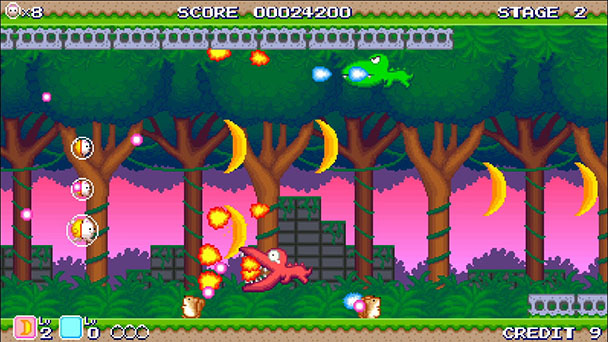 Yes, You'll Have to Gun Down Innocent Rice
That enthusiastic feeling of uncertainty also permeates the release of Rangerdog. You soar through a revolving sushi resturant, dodging rice and fish dropping for an inverted conveyer belt. You'll also fly through a construction site, and a casino where you'll blast open slot machines for boss bottle ammo. From dodging a gallant feline2 to confronting a missile-shooting train car piloted by monkeys, Rangerdog has all of the madcap whimsy of Parodious.
Naturally, there are a few differences, with the game's power-up system extending a notable departure. Rangerdog's trio of playable canines all have their own distinct play style, with two main weapons and specific abilities. Riku is a Doberman capable of amassing a pack of option-like pups and prefers a laser or bidirectional projectile. Kotetsu is a cute Shiba Inu armed with a spread shot or a wide bullet than can tear through multiple foes. Finally, there's Maru, who's an adorable ball of fur that might be Pomeranian or Bichon Frise. He's endowed with multi-angle firing as well as a waveshot. Beyond picking up options, he can also employ protective barriers.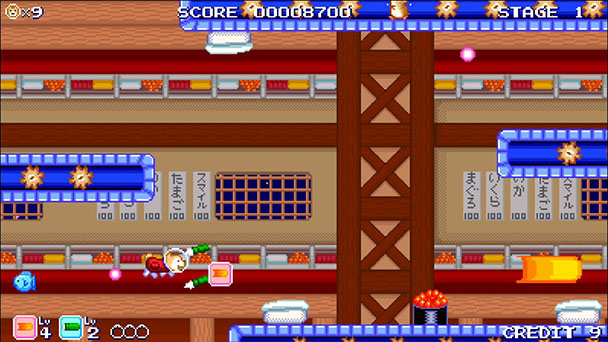 Shoot, Shoot, Wait, Stop…
But here's the distinction with Rangerdog: shooting power-ups cycles through a list of upgrades. If you already have a spread shot picking up a corresponding icon increases the capability of your gun. But accidentally grab that wide-bullet icon and you'll start the power-up process all over. This is also how your secondaries work, and you'll get to choose from say, those bombs that cruise across the landscape until they hit something or rounds that pack an explosive punch.
With the systems, you'll probably find yourself sporadically taking your finger off auto-fire so you can select the augmentation of your choice. If Rangerdog had Gradius' difficulty that would be an issue. But this is an easier experience that can be relaxed further by selecting the Easy difficulty setting. Instead, the run up to bosses provides ample opportunity to build up your arsenal, with an approachable amount of opposition. But this also means that replay lack a bit of intensity, as you cruise though levels. Once you've seen the capriciousness featured across the game's seven stages, a bit of the charm wears off. Ideally, Rangerdog should have incentivized players to revisit stages, perhaps with an unlockable character.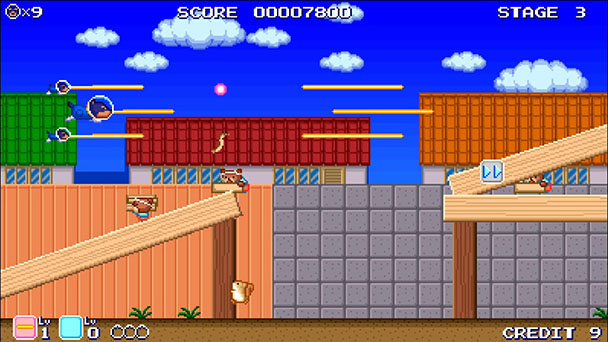 Conclusion
Given the game's economical price point, minor flaws can be forgiven. This is a game that's brimming with creativity. Yes, you're still firing rather traditional weaponry across horizontally scrolling playfields. But playable character, settings, enemies are all wonderfully arbitrary. Trying to make sense of it all while keeping your pooch protected is quite gratifying. Perhaps, I've finally comes to terms with the direction Konami has taken thanks to games like Rangerdog.
Notes
1 Localized as The Legend of the Mystical Ninja
2 Referencing Chichibinta Rika, the giant Las Vegas Showgirl who moonlights as a part-time mid-boss.
Rangerdog was played on Switch with
review code provided by the publisher. 
Review Overview
Summary : Fans of delightful retro shooters shouldn't miss Rangerdog. Despite the presence of triple-A titles designed by a team of hundreds, sometimes I enjoy small titles like this more. It's fun, quaint, and showcases dogs saving the world from massive piggy banks.