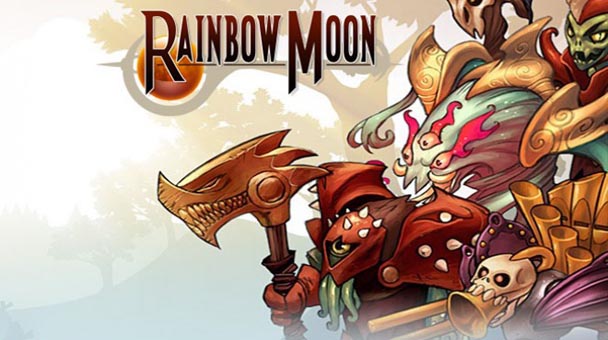 Players are forgiven for assuming SideQuest Studios are based out of Japan. Much like their compatriots Shin'en Multimedia, SideQuest is a German development house whose painstakingly polished output echoes the sensibilities of Nippon's golden age of gaming. Söldner-X Himmelssturmer and sequel Söldner-X 2: Final Prototype demonstrated the company crafting one of the better shumps of the last generation, while Rainbow Moon for the PlayStation 3 confirmed that the studio was equally proficient in the strategy role-playing genre.
Now the developer has ported Rainbow Moon to the PS Vita, providing an adept adaptation of the 2012 downloadable title. Mercifully, no compromises have been made in the journey to the portable screen with the studio adding their own (a PS+ subscription isn't needed) cross-save system and even quashing the rare glitches found in the PS3 iteration. Although players with an aversion for grinding will not appreciate Rainbow Moon's mechanics, role-playing enthusiasts will likely want to make sure that that their memory cards have enough space to accommodate the 1.4 gigabyte download.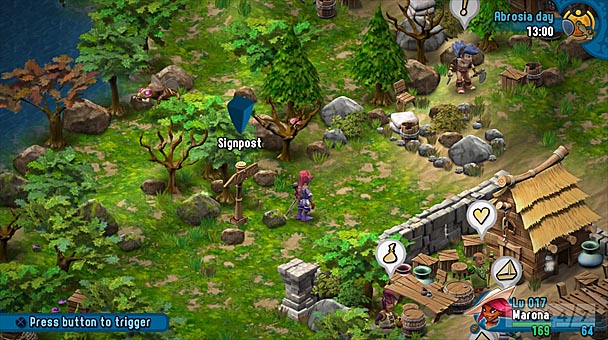 Beyond the aforementioned affinity for battle repetition, the title's other drawback is a skeletal narrative. The game's introduction establishes an impetus for taciturn protagonist Baldren, who is unexpectedly pulled into a portal during a battle with his longtime rival, Namoris. When the hero emerges on the other side of gateway, he finds that a myriad of monsters have followed him and they begin to wreak havoc on the tranquil terrains that make up Rainbow Moon. Although a makeshift motivation is established, the game does little to develop Baldren, forcing combat encounters rather than poignant emotion to serve as the title's driving force.
Mercifully, warfare and the dividends which result from engagement prove to be undoubtedly compelling. At its core, Rainbow Moon employs a straightforward, turn-based system to depict combat- as players tackle battles which advance the game's plot as well as an ample supply of optional skirmishes capable to strengthening party members. Initially, confrontations are little more than tit-for-tat affairs with complementary creatures. As players persevere they'll earn benefits like sub-turns, which grant additional movement and combat opportunities against lesser foes or skills which supplement Baldren's melee strikes with increasingly powerful area-of-effect attacks. Later, additional allies will fall under player control, with characters like archers and mages complementing the main character's skillset.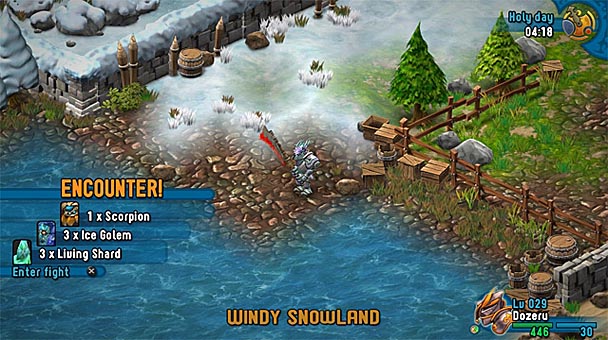 Smartly, these systems are gradually given to players (and habitually accompanied with a detailed explanation) endowing Rainbow Moon with a compassionate learning curve. That said, some details are purposefully left for gamers to discover. A combination of thoughtful player movement and predictable AI means that players can lure monsters into striking distance, while ensuring party members get the advantage of an initial assault. Once additional sub-turns, increased strength, luck and defensive stats are earned, players can clear a room full of pedestrian enemies without taking an iota of damage. Although, it's never articulated by the game, the method will inevitably be uncovered through a combination of trial and error as well as repetition.
Rainbow Moon's core hook can be found in the game's involving character cultivating components. Defeating foes awards objects which can either be sold for a tidy profit, used by the local craftsman to increase the quality of weapons and armor, or for items- used as a talisman for a diminutive park. Enemies also drop Rainbow Pearls, which are used to provide stat boosts to characters, which are kept balanced by experience level thresholds. Rainbow Coins act as the game's more traditional currency, allowing gamers to purchase healing, items, as well as torches and food- two provisions that constantly diminish as players explore the game's dungeons.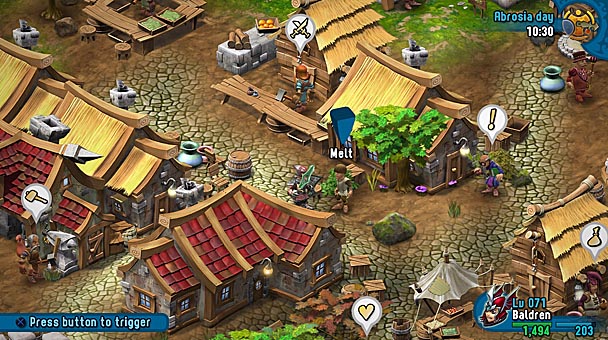 Play yields a marginal amount of earnings, with Rainbow Moon undoubtedly goading gamers into grinding. Regretfully, this system is less about adapting the difficulty level than driving players towards the title's time-saving micro-transactions. Although these business models are tolerable in free-to-play diversions, they really have no place in paid games. You can't really shake the feeling that SideQuest Studios fine-tuned the disbursement rate to encourage gamers to reach into their wallets. Sell us additional adventurers, but engineering tedium is shooting yourself in the foot.
Mercifully, monotony doesn't seep into every moment of Rainbow Moon. Dungeons are particularly interesting, with gamers confronting increasingly powerful creatures and gradually making a map of the dwelling. Exploration extends to the world map; where at first, out of reach treasures spur players into discovery. Steadily, characters open new pathways and once a boat (and later, a sailing ship) are uncovered, Rainbow Moon's realm becomes fodder for foraging.
In execution, the PS Vita proves to be even more successful that it's console-based brethren. Not only does Rainbow Moon lend itself to the type of abbreviated play sessions that are common for commuters, but the game's isometric visuals look absolutely stunning on the Vita's screen. The title's performance is equally as adept, providing an unwavering sixty frame-per second delivery and ephemeral load times when charging into combat. The game's cross-save functionality performed masterfully, allowing progress to be shared across the PlayStation 3 and PS Vita versions wherever there's an internet connection.
Although the title isn't a cross-buy purchase, publisher EastAsiaSoft should be praised for offering a discount to owners of the PS3 iteration. As such, this is a $14.99 purchase for newcomers, $7.50 procurement for returning players- and if they have a PS+ subscription, the price is knocked down to $5.99. Considering that players could easily sink over a hundred hours into Rainbow Moon, an acquisition of this charming adventure title is recommended. Save for an overemphasis on grinding, SideQuest's title is irrefutably well-built and can be immensely enjoyable in bursts.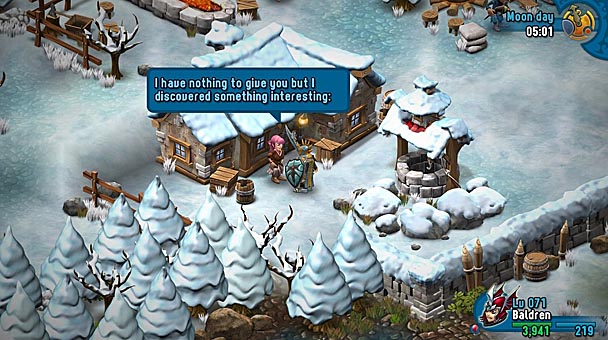 Rainbow Moon was played on the PS Vita with review code supplied by the publisher.
Review Overview
Summary : Rainbow Moon for the PS Vita is a meticulous port of the PlayStation 3 version. While it recreates the console iteration's occupying gameplay, it also duplicates the push toward microtransactions.