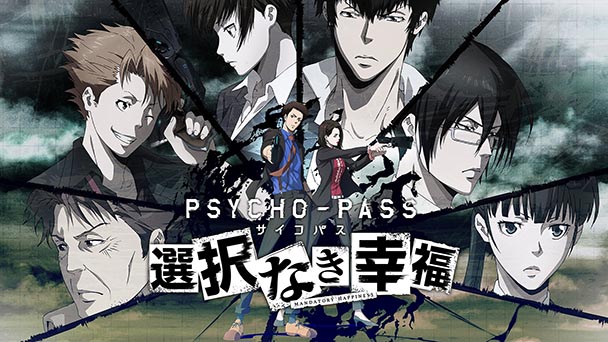 Production I.G's 2012 crime-thriller, Psycho-Pass, was built upon a number of thematic elements that might be familiar to western audiences. Recalling the 'pre-cognition' motif of Minority Report, the anime transported viewers to a dystopian, futuristic Tokyo, where crime is stopped before it happens. With the advent of the Sibyl System, all psycho- and bio-metric data is constantly scanned and analyzed. Stress levels are measured on a Hue-based scale, with jittery individuals said to have clouded readouts. Additionally, there's a Crime Coefficient, which offers a quantitative prediction of a person's criminal capacity.
Like any respectable work of science fiction, the technology is all part of a Faustian Deal. Sibyl offers a collective intelligence that offers an immediate aggregate of data, answering queries than range from the inconsequential to the imperative. It has also radically reduced crime levels, clarifying the Hue of the majority as threats are systematically suppressed. Eerily, this idea of preventing crime before it happens is currently a very real concern in Japan, with Diet deliberating over a controversial conspiracy bill which would punish the planning of certain crimes.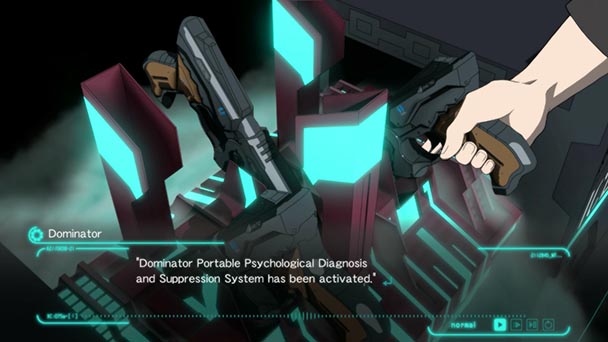 Recalling another work of Phillip K. Dick, Psycho-Pass' Public Safety Bureau is an enforcement system that's split into two district tiers. Enforcers are the Rick Deckard-like work horses, tasking with tracking down anyone with an elevated Crime Coefficient and delivering justice through a tool called a Dominator. Divorced from the decision-making process, the Sibyl System determines the lethality of the weapon's discharge. While lower level 'latent criminals' are often knocked out and sent away for rehabilitation, others are executed violently, reduced to a splatter of viscera.
Like many elements of Psycho-Pass, social systems are intricate and interconnected. As such, those with moderate Crime Coefficients are occasionally drafted into becoming Enforcers, theoretically transforming any wayward sentiment into one that can benefit the system. But to keep the Enforcers from going rogue, a network of Inspectors are in place to monitor subordinate investigations. More than most anime, Psycho-Pass' is intricate and dense, but exploration proves immensely rewarding. Whereas most properties might be content to extend a cyberpunk context, writer Gen Urobuchi has constructed a meticulous microcosm that's ideal for philosophical musings and ethical quandaries.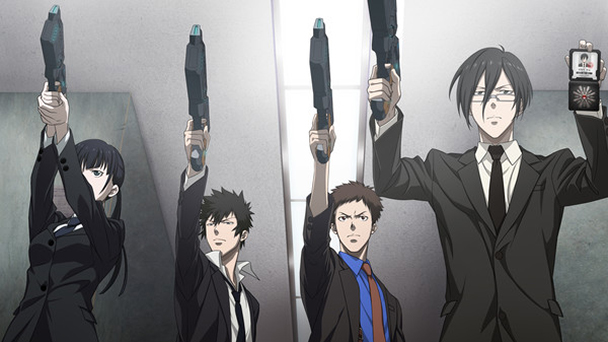 With the release of Psycho-Pass: Mandatory Happiness for the PC, players are privy than more than just a passive role in future Tokyo. Situated during the first six episodes of the first season, the visual novel offers the opportunity to serve as either an Investigator or Enforcer, each role offering a Rashomon-like perspective across a quartet of cases. While some might yearn for a Psycho-Pass to be realized as a Arkham Knight-like action game, Mandatory Happiness' procedural-based approach stays true to the source material extending an experience that's destined to delight fans. For those intrigued by the premise, I'd suggest watching the first season before delving into this engaging companion piece. Doing so will is apt to escalate your level of enjoyment.
At the commencement of the novel, players are able select a protagonist. Nadeshiko Kugatachi is a prodigious new Investigator, coolly logical and hyper-efficient despite dealing from a bout of amnesia sustained during a training mishap. Alternately, Takuma Tsurugi offers an engaging supposition, with a checked past and a merciful heart guiding the Enforcer's actions and prompting the intermittent instance of regret. Although Mandatory Happiness' broader events are identical for both characters, each encourages gamers to role-play, making decisions in an exceedingly lucid or emotional fashion. Unlike most VNs where replay can be a bit of a slog, here I craved seeing events from the other lead's point-of-view, searching for crumbs of solace after some exceedingly poignant moments.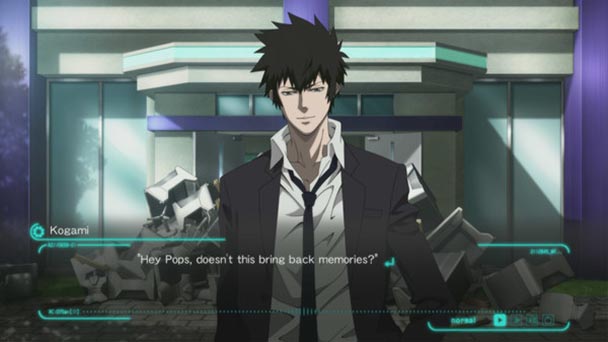 But arguably, the real star of Mandatory Happiness is the game's antagonist, Alpha, a form of artificial intelligence harbored inside a teenage body. Much like the heavy in first season of Psycho-Pass, Alpha is a catalyst for chaos, shattering the conventional representation of malevolence for plot's sake. Unable to be evaluated by the Sibyl, Alpha operates in the obscurities, gradually determining that the sentinel-like system is a detriment to humans and the pursuit of desire is paradoxically an impediment to pleasure. Naively, Alpha attempts to remedy the situation, and his repercussions produce a number of poignant ruminations on social control, freedom, and utilitarianism.
Although that might read like a syllabus to an upper-diversion philosophy course, Mandatory Happines's players won't be dissecting Jeremy Bentham and John Stuart Mill. Instead, the novel puts players in the middle of some deeply distressing ethical dilemmas. Far removed from the happy violence of the medium, some of the decisions I made while playing haunted me for days afterward. But these choices also made me contemplate contemporary issues, making Mandatory Happiness a surprisingly mentally engaging experience.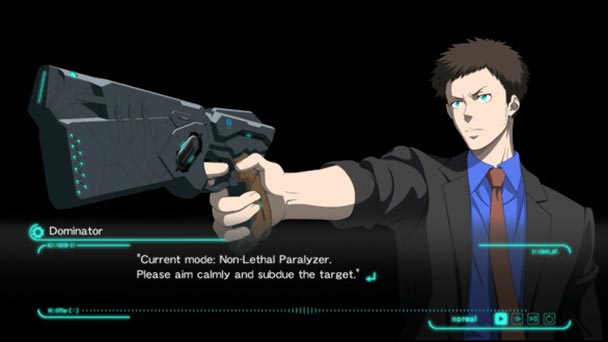 Woefully, those not invested in the Psycho-Pass universe might feel a bit different. Undoubtedly, some might argue that the novel's branching points don't foreshadow repercussion very well with seemingly arbitrary decisions resulting in unforeseen circumstances. But if you sit down and actually role-play, thinking about the broader effects of your choices, events don't seem as random. One of the most game-like elements found in Happiness is rooted in your Hue. At some points, you can opt for mental stimulants to counteract your current state of mind. But doing so will influence your path through the plotline. In some instances, a darkened Hue might signal your superiors that you're not able to objectively conduct an investigation. Other times, the state might just be an in-road to one of the novel's branching paths.
Another point of contention will be found in Mandatory Happiness' depictions of savagery. While the anime sporadically employs exceedingly sadistic violence to reinforce how the Sibyl System is brutal and unfair, the visual novel tends to shy away from graphic carnage. To some, this might signal the novel taking the high road and a refusal to emphasize the anime's primal elements. But this method also dampens the impact of some situations. This, I fear, dilutes the experiences expected by Psycho-Pass' most ardent fans.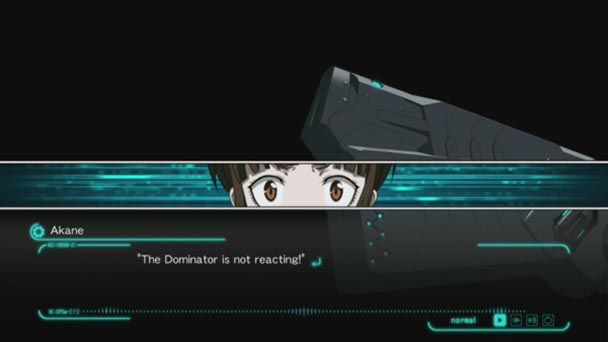 Happiness' conversion to PC is a largely commendable effort. Although users can't designate district resolutions, the title scales up to 1080p, offering windowed and with a press of ALT-ENTER, full-screen output. Pleasingly, the novel recreates the aesthetic of the anime, and while animations are mostly limited to facial expressions, there are a wide range of backdrops and portraits through the storyline.
As visual novel adaptations go, Psycho-Pass: Mandatory Happiness is exemplary, neither offering a rigid reenactment of events, nor a side story that feel divorced from the source material. Instead, the title aims to transport players into a Sybil System-overseen society, flawlessly capturing what made the first season of the anime so brilliant.
Psycho-Pass: Mandatory Happiness was played on
the PC with review code provided by the publisher. 
Psycho-Pass: Mandatory Happiness
Platform:
 PC, Previously on PC, PS Vita
Developer:
Mages Inc, 5pb.
Publisher:
 NIS America
Release date:
 April 24th, 2017
Launch Price:
 $29.99 via
Steam
Review Overview
Summary : Psycho-Pass: Mandatory Happiness is all too uncommon work of science fiction that feels important, goading gamers into thinking about the thorny intersection of law and morality. While the journey might not be lighthearted, it is undoubtedly worth taking.