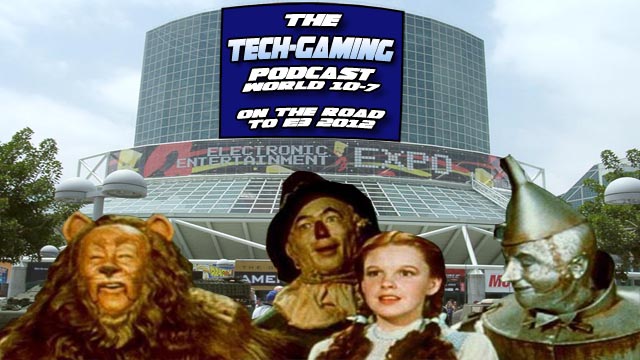 With the Electronic Entertainment Expo just days away, DesertEagle, SeanNOLA, Samurage, BlueSwim and The Lawman share their predictions, hopes, and concerns as the industry prepares to reveal its plans for the coming year. Fortunately, anticipation can cloud the mind of the mind who also offer impressions of Tom Clancy's Ghost Recon: Future Soldier, Mario Tennis Open, Table Top Tanks, Avengers Alliance, Botanicula, Sideway, PixelJunk 4 A.M., the Xbox 360 version of Minecraft, as well as a look back at the uninhibited campiness of Command and Conquer: Red Alert.
Don't forget to send your questions for our next mailbag, and subscribe to the Tech-Gaming Podcast on iTunes. Leaving a review would be an awesome thing to do and keep us from begging for feedback every show. In lieu of our typical trivia game, correctly answering the questions below will place you in contention for a copy of Disney Universe for the Xbox 360.
Podcast 10-7: On the Road to E3 2012
RSS Feed:
The Tech-Gaming Podcast
1. Once again this year, E3 attendees will find themselves shuffling between the South and West halls of the Los Angeles Convention Center Yet, in the mid 2000's this was a little more method to the madness. How were attendees generally organized? 
A. Western-based attendees in the South Hall, while Asia-based attendees were in the West Hall.
B.Attendees beginning with A-M Were in the West Hall, while the rest of the Alphabet were in the South Hall.
C. If you has more than a 1,000 employees you got a spot in the South Hall, more than a 250 employees West Hall, less than 50 Petria Hall and less than a dozen you were in the Kentia Slums.
D. West hall housed multi-platform developers, with South Hall was regulated to single platforms and PC publishers.
2. Speaking of Kentia Hall, the seed underbelly of bootleggers and low-grade hardware is no more. Just what happened? 
A. Complaints to the ESA forced the Expo to exclude the shifty vendors.
B. Kentia is now one of the hall three god-awful food courts.
C. High rents forces the smaller vendors out.
D. The hall was converted into a parking garage.
3. What year was the first E3?
A. 1990
B. 1992
C. 1995
D. 1997
4. While E3 used to be an invention only even, some companies took exclusivity even greater levels. What of the following publishers only had an invite-only area sectioned off by chain-link fences and burly security guards?
A. Midway
B. Rockstar
C. Konami
D. Microsoft
5. Oh, Konami you made an announcement in 2009 that many stateside gamers are still waiting for. So for what game does hope still spring eternal?
A. Castlevania: Symphony of the Dawn
B. Metal Gear Arcade
C. Suikoden 6
D. Tokimeki Memorial 7