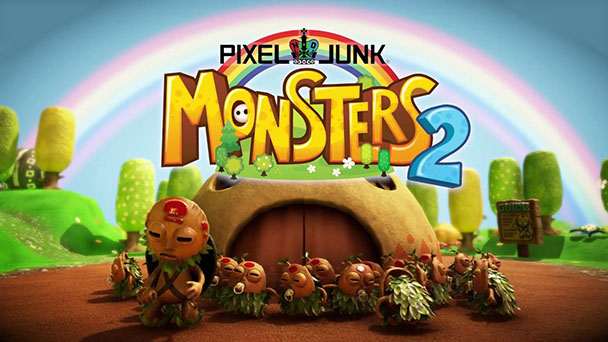 Beyond the ubiquity of annual sequels, the industry has weakness for rebooting and remastering games that are only a few years old. As such, the arrival of PixelJunk Monsters 2 feels like an anomaly, with the follow-up trailing its predecessor by a full decade. During that duration, developer Q-Games could have mused over the mechanics of the original game, potentially building on the gentle changes offered by the game's expansion, PixelJunk Monsters Encore, which arrived a mere four months after the original release.
But save for a visual overhaul and some gentle mechanical tweaks, PixelJunk Monsters 2 rigidly adheres to the formula of its predecessor. For many games, that might be a kiss of death, with antiquity damning the follow-up to flounder. But gallantly, the sequel succeeds, demonstrating the quality and execution of the original game. Monsters 2 might not be the best tower defense game out there (Hidden Path Entertainment's Defense Grid 2 retains that honor), but it's undoubtedly more enjoyable and polished than ninety-five percent of the genre.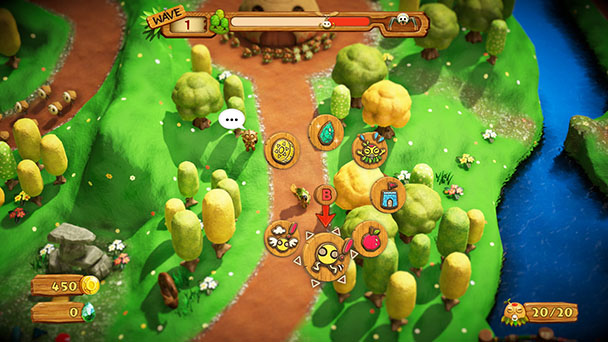 As least some of the enjoyments stems from PixelJunk Monsters shirking of milieus filled with heavy machinery and rendered in drab colors. Instead, the game feels organic, imagining a quint tribe of chibis living peacefully in a tree-lined locale. Colors lean toward the vibrant, with grassy hillsides edged by lines of green flora. Tiki, which arguably deserves a much larger presence in gaming, is still the core aesthetic, with the Polynesian carvings used in the representation of the protagonist ("Tikiman") as well as the boss characters hellbent on testing the strength of your defense network.
Following tower defense tenet, each stage issue waves of different types of attacker, who emerge from off-screen and follow a pattern toward your chibi's protective hut. To repel the onslaught, players use currency to build various turrets that attack any antagonists who shamble by, gradually witling away their health. Once they are defeated they leave either money or gems that are used to bolster your network of towers, which are needed for faster and more formidable foes.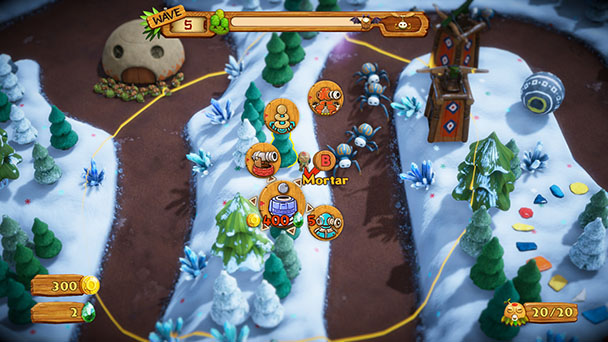 Variation arrives in enemy form and pattern. Beyond the aforementioned bosses, there are speedy spider-like enemies, airborne antagonists who don't have to follow trails, and large hordes that can overwhelm slower-firing turrets. At the beginning of the stage, their trajectory will be highlighted for you. But over time, the opposition advances, emerging from multiple fronts, and generally abandoning prescribed pathways. As such, you'll need to closely monitor opponents across each wave, watching for a red icon that shows where they'll enter the field and using the right analog stick to scan the area.
Unlike most tower defense games, you don't stand by idly while your turrets do all the work. While towers evolve in stages by eliminating enemies, Tikiman can encourage them to evolve by being in their vicinity. But given you'll have a multitude of turrets spread out across the map, and the masked lead is must pick up coins and gems while avoiding opponents, the poor protagonist doesn't have it easy. Unfortunately, some of PixelJunk Monsters 2 visual effects don't make his job easier. Eliminated enemies disappear in a plume of thick smoke, which can make navigation a bit too tricky.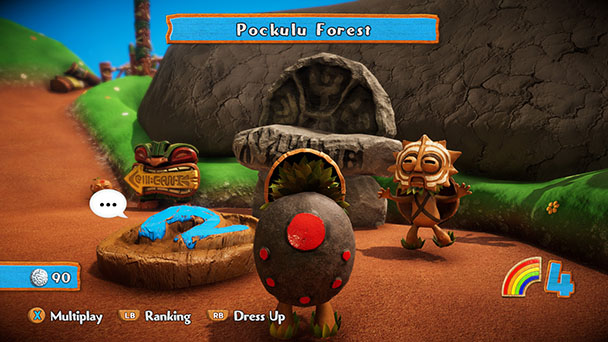 The original PixelJunk Monsters often felt like a hybrid of tower defense and puzzle game, since there was a pretty specific way to complete levels with all of your chibis intact. Often this entailed the use of a specific type of tower or a turret placement that could strike at multiple lanes. Although, this is still present, especially on the higher difficulty levels, there's substantially more equifinality in the sequel, with the integration of fruit bombs that can be used to eradicate a group of foes and boulders that can pushed down paths, injuring packs of antagonists. Additionally, Monsters 2 permits you to bring in three additional cooperative online partners or another local companion to help battle the hordes, scaling the level of challenge appropriately. But at the time of this writing, either the matchmaking or a diminutive players base was making finding mutuals difficult, especially on the Switch.
Another change to Monsters 2 is the inclusion of three-dimensional playfields. Filled with valleys and hills, Tikiman is given the ability to jump to navigate the topography. But in execution, it can be a bit frustrating, since stages are designed so that some knolls can only be accessible through specific angles. This can make moving Tikiman challenging, especially in areas where a procession of enemies is filling up a pathway.  The upside is that Monsters 2 integrates a physics system into the proceedings, and it's intensely satisfying to amass coins rolling downhill after your turrets slaughter a swarm of foes.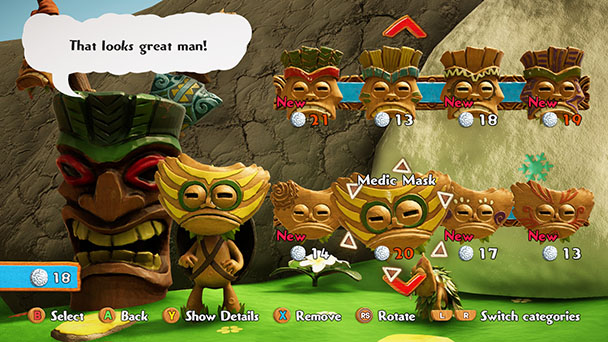 Q-Games has traditionally developed two-dimensional games, so it's intriguing to see the team taking PixelJunk Monsters in the third dimension. Most of the time you'll be using an overhead view of the action, but a button press changes things to a third-person perspective, behind the back of Tikiman. Play isn't easy with this viewpoint, but it does show the reveal Monsters 2's beauty, extending a depth of field perspective that makes the game resemble Claymation. Remarkably, the game's framerate is unfailingly fluid, outputting sixty frames per second on the PlayStation 4 while the Switch receives thirty. Additional visual variety arrives in the form of a multitude of different masks for Tiki to wear, and the obligatory cosmetic DLC.
'If it ain't broke, don't try to fix it' embodies the design philosophy taken by the Q-Games team. While that might disappoint those hoping for revolution in PixelJunk Monsters 2, the developers wisely opted for evolution, retaining many of the core mechanics. Sure, some of the adjustments are lateral, bringing in both nuance and a few new issues, but none of changes spoil what's an exemplary entry on the tower-defense genre.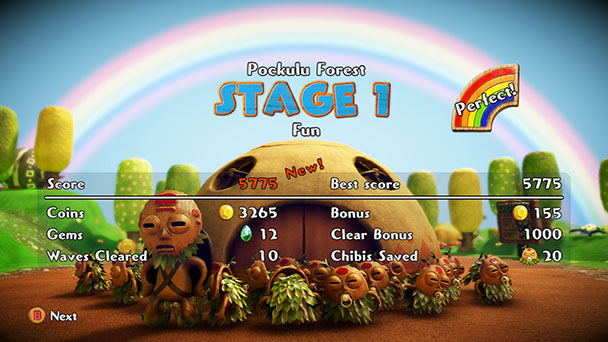 PixelJunk Monsters 2 was played on the PlayStation 4 with review code
provided by the publisher. A Switch version was purchased independently. 
PixelJunk Monsters 2
Platform: PlayStation 4, Switch, and PC
Developer: Q-Games Limited
Publisher: Spike Chunsoft Co., Limited
Release date: May 25th, 2018
Price: $14.99 via digital download
Review Overview
Summary : Ten years on, PixelJunk Monsters 2 retains the wave-based gameplay that made the original game so enjoyable. For the sequel, there's some new wrinkles and a move into the third-dimension, but the core template hasn't been tampered with.