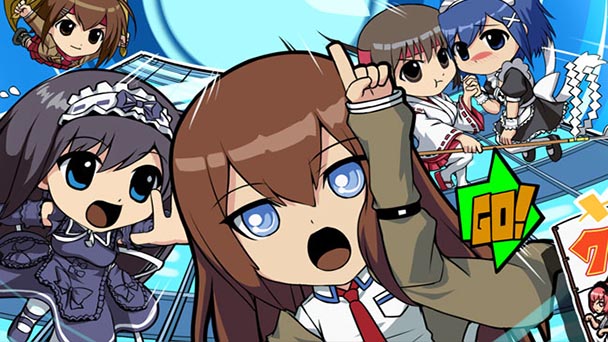 It's not uncommon for popular fighting franchises to produce a brawling-oriented spin-off. From Nina William's sabbatical from the Tekken series for Death by Degrees to Liu Kang and Kung Lao's transitory retreat in Mortal Kombat: Shaolin Monks, a number of titles have moved from offering a single adversary to filling the screen with legions of enraged enemies. Fueled by flashy visual effects and an abundant amount of punishing combos, 2D fighter Phantom Breaker cultivated a fervent following in Japan when it was released in 2011. Yet, despite indications that SouthPeak Interactive was going to localize the game, the title lived up to its spectral moniker, never materializing for stateside players.
Instead, Western Xbox 360 owners received Phantom Breaker: Battle Grounds, a title which discarded the one-on-one oppositions for a rousing beat 'em up lead by a quartet of lively lolis in chibi form. While the recent port onto the PS Vita retains the game's basic technical prowess, the transition isn't without fault. Fortunately, these shortcomings do little to mar Battle Grounds engaging gameplay.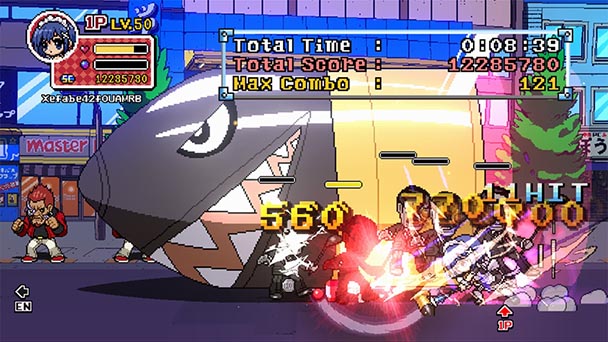 Brawlers aren't usually known for having rich expositional elements and the title does little to topple that trend. A brief bit of voice work passage details the story of a disreputable man known as Phantom, who has kidnapped a sister of one of the lead characters. While Battle Grounds attempts to establish a mythos with magical weapons called Fu-mantion Artifacts and dimensional rifts, the game's far more effective at creating a context through its beguiling visual output.
From the game's introductory stage set amidst Akihabara's beckoning storefronts to the moving passenger ships which dot the artificial island of Odaiba, Phantom Breaker: Battle Grounds does a commendable job of capturing the breadth of Tokyo's beauty; it's too bad the game's final, fantastical environments can't match the splendor. But even more beguiling that Phantom Breaker's battlefields is the game's sprite-based artwork. Enemies range from salarymen with oni half-masks, malicious yōkai, and even ganguro, offering a nice change of pace from the typical boring baddies. Boss characters offer a level of challenge that's related to the amount of screen real-estate they occupy. Expect these encounters to whittle your life-bar down to worrisome levels.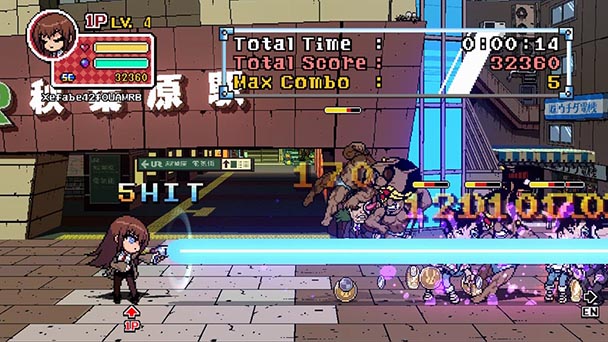 Collectively, Battle Grounds' foursome of protagonists do a laudable job of representing the most popular anime/manga archetypes.Mikoto is a loligoth college student armed with a sword, and is the game's all-around fighter. Waka acts as the title's irresistibly adorable shrine maiden, and with her naginata has the longest reach of all the girls. Itsuki is bound to delight players hoping to kick ass in a French maid costume. With her humungous hammer, she's the heavy hitter of the bunch. For those wondering where the requisite kunoichi is, Yuzuha has a number of tricks up her shozoko, including the ability to trip opponents with tossed banana peel- she's also the fastest of the bunch. Agreeably, finishing the game on the multiple skill levels unlocks six other combatants. Considering the addition of extra fighters, the DLC offering of Makise Kurisu (of Steins;Gate fame) seems excessively priced at six dollars. When did the value of a single extra character jump to half of the MSRP of the base game?
Overlooking the exuberant content pricing, Battle Grounds' heroines are a delight to control, with the Vita's face buttons issuing weak, medium, strong, and special attacks. When it comes time to inflict more substantial amounts of damage, players may either use two buttons to initiate Overdrive, Outrange, and Super Special assaults, while the "L" trigger allows the protagonist to switch planes, ala Guardian Heroes.  On Battle Grounds easiest difficulty setting, gamers can persevere with a bit of manic button pushing- but on the elevated skill levels, players will have to employ simultaneous direction-pad taps and button taps to summon specialized strikes. Save for the tendency of attacks to trap players in stunned stances and an abundant amount of palette swapping to increase the diversity of enemies, combat in Battle Grounds is a largely satisfying pursuit. Pleasingly, fighting feels fast and fluid with each blow takes a decent amount of damage off most enemies, making the game's diminutive lolitas feel quite powerful.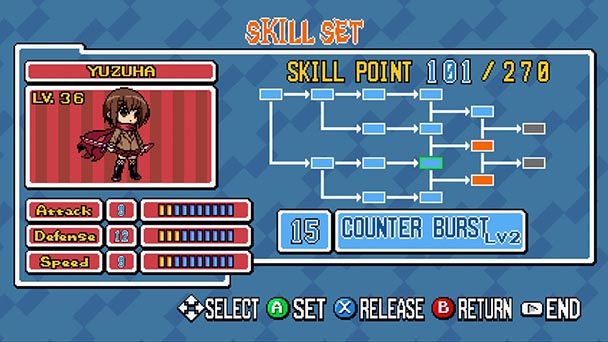 Although the game runs smoothly, offering a reliably fluid framerate and sporadic, but brief load times, there are a few elements poised to irk players. Using the "O" button to confirm a selection is common in Japan, but isn't the norm is Western games, so Battle Grounds can feel like an import title. More worrisome is the lack of support for the PS Vita's analog stick. While the direction pad certainly offers a bit more precision an option for an alternative control method would have been agreeable, especially for those prone to finger fatigue.
One of the benefits of battles is an allotment of upgrade points, which can used to bolster each fighter's core stats, as well as add additional abilities to their arsenal. While the mechanic isn't especially deep, it does help to sustain a player's interest, across additional excursions through either the story or arcade mode. Battle Grounds' other commendable component is its multiplayer mode, where pugnacious-minded parties can link up via an adhoc connection or online connection. Although comrades were a bit hard to find and the intermittent instance of lag appeared, having a cooperative partner added a bit of nuance to Phantom Breaker's pugnacious escapades.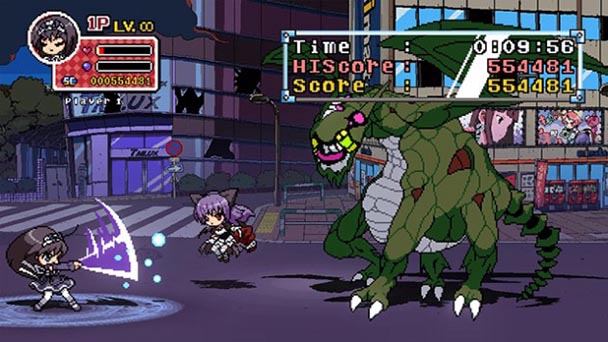 A few small oversights shouldn't stop brawler game enthusiasts from picking up Phantom Breaker: Battle Grounds on the PS Vita. Save for the superior Dragon's Crown, Sony's portable system has a scant number of beat 'em ups in its library, making the quirky, engaging, and entertaining title an easy recommendation, especially at the game's reasonable twelve dollar price point. Just steer clear of the exorbitant DLC, until a sale drops Kurisu down to an inexpensive level.
Phantom Breaker: Battle Grounds was played on the PS Vita with review code provided by the publisher.
Phantom Breaker: Battle Grounds 
Platform:
 PS Vita
Developer: 
5pb Games
Publisher:
5pb Games/Mages
Release date:
 August 12th, 2014
Price:
 $11.99 via PSN
Language(s):
 Japanese voice/English text
Review Overview
Summary : Phantom Breaker: Battle Grounds makes a dexterous leap from the big screen to portable, extending its brand of liquid-smooth, loli-driven tussles to Vita owners.