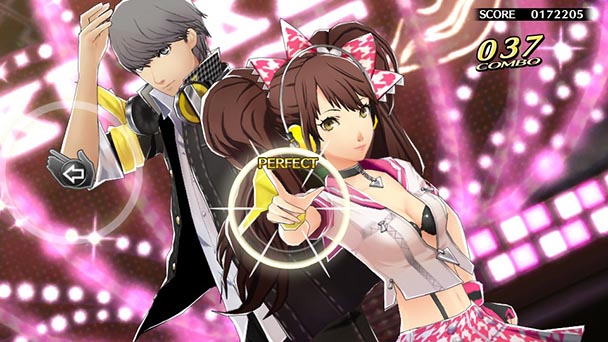 With early rhythm games, representation was obvious. Dance Dance Revolution duped players into boogying atop a set of neon-lit panels, mimicking the energetic gyrations found in dance clubs. Similarly, GuitarFreaks, DrumMania, and Keyboardmania simulated musical instrument performance- allowing players to become virtual virtuosos without hours of tedious lessons. But when the genre made its way onto peripheral-lacking portables, the metaphor become a bit vague. Certainly, Theatrhythm Final Fantasy and Hatsune Miku: Project DIVA F were enjoyable diversions, but it wasn't quite clear what all the stylus taps and button presses represented anymore.
As such, players might expect that Persona 4: Dancing All Night's ambitions to interpret agile shimmies as Shadow-slaying maneuvers might fall flat on its face. But much like Atlus' contextualization of Shin Megami Tensei: Persona 4's transcendental murder mystery into a capable fighting game, Dancing All Night largely succeeds. Even role-playing aficionados who have little interest in traveling down note highways, will find the game's extensive narrative worthy of touring.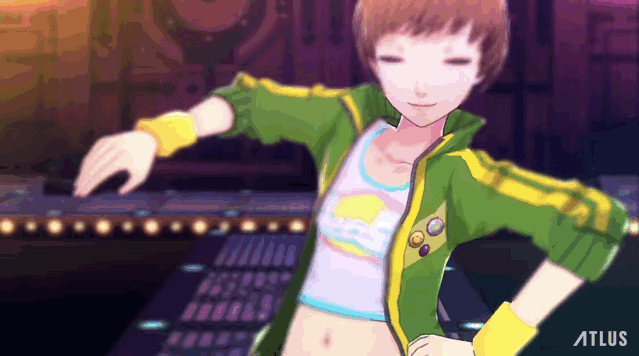 When players jump into Free Dance mode, the game's allegory for ass-shaking might not seem immediately clear. Star symbols emerge from the center of the screen toward each side of the PS Vita screen. They'll pass by three distinct zones located on each border, representing the up, left, and down keys on the direction pad as well the triangle, circle, and cross face buttons. When purple U-Notes starting show up, requiring symmetrical, simultaneous button presses, you'll realize that each margin of the screen represents a different half of the dancers body. The trick to successful dancing is keeping both sides on beat, which can feel like patting your head while rubbing your stomach, at least at first.
Beyond the basics, there's are also H-Notes which require gamers to hold a button down and Scratches- optional, point-increasing maneuvers which oblige a push of the analog stick. Since that necessitates moving your left hand off the d-pad, Altus is mercifully patching in trigger support with a day one update. Fever rings are similar to Scratches except they are rainbow-hued, and successfully nailing the timing of several is the key to unlocking a second, on-screen, dance partner. Nicely, Dancing All Night offers scalability, with lenient timing and a minimal number of notes for the Easy setting while advanced difficulties requiring some serious finger calisthenics. For those with deific digital control, even higher challenge levels are available, but they necessitate an ungodly amount of content unlocking.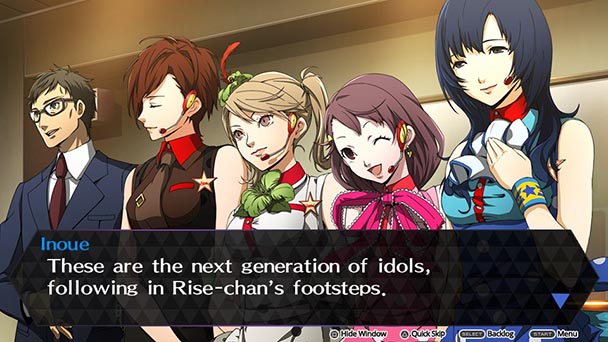 Comparing Dancing All Night to other portable rhythm games, reveals Atlus having a slight superiority. Not only do the mechanics of dancing seem logical, but the system feel intuitive and is remarkably accessible. What's more the title's motion-captured animation and character models are nothing short of top-class, with Chie Satonaka's enthusiasm for martial arts inspiring her moves, while Yukiko Amagi demonstrates elegance, with just enough flamboyance to show dance as an outlet for the former introvert. While the game's twenty-seven track soundtrack seems substantial in number, it's slightly disappointing that Atlus included multiple remixes of a few songs, rather than a set list without redundancy. That said, Shoji Meguro and Atsushi Kitajoh's compositions are some of the best role-playing melodies around, and Atlus does offer a number of tempting DLC ditties (and dancers) for those yearning to expand the basic library.
Beyond Free Dance, there's a solid eight hours of enjoyment to be mined from the game's Story mode, which is told through fully voiced, visual novel-like text boxes, along with the sporadic animated cut scene. While the narrative likely won't cultivate an interest for those who haven't invested hours into Persona 4, those that have should appreciate the storyline.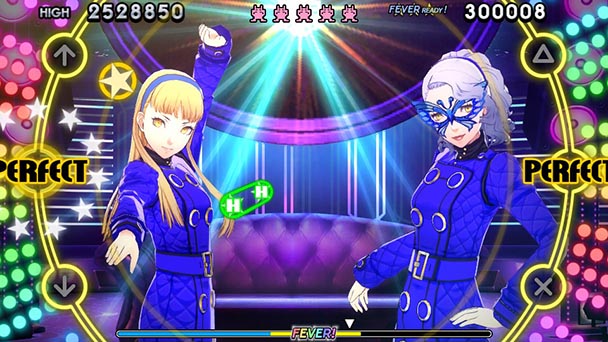 Set after the conclusion of the 2008 PlayStation 2 and the unlockable epilogue of the 2012 Vita remake, we follow Rise Kujikawa's returning as a pop idol, asking members of the Inaba-based Investigation to be her back-up dancers. But things begin to unravel when a bizarre video emerges- purportedly playing by itself at midnight, showing a deceased singer, and leaving legions of watchers in a vegetative state. Even worse, members of Kanamin Kitchen, a group heavily promoted during Rise's absence are disappearing.
While the story reuses a number of familiar ShinTen beats, there's also a bit of virtue in the plotline. Poignantly, Dancing All Night plumbs the recesses of idol culture, exposing some of the emotional hardships of manufactured stardom. While it's not going to dethrone Theodor Adorno's seminal critique on the culture industry, it's surprisingly heady for game narrative. Gratifyingly, it interweaves both existing Persona 4 cast members with a number of nuanced new characters, with a sense of immersion only soiled by the incredulousness of Personas defeating shadows via instrument solos.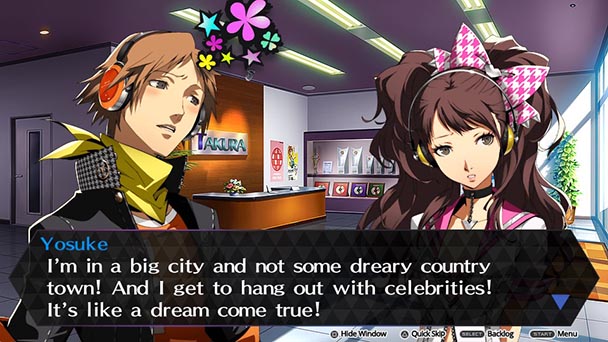 Like Persona 4 Golden, those hoping to hear Dancing All Night's native voice acting will be disappointed, the game only offers an English dubbing. While it's a respectable effort overall, there are a few incongruences, with Rise's replacement not meeting the standard set by her predecessor, delivering an unweaving inflection and cadence for almost every line.
Pleasingly, the game offers a nice collection of unlockables that will have completionists cavorting for hours. Success (and even failure) on the dance floor gives players P$, Persona's moniker for in-game cash that can be used in Tanaka's store to unlock new costumes and accessories. Additionally, players can purchase a slew of items which do things like reduce gauge penalties and or change note order. Given these elements can have a significant effect on the player's score, its little wonder why Dancing All Night didn't include online leaderboards.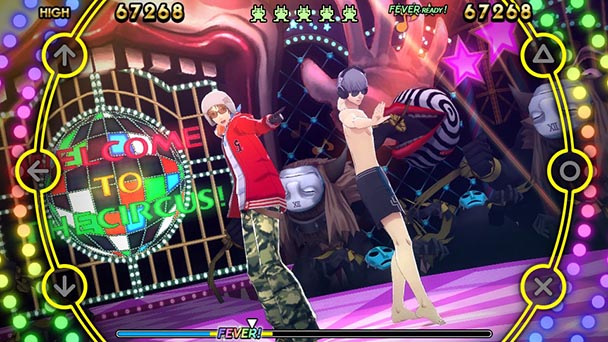 Despite a few minor gripes, Persona 4: Dancing All Night is easily one of the best rhythm games on the Vita, unseating a certain teal-haired temptress. For fans of the role-playing game, this spin-off is an essential purchase, continuing the storyline for several P4 mainstays. Even for players with little interest in the Midnight Channel mythos, Dancing All Night's enchanting rhythm game is capable of maintaining momentum for many evenings.
Persona 4: Dancing All Night was played on the PS Vita with review code provided by the publisher.
Persona 4: Dancing All Night
Platform: PS Vita
Developer: Atlus
Publisher: Atlus (US)/NIS America (EU)
Release date: September 29th, 2015
Price: $49.99 via PSN or retail, "Disco Fever Edition" also available, $79.99


Persona 4: Dancing All Night review
Review Overview
Gameplay - 85%
Controls - 90%
Aesthetics - 85%
Content - 75%
Accessibility - 85%
84
84%
Summary : Like Arena, Persona 4: Dancing All Night is another component cross-over that delivers an engaging storyline is addition to gratifying gamboling.

User Rating:

4.01 ( 5 votes)