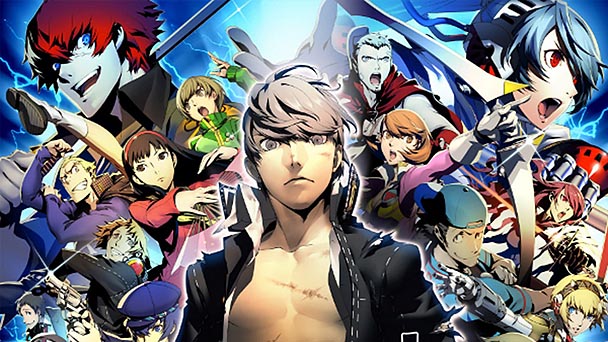 While it's not unusual for a game franchise to sidestep stagnation by switching genres, 2012's Persona 4 Arena was a truly curious crossover. With its source material exhibiting the resonant characterization and rich storytelling that's characteristic of the role-playing game, Persona seemed an unlikely candidate for a pugilistic-minded spin-off. But Arc System Works (Guilty Gear, BlazBlue) created a surprisingly adept adaptation, having built a title that indulged both audiences. Fans of the core series where provided with a rich storyline which continued Persona 4's narrative, while fighting game fanatics where given a stage for fastidiously polished, combo-heavy matches.
Unsurprisingly, follow-up Persona 4 Arena Ultimax improves a few of the original game's shortcomings, while adding an attractive amount of additional content. Although some feared that the sequel might end up feeling like an overvalued expansion rather than a true successor, Ultimax's assemblage of game modes, additional characters, and other amendments add up to a package that's poised to please a wide swath of fans.
One of the struggles for any fighting game is finding the proper balance between offering accessibility to newcomers and providing enough sophistication to please an experience audience. Dexterously, Ultimax caters to both groups. For novices, the title provides an extensive tutorial which does a great job at imparting many of the fundamental fighting mechanics. Jumping into a match, they're also be able to craft rudimentary combos with successions of single button presses, helping to build confidence as players pummel against lowly CPU-controlled drones. But boost the difficulty level or take on other humans, and manual combos prove to be dominant, rewarding an investment toward memorization and timing with combinations that dish out much damage, and aren't as easily countered.
Beyond bringing back Arena's thirteen fighters, Ultimax ushers in an additional four characters, as well as P4's Sho Minazuki, who appears in two different forms, only one of which uses a persona. Rise Kujikawa seems destined to become a favorite new combatant, with the budding idol using a microphone stand to inflict damage as well as the ability to send out musical notes than can be detonated to stun opponents. Yukari Takeba's role as an actress means the fighter dons a Super Sentai-esque pink costume and fires a large pink bow, making her a particularly effective ranged character. Junpei Iori's pursuit as a little league coach factor into his fighting style, where filling a baseball gauge (complete with runs, hits, balls, strikes, and outs) adds to his competence in combat. The team of Ken Amada and Korumaru offers another appealing choice for players, offering an agreeable arsenal of ranged, close and air-based attacks.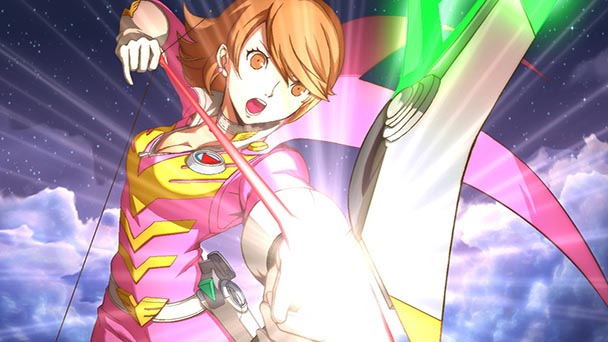 Beyond these new characters, first week purchasers can also download former policeman Tohru Adachi, as well as fan favorite, Marie, who earns different buffs depending on the state of her weather meter.  Currently, Margaret remains inaccessible on the character select screen, locked away until a future date; hopefully, here purchase price is reasonable. As an indicator, DLC prices range from two to six dollars for ancillaries like custom colors schemes, glasses, announcers, and multiplayer match avatars.
Although Persona 4 Arena extended the story arc for its cast, playing through each character's separate plotline meant players had to endure some redundancy. Alternatively, Ultimax offers two main arcs, where players are given the chance to choose between the perspectives of the P3 or P4 casts (all well as true ending content). Although there's still a bit of repetition, each visual novel-esque journey is largely diverting, showcasing the progression and new problems that face each character.  While occasional fights interrupt the expositional element, the difficult is set low enough that those who prefer their Persona turn-based should still be able to pass the brief bouts.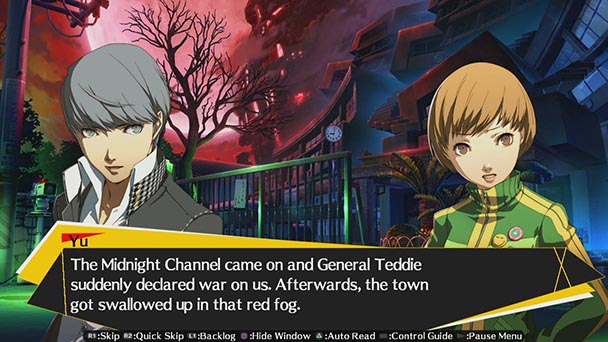 Players who prefer to jump right into the action have the ability to take on opponents in Arcade Mode, Score Attack Mode, or via the game's online multiplayer competitions. The latter component is especially well designed, allowing participants to leap right into Ranked matches or easily join or create their own rooms under the Player Match option. Gratifyingly, Ultimax's ability to find a match is quick, while its netcode is solid, hosting matches that only sporadically divulge their online status. Most enjoyable are the game lobbies, where players can mill around and communicate in virtual arcades, before sitting down to engage in a rivalry.
Beyond these modes, players can also delve into the Golden Arena, a mode which employs light role-playing elements as characters strive to build social links. Much like a survival mode, players persevere against a processing of increasingly stronger foes, gaining experience which can be used to augment your combatant. While leveling up, characters increase their stats, while also earning perks like healing abilities or increasing your resistance to status effects. As players work their way down each successive floor, characters encounter the sporadic boss battle, which can bestow additional bonuses. Most interesting is the game's auto mode, where players pass the duty of grinding on the AI, which does a tolerable job at mowing down opponents.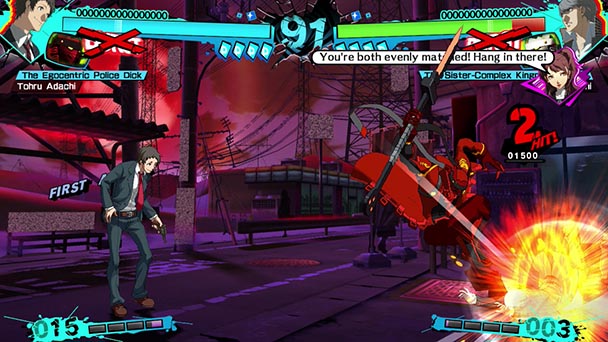 Visually, Persona 4 Arena Ultimax is fated to remind gamers of Arc System Works prestigious pedigree, with each match, menu screen, and story screen bringing Atlus' beloved characters to life. Beyond a framerate that remains fluid even when the screen is overflowing with activity, the game delivers a tremendous amount of detail in every sprite frame and background element. Sonically, Ultimax flaunts a fantastic soundtrack, with songs crafted for every character. The one downside ion the game's otherwise faultless presentation is the removal of Arena's dual language option, compelling players to listen to English voiceover during story mode.
Typically, fighters receive commendation based on the quality of combat. With Persona 4 Arena Ultimax, not only are the fights top-notch- but elements which are uncommon for the genre also contribute to the game's success. Whether you enjoyed the original Arena, are a Shin Megami Tensei fan, or just happen to enjoy a fighter with creative, well-crafted characters, a purchase of Ultimax is an easy recommendation.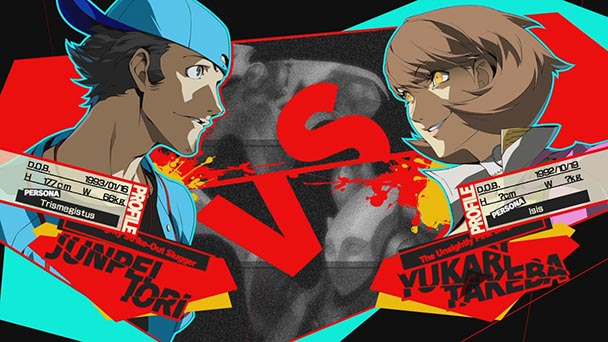 Persona 4 Arena Ultimax was played on the PlayStation 3 with review code provided by the publisher.
Persona 4 Arena Ultimax
Platform:
 PlayStation 3, Xbox 360
Developer:
Arc System Works, Atlus
Publisher:
Atlus
Release date:
 September 30th, 2014
Price:
 $59.99
ESRB:
Teen
Review Overview
Summary : Not only is Persona 4 Arena Ultimax one of 2014's better fighting games, it's also a huge, rollicking, love letter to Atlus' acclaimed role-playing franchise.