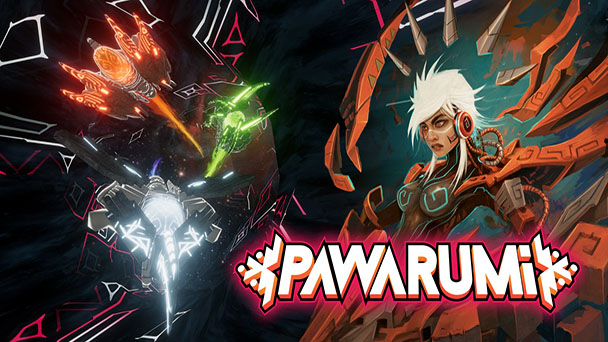 Any respectable shoot 'em up needs at least one distinctive characteristic to succeed. Gratifyingly, the release of Manufacture 43's Pawarumi has several. The first is the inclusion of a mechanic called Trinity. Recalling Ikaruga, the Bordeaux-based developer builds on Treasure's polarity system by giving players a forward-firing weapon system that uses a trio of color-coded weapons.
Your ship's blue weapon is a laser, much like the similarly hued gun used in Raiden. Although it might lack the spread exhibited by other arms, its ability to penetrate an enemy is formidable. The green helix-shaped projectiles fired from your Gatling gun are a bit thicker, but still mainly strike foes that are directly in front of you. Finally, there are red missile capable of locking onto foes. The weakness here is that you must be quite close to enemies in order to paint a target. But on the upside, you can sweep the weapon back and forth, providing a wide swath of offensive power.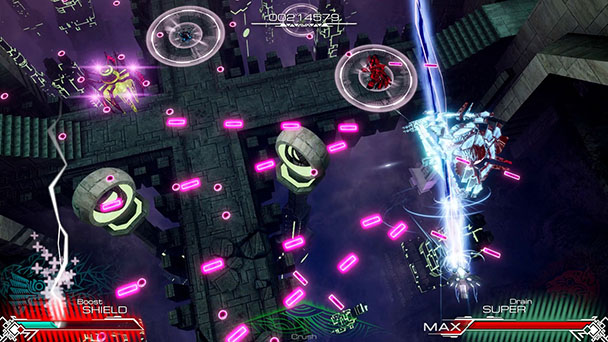 Match the color of your weapon with your adversary and you'll gradually refill your ship's shielding. Typically, a collision with projectiles or enemies will deplete at least a third of your 'boost' meter, but Pawarumi presents players with an opportunity to prevent seeing the dreaded 'game over' screen.
Alternatively, your fighter's Crush ability allows you to destroy foes with haste. Like a game of rock-scissors-paper, every color has its own strength and weakness, with blue overpowering green, green overwhelming red, and naturally, red defeating blue. Your vessel also has a special attack that needs charging after use. To do this you'll have to drain energy from players, inverting the Crush's color-coding. All of these guidelines are taught in the game's tutorial, which should be compulsory for newcomers.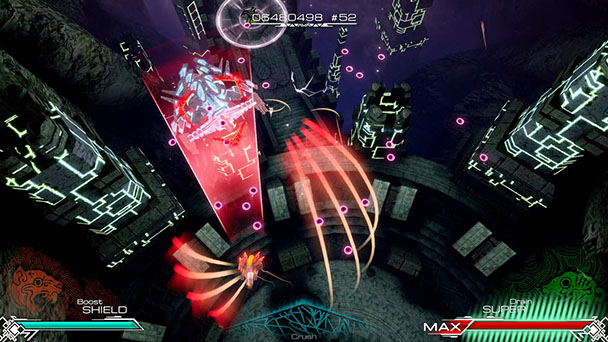 Initially, thinking about which color to use while simultaneously dodging barrages of enemy bullets can feel overwhelming. To assist, Pawarumi's HUD offers context-based information. Sure, you'll have to divert your eyes from the action, but if you're aiming to recharge your super attack, it can be quite helpful.
Pawarumi also extends leniency with the inclusion of three difficulty levels. While the 'easy' setting might only let you tackle four of the game's stages, its useful for learning how to master the Trinity system. Intriguingly, the title's 'hard' difficulty offers a remixed mode, with stage order and boss appearances reordered.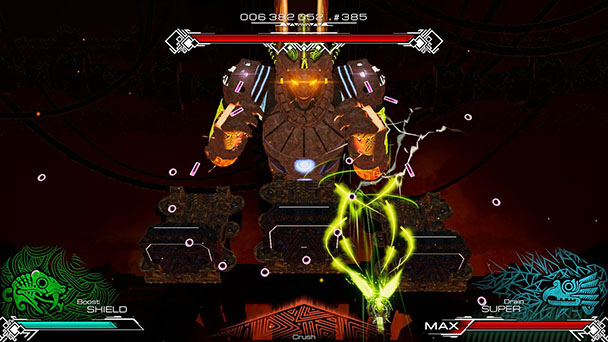 This rearrangement also speaks on Pawarumi's approach to challenge. Typically, shooters exhibit a schism in difficulty between subordinate enemies and taxing stage bosses. Before an end-of-level challenge, players are habitually tasked with collecting and protecting their power-ups, as they hope to confront the last enemy in an augment state. Without any kind of power-up system, Pawarumi bucks convention. The result is that fighting through a stage is nearly as difficult as the culminating show-down. The game's decision to remix stages also reveals an absence of a difficulty curve. Each level is roughly as demanding as the next.
But the game is no pushover and you'll probably witness the game's encouragement screen "Try Again, You Can Do it!" before heading back into the fray. If you're like me, you probably periodically brute-force your way through, opting to ignore the Trinity system so you can focus on projectile dodging. Although this is a method, it's not a particularly useful one. The upper hand that the elemental system provides will prove to be the lesser of two evil when squadrons of foes fill the screen with deadly lasers.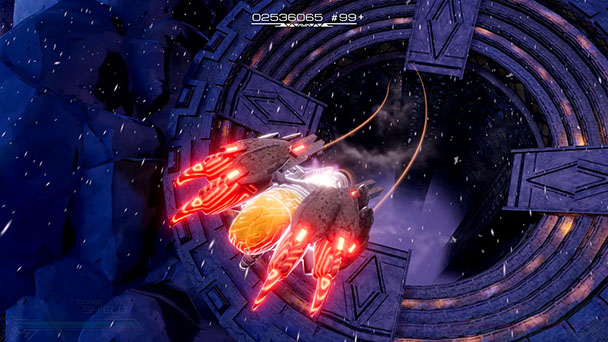 Undoubtedly, Pawarumi's context ensures it's place outside of generic space shooters. Here, Manufacture 43 employs Mesoamerican-futurism, with weapon system named after creatures with a prominent place pre-Columbian lore (serpent, condor, and jaguar). The game's soundtrack delivers Peruvian electro-metal, where instruments like antaras pan-flute and pomatinyas drums are meet contemporary dance cadences. Visually, level background and bosses seem thoroughly researched, with Teocalli (Aztec temples) incorporated into the action.
The source material is thoroughly fascinating, and its mildly disappointing that the genre's incorporation of skeletal storylines can't do it justice. Ideally, the developers could revisit the setting, offering a more narratively-focused experience. The only other sticking point is the length of the game. While the game's quintet of stages are methodically programmed and polished (with only a hint of non-disruptive slowdown), they are the bulk of the game. Save for the game's online leaderboards and the aforementioned tutorial, that's the entire package, which might be disheartening for some.
Pawarumi was played on Switch with review code provided by the publisher. 
Review Overview
Summary : Fans of games like Radiant Silvergun and Ikaruga should give Pawarumi a try. Like Treasure's beloved shooters, the game is more than just conventional bullet dodging- it's also about learning to use the proper weapon at the right time.