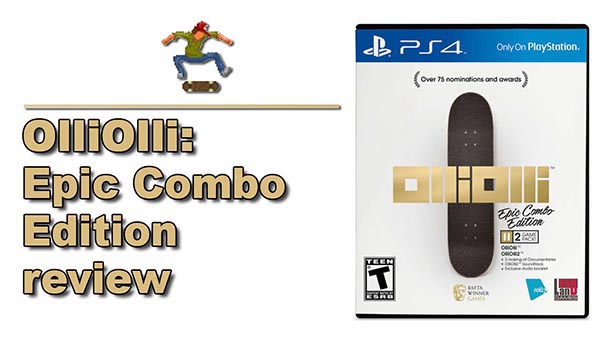 Occasionally, feature creep can ruin a respectable franchise. Such was the case with Activision's Tony Hawk series. Early on, the property received critical and commercial acclaim for its prodigious simulation of skateboarding. Adeptly, nearly every real-life flip, trick and grind was translated into combinations of analog stick maneuvering and precisely-timed button presses. But, as the franchise persisted, mechanical innovation declined as the series pushed a number of dispensable components. From an emphasis on storytelling in Underground and American Wasteland to the gimmicky peripherals shoehorned into Ride and Shred, Tony Hawk's figurative fall led a disheartened audience right out of Activision's skate park. And we won't even mention the disaster that was Pro Skater 5.
Seizing an opportunity when skating's golden boy lost some of his luster, UK-based developer Roll7 pruned the sport back down to its bare essentials. 2014's OlliOlli might have sacrificed Tony Hawk's wide-open, three-dimensional parks for forward-scrolling, 2D runs but the game revisited what made Activision's series so damn compelling- the quest for a fluid, flawless combo. Backing up those ambitions was an input scheme that converged on the sublime, with everything from a frontside spin to bigspin heel only a stick rotation and key press away.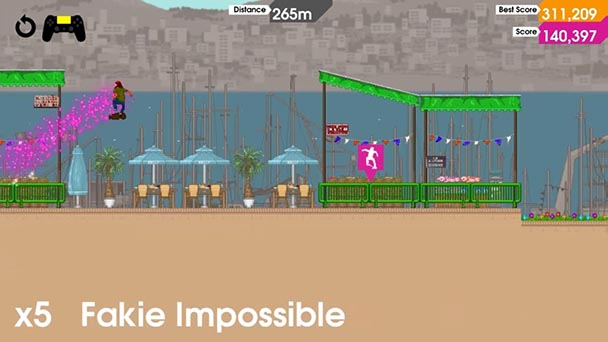 OlliOlli's downhill jams brought back the focus on skating. Here, the exhilaration of chaining together strings of stunts wasn't hijacked by awkward narrative or disconcerting marketing schemes. The game pitted players against a quintet of worlds, each containing five starting stages. Once those had been thrashed into submission, the game opened up an additional five levels to test the mettle of master boarders. Progression followed a tidy schedule where each subsequent zone incorporated previously gained expertise, generating challenge any only infrequent exasperation. When a skating run was irreversibly botched, a button press instantly restarted things, leading to gameplay sessions that could continue through the AM hours.
As first glance, OlliOlli 2 didn't seem like a radical revision. But upon further inspection, players discovered that the game's sprite-based artwork was completely redrawn, allowing players to easily discern the difference between a hardflip and a heelflip. Similar to the first installment, each of the game's milieus instills a different technique- from grinding across The Curse of the Aztecs to Titan Sky's test of all your entire skating repertoire. Gunmetal Creek is the zone that implants manuals into your catalog of skating skills, teaching the technique that allows players to combo their way through the entire level.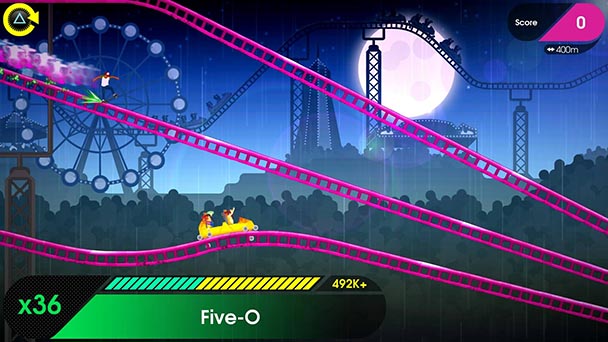 The continual combo soon becomes the player's pursuit, compelling just one more try until the stage is mastered and all five challenges are conquered. And once you've thoroughly refined your dexterities, then it's time to move onto OlliOlli 2's Daily Grinds- short levels where players get one shot a earning a place on the leaderboards. Sure, there are unlimited practice runs to learn the layout of the diurnally-stage, but when you commit to the real test, it's all too easy to crack under pressure.
Beyond both games wittily named levels, both titles are united by transcendent soundtracks that are far removed from stereotypical skater fare. There's a lot of electronica, a healthy amount of mellow grooves, and even a bit of jazz. Collectively, it offering a pleasing, and unexpected soundscape that's never distracting but memorable enough to reverberate in your memory long after the power button is depressed.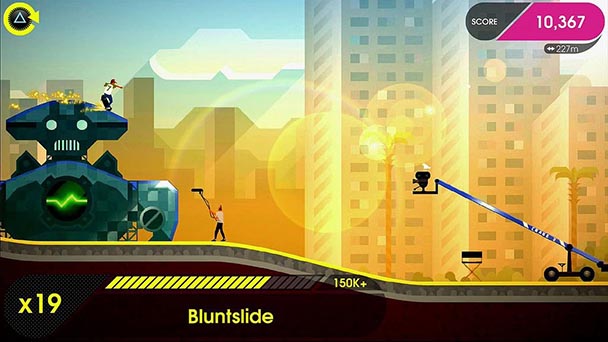 With the release of OlliOlli: Epic Combo Edition, Roll7 has bundled both games into a physical release which also includes a trio of bonus videos. While the brief "making of" featurettes will be fulfilling for diehard fans, the "Roll7 at the BAFTAs" video is a bit of indulgent self-celebration. But given the quality of the source material, the team's fleeting pride-piece is wholly forgiven. Arguably, the most fulfilling piece of supplemental material is the accompanying booklet which details some of the inspiration behind the games as well as offering a showcase for developer art. The only wrongdoing is the scant size of the document.
For PlayStation 4 players who haven't picked up either OlliOlli title and are roused by the prospect of a side-scrolling skateboarding games, the purchase of the Epic Combo Edition is highly recommended. While ostensibly visually modest games, OlliOlli and its sequel contain a treasure trove of engaging content. The only caveat is that the package will give your DualShock 4 a robust workout that threatens to wear down your analog sticks like skate wheels.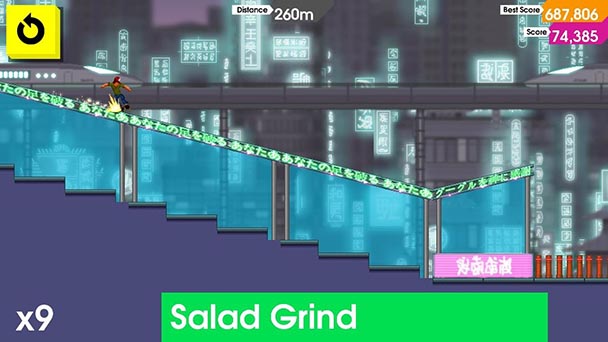 OlliOlli: Epic Combo Edition was played on the PlayStation 4
with review code provided by the publisher.
OlliOlli: Epic Combo Edition
Platform: PlayStation 4
Developer: Roll7
Publisher: Badland Indie
Release Date: August 9th, 2016
Price: $29.99 via retail
Review Overview
Summary : Forget Tony Hawk's waning career, OlliOlli and its sequel are the true heirs of the skateboarding crown. The Epic Combo Edition is a persuasive purchase for gamers who haven't already bought either title.