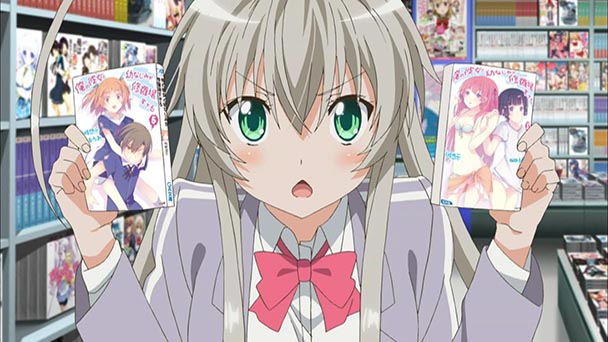 One of the more fascinating elements of modern anime is the existence of fan service- material that is specifically included to gratify or titillate an audience. From manga drawn to reveal a sliver of shimapan to the protracted battle of a mecha shōnen, the inclusion of these indulging elements is nearly ubiquitous. Naturally, too much of a good thing can be detrimental- with the overuse of gratuitous shots potentially undermining a narrative.
The recent release of Nyaruko: Crawling with Love! (released as Nyarko-san: Another Crawling Chaos when the series aired in Japan in 2012) demonstrates a twelve-episode season which tests this upper threshold. As such, otaku will probably be delighted by its libidinous characters and ceaseless procession of pop-culture references, while less fanatical fans might end up craving a series with a bit more substance.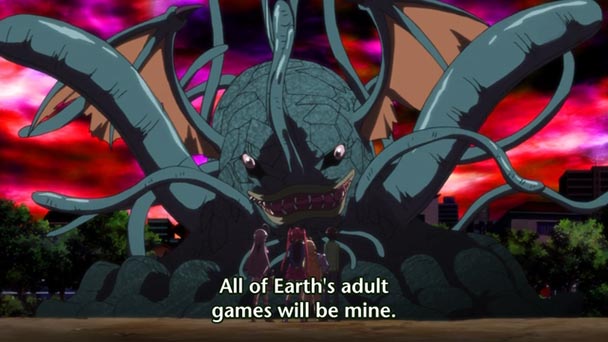 Crawling with Love's opener introduces viewers to Mahiro Yasaka, an otherwise average schoolboy that's unexpectedly attacked by a malevolent, toothed, creature on his way home one evening. Fortuitously, a silver-haired girl named Nyaruko appears, and quickly slaughters the beast, before explaining to Mahiro that she was sent by the Planetary Defense Agency to protect him. Even more incredulous are Nyaruko's other expounding assertions: that the beasts described in H.P. Lovecraft's mythos are actual aliens drawn to Earth by Japan's rich output of games, manga, and anime.
Naturally, this set-up allows for a stream of satirical allusions, which skewer everything from Pokémon, tokusatsu, visual novels, to dōjinshi. One of the series best bits has Mahiro trapped inside a dating sim where escape entails obtaining a good ending with one of Crawling with Love's characters.Pleasingly, the jokes are plentiful and arrive at a fast pace while plotlines are refreshingly loopy, parodying a plethora of anime tropes.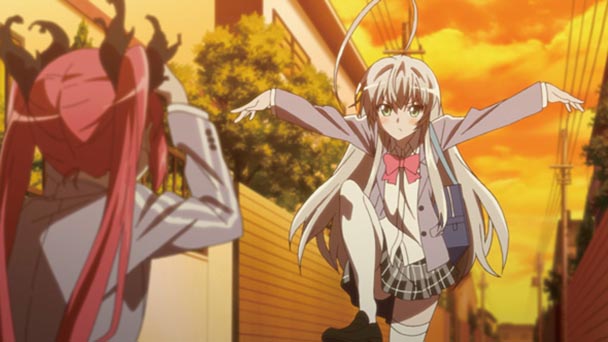 The first season's other virtues can be found in its quirky characterizations. Nyaruko offers a pleasing blend of eccentricity, visceral fighting ability, and lasciviousness, whether she's making mouthwatering bentos from indistinct ingredients, changing forms or calling out quizzical attacks, or perpetually trying to seduce Mahiro. Her once-nemesis Kuko (born of a rival Cthughan blood) joins the cast in the second episode, adding a bit of rivalry as well as yuri tension/fanservice.
Many of the anime's villains demonstrate a comparable amount of appeal, from an antagonist determined to make Mahiro the lead actor in a yaoi film, to Nyaruko's bumbling older brother, Nyaruo- who is mistaken for a panty thief as he's skulking around the city. The only blemish on an otherwise interesting roster of personalities is Mahiro- although his aversion for Nyaruko inverts the gender of the typical tsundere role, his only defining trait is his ability to use a fork to subdue aliens. Otherwise, his role in Crawling with Love is limited to reacting to the zaniness of other characters and periodically getting himself into trouble.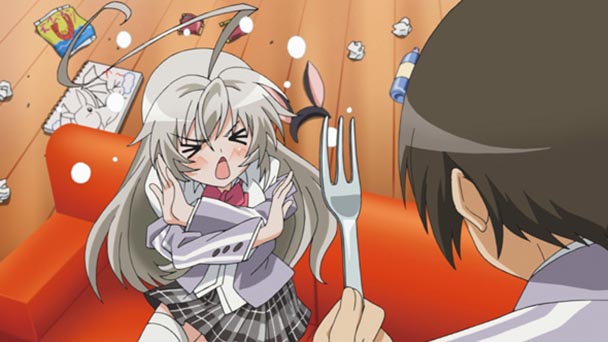 Mahiro's banality aside, Nyaruko: Crawling with Love's first season is thoroughly enjoyable, thanks to speedy pacing, virtuous voice acting, and proficient product values. Shipped in a sturdy and attractive cardboard housing, the series dual Blu-rays deliver a crisp, artifact-free 1080p picture. Nyaruko's audio is equally adept, exhibiting lossless LPCM 2.0 Japanese audio accompanied with non-removable English subtitles. Publisher NIS America's localization team sustains their spotless track record, adapting the show's breakneck barrage of humor, while integrating a few bits of whimsy (the Space Defense Agency receives a small rename, transforming a nondescript acronym into a fitting "PDA").
NISA's Collector's Edition supplies its customary lavish supplement, packing a thirty-two page hardcover book into the box. Inside, viewers will find each glossy page brimming with character portraits, anecdotes from voice actors, plot synopses, and biographical information. Demonstrating the meticulousness of the anime's developers, the text even includes technical drawings of key locations with descriptions of each building's throughways. Rounding out the supplements are a clean opening and ending, as well as two trailers.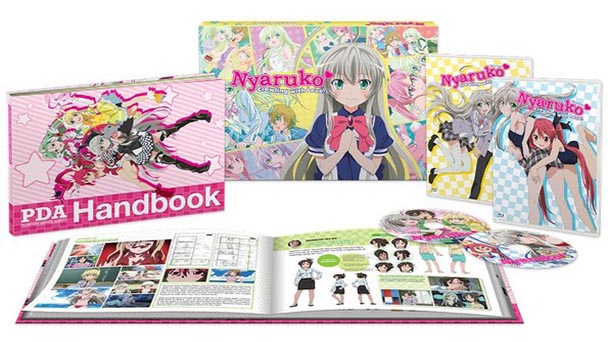 Filled with lascivious charms, Nyaruko: Crawling with Love! might be a bit frothy, but packs plenty of laughs into its 288-minute runtime. Thanks to a persistently watchable lead character and a flurry of references to Japanese pop culture, most otaku will want to schedule the series into their viewing itinerary with fan-service supporters adding the Collector's Edition to their library.