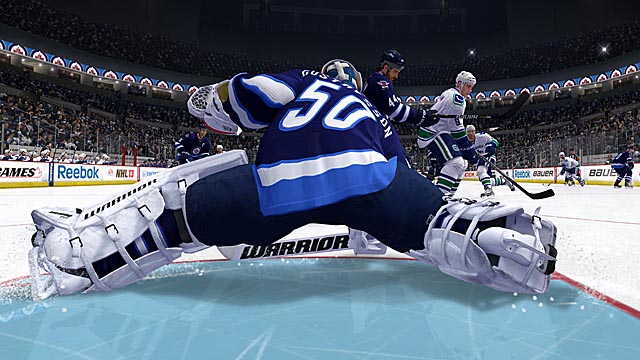 With a lockout threatening to scuttle the entire NHL season, hardcore hockey fans might have to resort to simulation in order to see their favorite team pursue Lord Stanley's Cup. Fortunately, NHL 13 developer EA Canada has been toiling away through the off-season to advance the level of authenticity of their game. Building on the franchise's emerging scalability, whether players prefer the on-ice viewpoint of their favorite winger or the Skybox-level perspective of a general manager, this year's iteration offers a number of notable changes. Save for a few amendments which crack under the strain of their own ambition, series fans are bound to appreciate the studio's arduous efforts.
NHL 13's most touted improvement is an overhaul of the game's skating model. Dubbed True Performance Skating, the physics-based system eschews the traditional pre-canned animations and simplistic on-ice modeling which have restrained the series. Requiring gamers to balance between speed and cornering when directing athletes, the new mechanic endows movement with a pleasing risk/reward system. Players are able to summon up an explosive burst of energy to intercept a dumped puck, but a slower opponent might be waiting to outmaneuver for an easy strip. Naturally, athletic ability is part of the equation as well, with the leagues' best players showing a slight edge when it comes to starting, turning or stopping. The sole blemish on the system is how skating integrates with checking. There's still the rare instance of a hulking, hurrying defensemen who bounces harmlessly off another player or the diminutive player who knocks bring the puck carrier to a stop with slight contact, which can end up feeling a bit too arbitrary.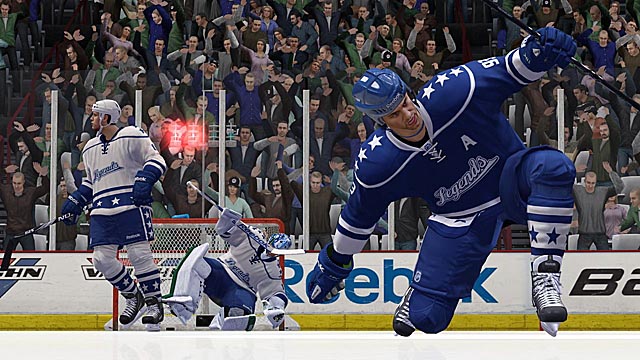 With players able to skate backwards when in possession of the puck, and with shooting and passing precision tied to momentum, NHL 13 comes closer to emulating the action an actual game. Complementing these modifications to player mobility are a number of improvements to the title's artificial intelligence, which also helps the sense of simulation. Now, penalty killing and powerplay actions better approximate professional play, while CPU-controlled players handling defensive duties perceptively. Goaltender AI has also been given an enhancement, with the man behind the mask intelligently using his appendages to stop a score attempt. Appropriately, overwhelming strategies such as one-timers and wraparounds have been tempered, eliminating many of the game's 'gimme' goals. Still, in the interest of preserving the vivacity of a match, EA Canada has made a few concessions. One example:  computer-helmed goalies insistence on putting pucks back in a play after a flurry of aggressive shots on goal, instead of relying on squashing oppositional momentum with a cover-up.
The title's new NHL Moments Live sporadically shows promise, placing players in recreations of historically-based, pivotal situations. From tasking players with breaking Jonathon Quick's 188 minute shutout streak as the Stars to challenging player to reproduce Sidney Crosby's two assist homecoming against Pittsburg, each scenario from the annals of last season is sufficiently tense. Less pleasing are the flashbacks to older eras, which offer players a chance to step into the skates of Gretzky, Lemieux, or Gilmour. Although these scenarios are capable of stoking the nostalgic fires of veteran hockey fans, each situation is undermined by pitting the luminary amidst contemporary rosters. Meanwhile, EA's promise of Moments culled from the 2013 season is dependent on the league reaching an agreement.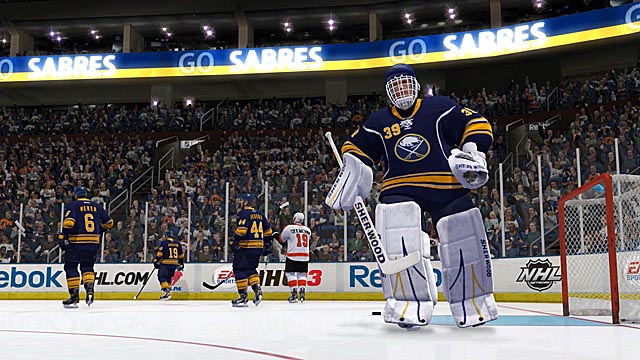 Fortunately, the NHL's robust collection of offline play modes, allowing players to reshape the career trajectories of one of eight legends, shape their own destiny as an upstart player, or even try their hand at the role of GM aren't reliant on contingency, offering hours of content for players to sift through. While most of these light role-playing components offer only slight tunings from their counterparts in NHL 12, it's obvious that the title's GM mode has been bestowed with a sweeping AI revision.  Now, it's much more difficult to dupe rival general managers, and it's even evident that your contemporaries strike for a balanced team. Still, players will encounter the occasional perplexing head office curmudgeon who's unwilling to budge on an aging athlete even when a prodigious player bundled with a few first round draft pick are dangled in front of him.
Gamers who completed the recent demo are treated to some complimentary items in NHL 13's returning Hockey Ultimate Team card collecting component. While this year brings a number of small changes (like the Change Team or Captaincy items), the mode seems to have honed its micro-transaction-based focus, as the frequency in short-term ability cards far outweighs the likelihood of obtaining new players. Still, for obsessive players, the game's HUT mode can be an irresistible time sink, much like the addition of GM Connected. Bringing up to 750 global participants together in a single league is certainly an elaborate project, but it's still too early to see if the goal is viable. Currently, waiting for participants to take action can be vexing, as is the game's plodding menu system. Yet, if EA Canada commits to refining the mode and promoting the functionality of its companion app (a web interface would be an advantageous addition as well), GM Connected has the ability to truly engage NHL owners.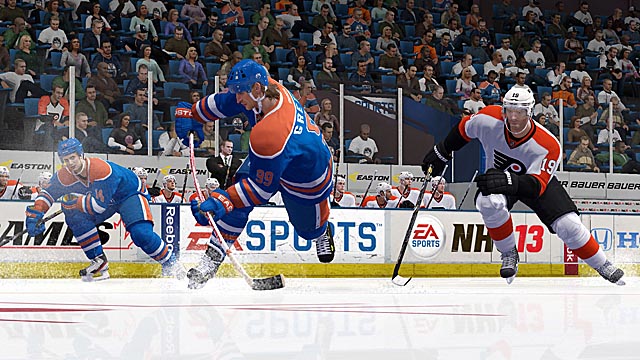 Small graphical tweaks such as better shadowing, procedurally generated skate spray, as well as reflective visors and helmets certainly elevate NHL 13's visual output. Yet, as nice as these supplements are, the game still needs to work on several core presentational elements. On the PS3, NHL 13 still exhibits the same slowdown at center ice and in the corners that has soiled the franchise since it now-gen inception. Likewise, the game's refresh rate takes a noticeable drop during its cinematics, creating an incongruous visual disparity. While Gary Thorne and Bill Clement's commentary lends the game a bit of authenticity, occasional the play calling can be noticeably ambiguous.
Undeniably, NHL 13 delivers a cornucopia of content, shaming its sports-based contemporaries with a multiplicity of engaging modes. Accompanying this ambition are the consequential blemishes, forming an unambiguous blueprint for next year's iteration. With the prospect of an actual hockey season appearing increasingly unlikely, EA Canada's latest triumphs through profundity rather than polish.