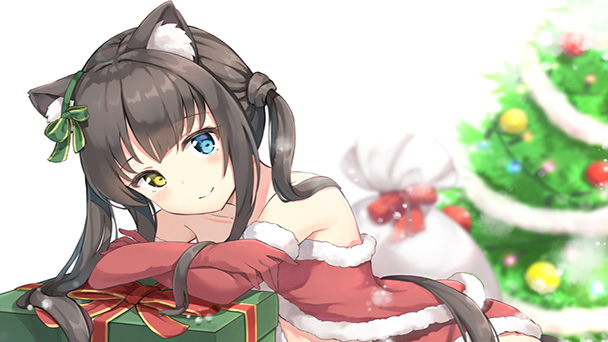 Although Asia is getting Dynasty Warriors 9 Empires and the Steam version of The Legend of Heroes: Zero no Kiseki KAI, the last nine days of 2021 aren't bringing too many high-profile releases in the West. Colorful action/RTS title Teratopia is getting a Switch port while Konomi's Orius (aka XEXEX), might appease STG fans until next week's noteworthy shooter bundle.
Header artist: @s_keiran, Fanbox
PlayStation 4
All I Want for Christmas Collection (digital, $11.99)
Arcade Archives ORIUS (digital, $7.99)
Switch
8 & 9 Ball Pocket (digital, $11.99)
American Man (digital, $9.99)
Beastie Bay DX (digital, $14.00)
Cold Silence (digital, $4.99)
Crazy Zen Codeword (digital, $9.99)
Horror & Sports Pinball (digital, $14.99)
Jigsaw Fun: Greatest Cities (digital, $14.99)
Lacuna (digital, $19.99)
Lynn, The Girl Drawn on Puzzles (digital, $7.19)
Madness Beverage (digital, $14.99)
Menseki: Area Maze Puzzles (digital, $5.00)
Merry Christmas Snowball Bubble (digital, $5.99)
My Universe – Interior Designer (digital, $29.99)
Planet Quiz: Learn & Discover (digital, $9.59)
Pure Chase 80's (digital, $14.99)
Teratopia (digital, $9.99)
Tunnel of Doom (digital, $13.99)
Unstrong: Space Calamity (digital, $4.99)
Windstorm: Start of a Great Friendship (digital, $29.99)
Xbox One
Tunnel of Doom (digital, $13.99)
Vegas Tales (digital, $12.99)
PC
Kor ($8.99)
Meria and The Island of Orcs
Scarf ($13.49)
Shonen Adventure: The Dual Blades Hero ($13.99)
Xenrai ($29.99)
Rob's Pick: While there are few recommendation-worthy titles this week, don't completely count 2021 out. Next week sees the release of Deathsmiles I・II. Bundling two of my favorite STGs, there a lot to love about these games. From the horizontally scrolling action that is "busy" without descending into denmaku difficulty to the end-of-stage sepia-tinged art synched to soundtrack beats, this is Cave at their best.
Sure, some might claim that the games found here (Deathsmiles, Deathsmiles Mega Black Label, and Deathsmiles IIX Merry Christmas in Hell) represent some the developer pandering to the fan-service crowd. But I'd argue that the game's capture a specific zeitgeist, with protagonists they feel culled right off of Takeshita Doori circa 2007.  To me, Windia, Casper, Follett, Rosa, Sakura, are less about outright allure than a celebration of loligoth fashion, which is an inspired amalgam of influences, referencing everything from Victorian England, punk, to kawaii. Now it's been mainstreamed to death, homogenized through fast fashion, and diluted down to mass-produced lines. But it still feels fresh in Deathsmiles, with its angelic cast acting as a time capsule to simpler times. And if you have zero interest in fashion, that's fine, play Deathsmiles for the elation of activating power-up mode, and feeling like a drop-dead gorgeous teenager saving Gilverado from doom.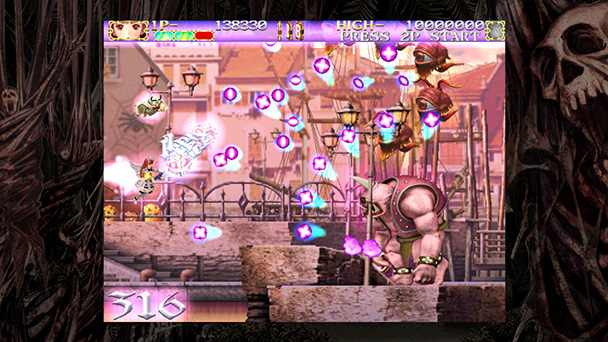 Matt S' pick (Editor, DigitallyDownloaded): I am interested in checking out Lynn, The Girl Drawn on Puzzles. I don't necessarily expect it to be a game of the year for me, of course, but I do really like the distinctive and painterly aesthetic, and hey, the price is right for a little game to play over the Christmas quiet season. I reckon the publishers found the right, tiny window for something like this.
Otherwise, what I'm going to do over the next couple of weeks is load up a whole bunch of Hamster's Arcade Archives titles. Firstly, because I want to support the team for preserving some really obscure arcade titles, and secondly because I haven't played a lot of these really obscure arcade titles. There's one that's just landed this week, Orius. Never played it. Looking forward to giving it a go.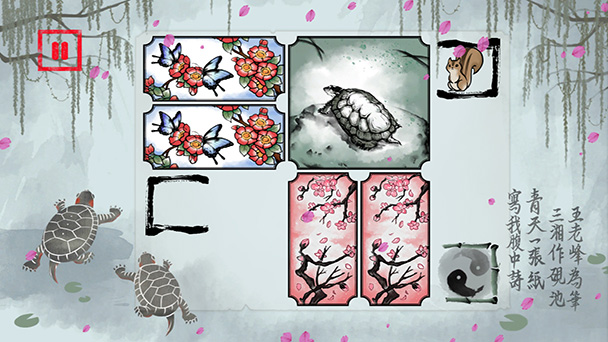 Ryan's Pick: Pure Chase 80's it is this week. Some of the things I immediately like about it is its sense of speed. It also seems to have taken a few mechanics and ideas from Need for Speed: Hot Pursuit which is definitely not a bad thing. I believe some of the enemy NPC vehicles even throw out olympic bench press barbells with weights on them from their trunks. I can appreciate that. To top it off, they have added an 80's synth soundtrack to it, so I think it could be a fun one to try on Switch. My only hope is that the game has enough content and replay value to validate the spend.
Beastie Bay DX also seems interesting. While it does not seem to be the most polished nor in-depth gameplay, I like the art style and idea of balancing exploration and building out your own isometric resort in this small RPG. It reminds me of a very scaled down Act Raiser, with the sidescrolling replaced with Final Fantasy style turn-based battles. With Steam sale upon us as well, it may be tough to justify this purchase with so many other great discounted indie games, but if you are into town building plus some light RPG, I think this could be a safe bet.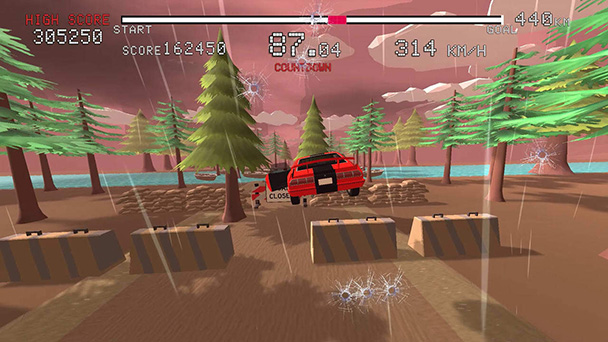 Matt R's pick (editor, Shindig): There's a certain comfort in Kairosoft's games—they're formulaic and not exactly deep, but the simple simulation loops and charming pixel art style make them great games to just turn off the brain and unwind with. Beastie Bay DX looks to carry that same torch, but with a few extra things thrown into the mix: exploration and turn-based battles. The familiar Kairosoft town-building takes place on a series of deserted islands, by developing and exploring further, you can collect, raise, and battle the creatures you find along the way. Don't expect Pokemon depth, but it should be a nice way to spend a few lazy afternoons.
Lacuna also piques my interest. A detective-themed point-and-click adventure game, it looks to blend sci-fi and noir influences in a way that, if it lives up to its ambitions, could make for a riveting adventure. It promises branching storylines, multiple endings, and lots of difficult choices, alongside game design that "does away with the baggage of many adventure game tropes"—the usual claims. But it's the lo-fi pixel art and moody aesthetic that's really got my attention.