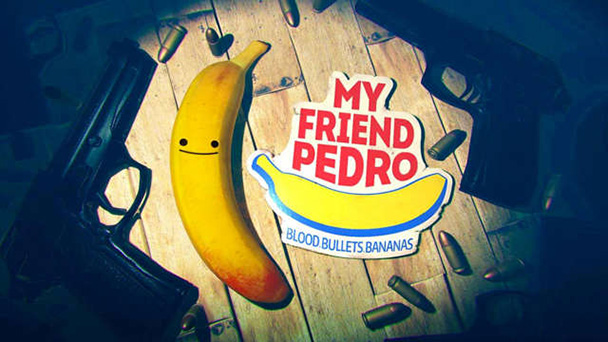 Games have sporadically tried to capture the balletic gunplay of film director John Woo, often with rewarding results. Titles such as Stranglehold, Wet, Total Overdose: A Gunslinger's Tale in Mexico, and the Max Payne series permitted players to perform agile acrobatics, all while disbursing a volley of bullets at decidedly less nimble foes. Each effort exhibited the physicality and annihilation of skilled assassins, reveling at the bloody spectacle in glorious slow-motion. But only the best games put players inside of the head of world-class hitman. These titles understand that real thrill is being able to scan the landscape, as you devise your next showcase maneuver, leaving behind a procession of lifeless rivals.
With the release of My Friend Pedro on Switch and PC, players have an adept outlet for their gun-fu fantasies. Smartly, developer DeadToast Entertainment (a single person studio) don't make you sit through long-winded tough guy talk before becoming a spinning grim reaper armed with a pair of Uzis. The brief introduction and tutorial are provided by the game's eponymous, sentient banana. Appearing as you regain consciousness, Pedro divulges all the basics of ballistic bad-assery.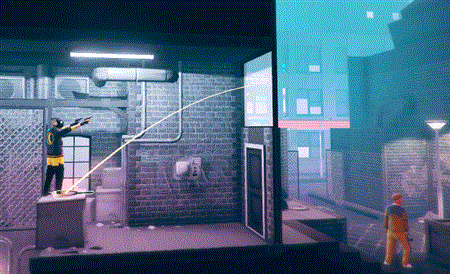 Moves that would make Chow Yun-Fat Envious
Using the right stick to move your masked character, you lithely slink through the environment. Jumping against a wall automatically triggers a tuck and twirl, while the right stick aims the trajectory of your firearms. Pleasingly, movement feels fluid, especially when a press of the left stick provides an ample allotment of slow-motion, giving you a notable edge over opponents. Although rolling through vents and vaulting from a box to an elevated walkway might feel a bit awkward at first, it comes intuitive within minutes. The same is true when going akimbo, where a press of the left trigger locks onto one opponent, with your other arm free to target another. Effectively, Pedro provides an engaging toolset for annihilating bad guys and when errors are made, players rather than programming are typically at fault.
A procession of forty levels spread across five chapters lets you exploit this arsenal. There's not a lot of environmental or enemy diversity, you you'll be gunning down the same kind of goons in the type of warehouses and construction sites that served as backdrops in late '80s Hong Kong films. But largely that's a concealed advantage. You see, being a gimp mask-wearing assassin isn't easy. As you are sprinting across stages, surveying the position of every bad guy and noting firing angles, you also have to be aware of the environment, with elements like elevators, winding staircases, and even chasms to contend with. Yes, My Friend Pedro is a balls-to-the-wall shooter, but there's a restrained amount of puzzling during the proceedings.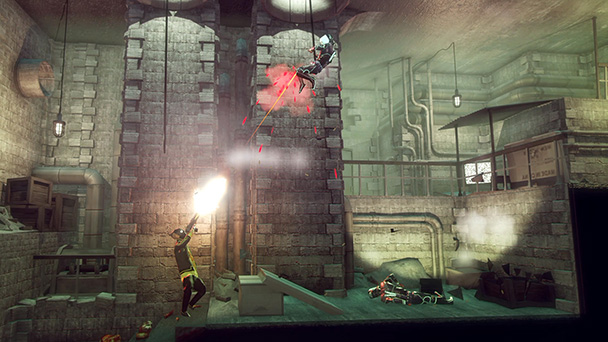 This Shit is Bananas
Yes, you can memorize stages, aiming for the type of perfect run that will earn you an "S" score at the end of level grading or a spot on the online leaderboards. But Petro is best when you're playing improvisationally, figuring at how to handle each new set-up that DeadToast is tossing at you. Learning how to deal with uncertainty, such as when mobsters start exiting the doors you once thought were just cosmetic, is where the fun is at. Once those surprises are seen, the game becomes about improvement, with scoring based on how stylish the mayhem is.
An ample number of deviations from a motorcycle chase sequence, rideable skateboards, to new weapons ensure that Pedro doesn't become stagnant. But the real hero is DeadToast's sublime level design. Building on experience at Media Molecule (LittleBigPlanet, Tearaway), the developer understands that each new stage should impart something, whether it's how to survive when you fall between two enemies or how shooting at a frying pan kicked into the air can produce an auspicious ricochet. Some might bemoan the lack of a level editor. While it might be fun trying to manufacture outrageous shoot-out sequences, it's doubtful that some people would top any of the in-game stages.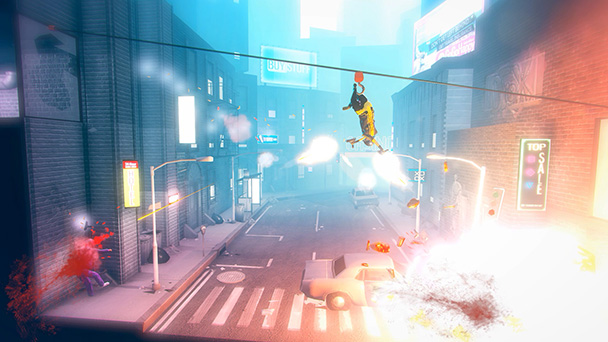 Plenty of Ammo and Slow-Mo
Players seeking an interactive version of The Killer, Hardboiled, or even Desperado, where you're executing assailants with balletic grace should give My Friend Pedro a try. Like Trails HD, the game stimulates that obsessive craving for a perfect run. Instead of beating the clock, you'll be killstreaking a throng of thugs, earning points for acrobatic killing rather than just stunting.
My Friend Pedro was played on PC with review code provided by the publisher
Review Overview
Summary : Sure, My Friend Pedro is a one-trick pony, turning players into a conduit for mass carnage. But that trick is done extremely well, making for slow-motion gunplay that feels completely engrossing.