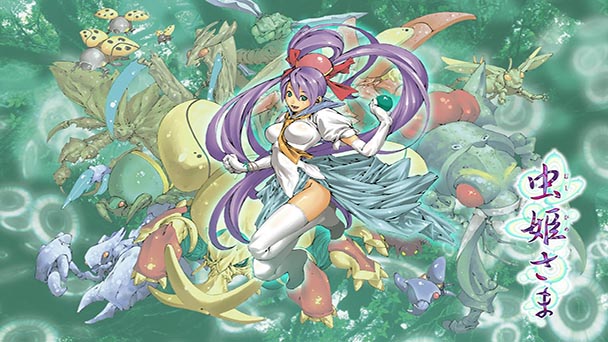 Although recent efforts are becoming increasingly infrequent, thanks to a thirty-five year old history, the shoot-em-up has natured a remarkable legacy. From modest beginnings across a myriad of space-themed titles to modern 'bullet hell' games which fill the screen with an overwhelming number of projectiles, the STG has served as gaming's consummate test of concentration.
As with all genres, some entries are superior than others. For shoot-'em-ups, Tokyo-based CAVE's output is widely considered paramount, with titles like DoDonPachi and Deathsmiles earning a devoted fanbase. Unfortunately, their esteemed efforts haven't always proliferated across a variety of platforms, making it challenging for gamers to enjoy their body of work.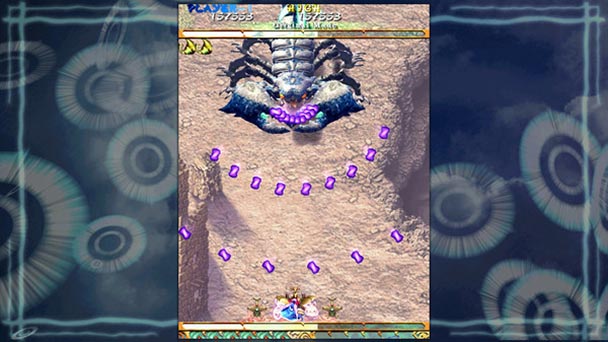 For 2004's Mushihimesama, the stateside voyage wasn't easy. Both a slapdash PS2 port of the arcade title and a proficient, but sadly region locked, Xbox 360 version never made the journey overseas. In 2011, iOS users received a mobile adaptation of the game, but as with touchscreen-based translations, there were a few niggling deviations. Thanks to Degica's efforts, Mushihimesama is ready to give monitors and laptop screens a workout, offering PC owners a mostly adept adaptation of the Xbox 360 iteration.
Remarkable is the scalability of the port, with Mushihimesama extending a Novice mode that's ideal for STG newcomers. Of course, shooter stalwarts will find plenty of challenge, with Ultra and Maniac levels offering not only an increased number of flying beasts and bullets, but also a stimulating scoring system. Here, players can increase a score bonus by continually blasting baddies, with any pacifistic pauses reducing your windfall. There's also an Arrange Mode where ships start with their firepower maximized and an ability to absorb a hit at the cost of consuming your only bomb. Score Attack not allows gamers to compete for a spot on the online leaderboards, but also allows them to upload their replay data. Being able to watch the pros conquer a STG is the closest most of us will get to having a coach on an adjacent couch.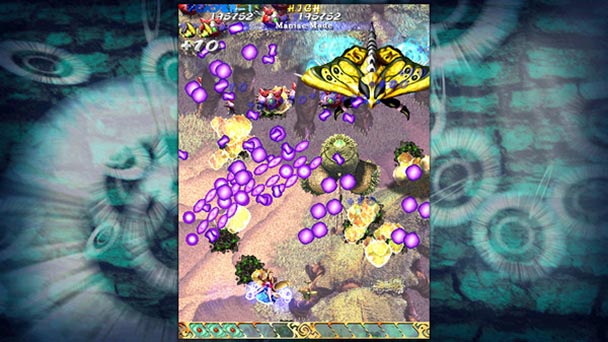 But all the modes if the world would matter little if Mushihimesama's mechanics didn't deliver. Pleasingly, they do, offering an elaborate ensnarement of risk/reward options. When commencing a game, players have the ability to select from three different weapon systems. With choices between a focused energy beam, a steady stream of fire, or even a spread shot each selection offers a distinctive balance between attacking angle and strength of enemy penetration. Mercifully, you're not locked into a specific weapon for the entire five stage expedition. Power-ups dropped from executed enemies always offer to augment your current weapon. But let them float around for a few seconds and they'll issue one of Mushihimesama's other powers.
Gradually, other nuances are revealed. While players can a button down for to deliver a steady stream of retribution, letting go or even tapping endows the protagonist with greater movement speed, allowing for the evasion of an encroaching enemy bullet. A similar tension is found in the pickups left by grounded foes. While airborne antagonist drop bonus items that are automatically attracted to players, earth-bound enemies leave score augmenting articles that can draw players into fields of fire. While Mushihimesama's quintet of levels might seem succinct, there's plenty of surprises to be found. One example: learn the layout of each level, and you'll discover insects, that which when killed- remove bullets from the screen.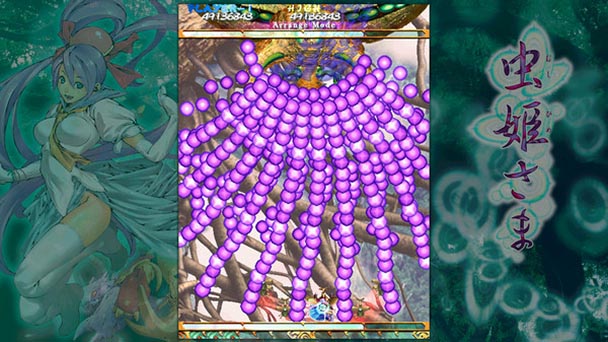 Undoubtedly, Mushihimesama's journey to PC is rooted in the code of the Xbox 360 version. As such, even robust rigs are forced to play at a default resolution of 1266×717, without having to dig in and tweak the game's .ini file. Although there are option to make the title output to fullscreen (as well as play in tate mode if you have a rotatable monitor), stretching out the picture tends to blur enemy ballistics. Additionally, changing the setting to a non-windowed mode, can disrupt Mushihimesama's picture until a force-quit and restart.
Another point of contention can be found in the game's optional five dollar downloadable content. The purchase, referred to as Mushihimesama 1.5 mode or Matsuri Mode, offers variations like a brighter color palette, remixed soundtrack, and new enemy placement. In addition, players can opt to play the game in MAX Mode, giving an augmented arsenal at the cost of greater on-screen opposition. But given Mushihimesama's base price of twenty dollars, it would have been merciful if Matsuri mode was already included in the game.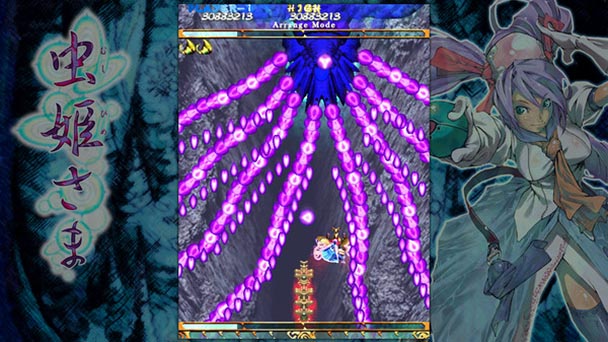 Pushy pricing policy and resolution issues aside, Mushihimesama is a requisite purchase for STG fans of all skill levels. Whether your skills dedicate a projectile purgatory or a furious bullet hell, the game is one of the genre's better efforts. Unlike some of the title's contemporaries, defeat never feels unwarranted, with the title emphasizing each perilous projectile and malicious ground-based menace. Given enough study and fortitude, Mushihimesama makes you feel like you can confront inevitability, cheating death with reflexes that would make the devil envious.
Mushihimesama was played on the PC with review code provided by the publisher.
Mushihimesama
Platform:
 PC
Developer:
CAVE Interactive CO., LTD.
Publisher:
Degica
Release date:
 November 5th, 2015
Price:
 Currently $14.99 via
Steam
, regular price $19.99
Review Overview
Summary : Typically, prudence would dictate avoiding a game filled with bugs. But with the PC port of Mushihimesama, insect annihilation in indulging, taking players with pulverizing a persistent procession of projectile-pelting pests. Along with Ikaruga, this is one of the Steam's best STGs.