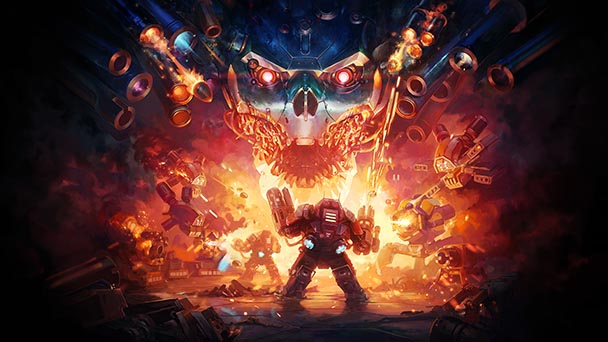 With revenue in the billions, battle royale-style showdowns might seem like the hottest trend around. But there's a solid argument that the incorporation of rogue-like elements has had the largest impact on the industry. Every week, there are at least several releases that incorporate components like procedurally-designed levels, permadeath, and incentivization across multiple plays.
Developer Terrible Posture's Tower of Guns strove to reinvigorate the first-person shooter with a number of these elements. After selecting a firearm and power-up, players would move across a succession of randomized rooms, taking out a succession of turrets, mobile enemies, and bosses. With ammunition often filling the screen, the game could be frustrating, but it was also rather addictive. With Mothergunship, the studio builds on many of the creative ideas of Tower of Gun, creating a spiritual successor that exhibits the same kind of engrossing play of its predecessor. It's also nearly as vexing at times.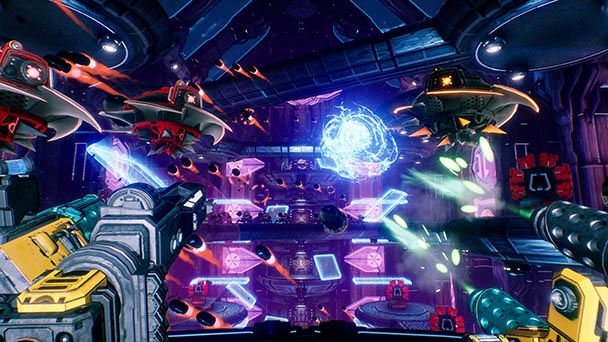 Given the quality of writing is most first-person shooters, you might not expect much from Mothergunship's storyline. Yet, surprisingly, the game is consistently comical. Some of the merriment comes from the plot, which sees a degenerate alien faction known as the Archivists aggressively gathering data across the galaxy, offering a sly jab at Facebook. But more potently, it comes from a steady string of one-liners spoken by the game's main characters. From the gung-ho Colonel beguiled by military might to an anthropomorphic frog parodying Star Fox's Slippy, Mothergunship is charmingly hilarious. The only knock is that occasionally you'll hear the same dialog repeated after you fail a mission, but at least there's an option to skip through the conversation.
Like Tower of Guns, Mothergunship presses players through a series of interconnected rooms, the exit door opening once you're cleared away most of the antagonists. But whereas Terrible Posture's previous let you select from an assortment of weapons, here you'll be crafting the firearms yourself. On each arm of your mechanized suit, you can attach connectors that permit parts to be attached, a multitude of gun barrels, and even caps that act as modifiers. Pleasingly, the process is largely intuitive, although you'll occasionally have to tear down your entire handicraft to add a new piece. Luckily, the entire building process only takes a few seconds and you're able to immediately try out your new creation in the safety of the shopping rooms.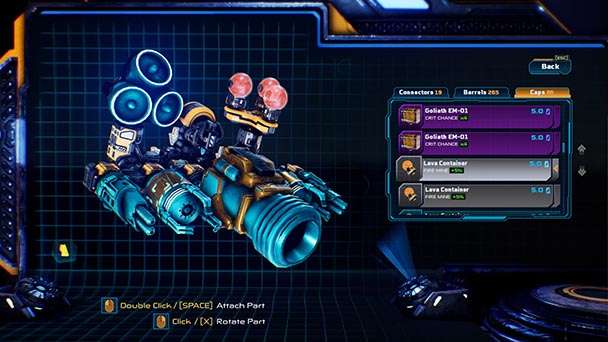 Restrictions are delightfully few. Naturally, pieces can't physically overlap, and the more powerful arms tend to be bigger. More powerful guns which combine multiple barrels will burn through your ammo quicker. While the resource gradually regenerates over time, you probably don't want to be caught dry on supply.
Whether your ammo is fully stocked of completely depleted, you'll want to keep moving in Mothergunship. Turrets gradually track your position, while smaller enemies attempt to rush you. Luckily, your mechanized suit keeps you nimble, with a three-step jump that can be augmented ten-fold, which helps to traverse rooms filled with lava or acid. Occasionally, there are also pads which can catapult you through the air, and you'll likely appreciate their presence when a horde of foes is converge. Like classic FPSs, circle -strafing is another indispensable skill, especially when it takes multiple shots to bring down a cannon that produces Bullet-Bill sized shells.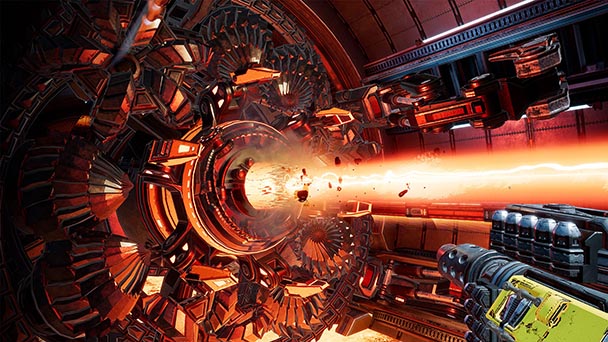 Respectable rogue-likes are able to generate interesting environments and Mothergunship's rooms mostly work. Pleasingly, there's little worry about navigation. Although spaces employ verticality, and have sporadically have a multiple of nooks, you'll rarely lose your sense of direction. Although the load times between chambers put a slight damper on momentum, its comforting to not have to worry about the larger course-plotting picture. Room doors display icons, permitting players to select what kind of challenge they'd like next, so you never really worry about heading toward a boss.
Along with procedurally-generated arenas, Mothergunship employs another rogue-like trait, penalizing death. While the improvements made to your suit endure, defeat confiscates your loadout. As such, struggling with a side mission in an attempt to augment your gear can backfire. Several times, I was left with an arsenal of underpowered weapons that goaded me into grinding for better barrels. Occasionally, you'll be left with offensive tools that are futile against certain types of enemies. Shooting at hovering saucers with a grenade launcher or a gun that shoots out giant spiked, bouncing balls will surely test your patience.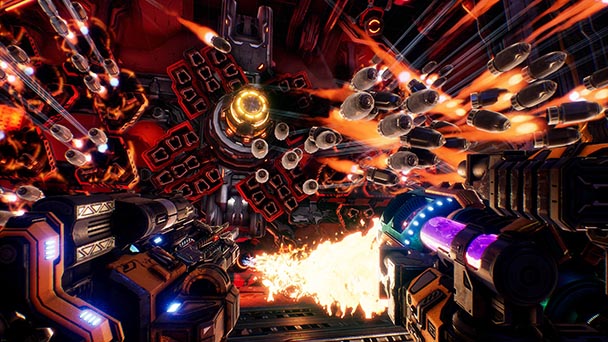 Like most games with rogue-like elements, the random number generator can be a cruel courtesan. Occasionally, you'll confront masses of adversaries with an underpowered weapon set which can induce annoyance. Or the journey toward a boss can syphon away so much of your health that the confrontation will be dreadfully difficult. Such is the nature of the sub-genre. But where Mothergunship falters in the rate of experience and currency that are doled out. These are the two resources that can help offset luck, but they're given out a bit too grudgingly. As such, a playthrough of Mothergunship's campaign will be scattered with moments of tedium.
Potentially, that might change this August when the game adds an online cooperative component. Sure, this is speculative, but since enemies tend to track and pursue players, adding another target might throw off the foes. Assuming Terrible Posture doesn't double-down on the health of adversaries, this could help reduce frustration, provided that you are able to find a willing partner.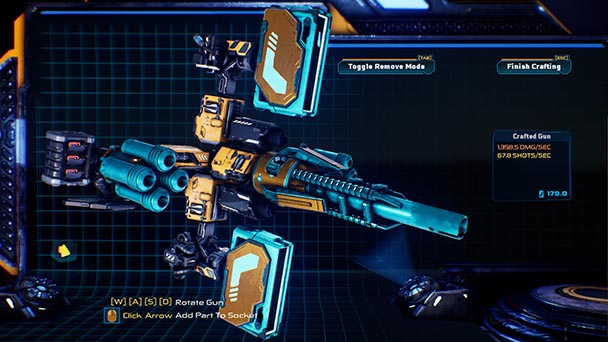 Aesthetically, Mothergunship offers improvement over its predecessor, offering a futuristic look that opts for minimalism. While simplicity might sound like a knock, a sense of starkness helps keep tracks of the barrage of projectile that often fill the screen. Additionally, they help the game keep a solid framerate, and on a GTX 1060 the title has no problem staying about sixty frames-per-second at 1080p. Save for a single instance of becoming glued to the ground in headquarters, the game ran without incident.
Although Mothergunship has a few balancing issues and lacks cooperative play at the time of this writing, the game has some very solid foundations. Building formidable firearms with multiple barrels and perks jutting from them is pleasing, only outmatched my using these monstrosities against rooms filled with foes. As it stands, the game warrants its twenty-five-dollar price, and if updates and additions arrive, this could easily be the sleeper shooter of the summer.
Mothergunship was played on the PC with review code provided by the publisher. 
Review Overview
Summary : Mixing intuitive gun-crafting, procedurally generated arenas, and often hilarious writing, Mothergunship is fast, fun, and feels fresh. Hopefully, the developers continue building on these solid foundations.