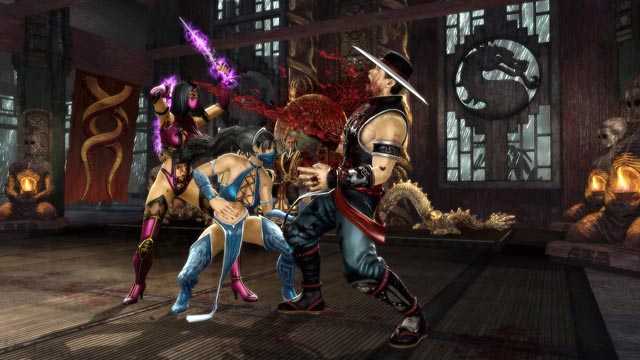 As BlazBlue: Continuum Shift Extend, Ultimate Marvel vs. Capcom 3, and even Reality Fighters have demonstrated, the PS Vita is an proficient platform for the pugilistic genre. With a directional pad adept at handling the quick taps and quarter-circles required for fighters, as well as an OLED screen that is ideal for flaunting high-poly character models, the system has occasionally blurred the distinction between portable and console gaming experience. Although the recent release of Mortal Kombat for the Vita can't quite capture the lavish visuals of last year's console release, the title does offer an exemplary experience for players seeking some engaging fisticuffs during their morning kommute.
After inserting the game card or downloading the three gigabyte download, players are quickly ushered toward the main menu, which flaunts the game's cornucopia of content. The title's Story Mode is still the reigning highlight, as players take control of each character from the game's robust roster. Merging franchise lore with campy interplay between the Kombatants, the plotline does an admirable job of explaining the world's alliances and rivalries, while giving players a taste of each character's fighting style.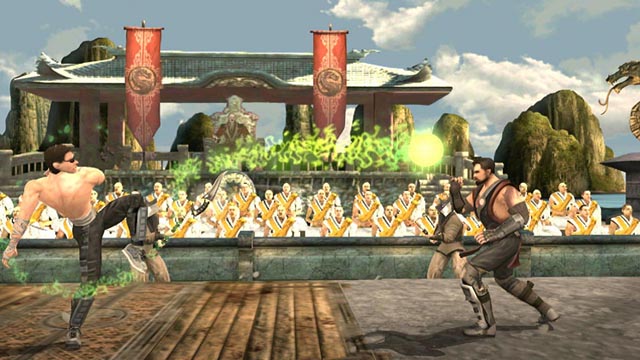 Nearly as compelling is the title's Challenge Tower, which presents a succession of 300 trials, each gradually escalating in difficulty. From rounds which task Sub-Zero with subduing a horde of undead opponents in half a minute to matches where only a certain type of attack can inflict damage, each encounter throws a variable into Kombat's typical bouts. More interesting is the Vita version's Bonus Challenge Tower, which offers an addition of 150 events- most built around a specific function of the portable unit. From the Fruit Ninja-inspired Test Your Slice, which dares players to slice through flung zombie part and share the Vita to detonate bombs to matches which require players to wipe splashes of blood from their screens, events range from the inspired to the insipid. Fortunately, the ratio of fun to filler is high, and many mini-games feel radically different from Mortal Kombat's usual fights. The six best Vita-specific challenges even have their own mini-ladders buried within the main menu.
Rounding out the game's list of modes is a multiplayer component which supports Wi-Fi matches and ad-hoc competitions for both one-on-one and tag-team battles. While this iteration forgoes the eight-player King of the Hill tournament of the console version, rivalries are still intense thanks to the game's competent net-code, which demonstrated quick matchmaking and a stable performance, although the sporadic bit of slowdown could be seen. Enjoyably, online matches even include voice-chat via the Vita's built-in microphone, allowing for players to gloat about every gruesome fatality. For gamers worried about getting torn apart online, Mortal Kombat's single-player fight ladders and training options offer an ample number of opportunities for players to perfect their skills.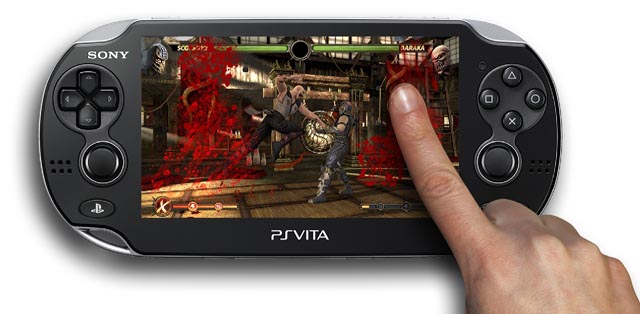 The game's engine allows for Mortal Kombat's furious fights to be exhibited at a sixty frame-per second refresh rate, save for a transitory moment of slowdown when the action gets exceptionally intense. Regretfully, the fluidity came at a cost with character models appearing unsightly when the game abandons the customary framing of the fighting action. Although models show accumulated damage, texture quality and polygon counts have been sacrificed, making familiars like Johnny Cage resemble Will Farrell. The quality of characters is especially jarring when jumping from the Story Mode's pre-rendered cinematics into the game's main engine. Sonically, Mortal Kombat begs to be played with a set of quality headphones, as each strike, bone crush, and tendon tear is articulated with the franchise's unrivaled bass. While load times aren't as speedy as consoles, the additional delay of a few seconds before each match won't trouble most gamers.
From the inclusion of the four fighters which were offered as DLC to the console versions (Skarlet, Kenshi, Rain, and Freddy Krueger), supplemental costumes, the bonus challenge tower, touch-screen fatalities, and even an AR-background mode, Mortal Kombat's kitchen sink approach is commendable.  Even those who have already conquered the console version will find the ability to rip spines while riding the subway justifies the forty-dollar expense. Although not a pixel-perfect translation, Mortal Kombat's barbarous battles lose only a bit of detail in their adaption to Sony's new system.