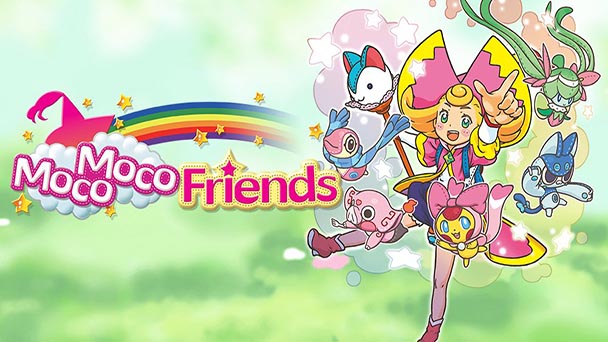 Manga, anime, and gaming witches have a challenging gig. Not only must they protect their pantaloons/pantsu from overexposure, as impossibly short skirts are the normative clothing choice, but they frequently fall victim to formula. Often exhibiting maniacal or scatterbrained personalities with worrisome regularity, if it wasn't for empowerment through their magical abilities, witches might be little more than tragic figure, earning our sympathies through undeserved misfortune.
With the recent release of Moco Moco Friends for the Nintendo 3DS, the near-eponymous (just a single Moco, mind you) lead is obedient to trope. Certainly, she's a bit of ditz, having earned the lowest scores of her graduating class, and demonstrates a general obliviousness all too often. But, Moco's middling academic performance has little effect on her ambitions, with the young witch determined to secure an artifact called the Stella Medal that will prove her proficiency across the realm of Dreamtopia.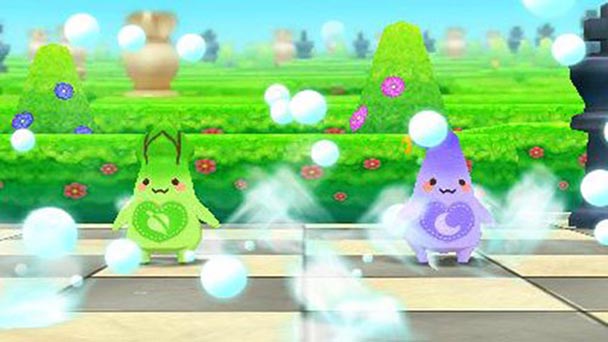 The key to making Moco's goals a reality is her proficiency in befriending Plushkins- beings who superficially resemble cuddly stuffed animals, but are actually vicious combatants. The journey will take Moco through a succession of simple dungeons, most of them harboring quest items- all in an effort to befriend 120 of the cute creatures, upgrade them, and get them to battle on the protagonist's behalf. If any of this vaguely sounds like the premise of a Pokémon game, you're not far off the mark. Undoubtedly, Moco Moco Friends draws substantial inspiration from GameFreak's beloved series.
Whereas the Pocket Monsters keep the initial conversation light, Moco Moco's prologue is remarkably loquacious. That wouldn't be a problem if there was an immediate pay off, but generally the first hour of the game extends neither wit nor intrigue, with rambling conversations and exposition that might dissuade an audience lured in by the persistently pastel visuals and simplified mechanics. Stick with it and Moco Moco does deliver light satisfaction, with themes about the value of friendship, and embracing difference. As such, the game is ideal for either younger gamers or those who would rather not face weightier subjects.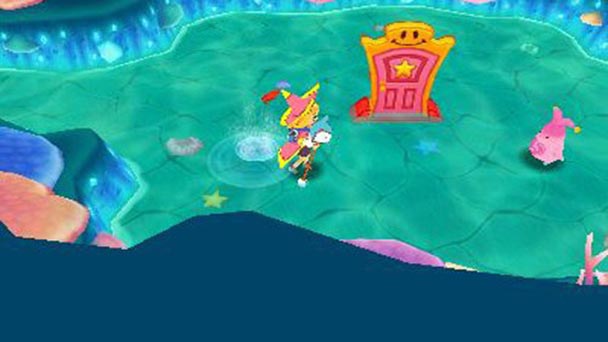 Pleasingly, Moco Moco Friends gameplay offers the same kind of breezy accessibility, making it perfect for newcomers. Most of the time, players will delve in three-level dungeons, which extend painless navigation, collectables for errands and augmentation, as well as the inevitable boss who guards the bottom floor. Periodically, you'll encounter standard baddies who roam rooms and halls, imitating a turn-based battle if they get in too close.
Once a skirmish breaks out, players break out their party of three Plushkins and a single reservist to settle the score. Like Pokémon, success comes by learning how to exploit elemental weaknesses, while trying to minimize the damage done by a procession of opponents who have predictable attack patterns. But Moco Moco is guilty of playing a bit too friendly, permitting players to persevere with stock Plushkins or even get by on basic attacks. As such, Moco's expedition seems like more of a test of endurance rather than a one of skill or strategy.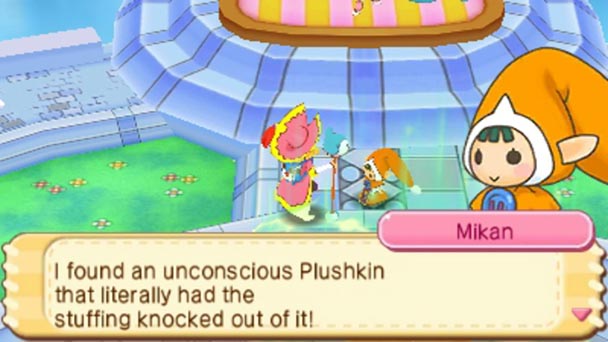 The upside is that combat it's fast and fun (and by pressing the "Y" button can be made even faster). Credit needs to be given to the games interface, which maps choices onto the four extremities of the directional pad. While there's a chance of a few errant choices at first, before long you'll be thankful for the efficiency of the control scheme. Of course, if you don't like it, conventional button presses will work just as well. While the system naturally limits each Plushkin to four strikes, the constraint helps to incentive the recruitment of additional creatures, which is central to Moco Moco's gameplay loop.
Back at the game's hub, players can accomplishing a number of undertakings. Yarn culled as mission compensation can be used to summon new Plushkins. Interesting, Moco Moco deviates from Poké-norm, randomizing the selection of subordinates instead of having players chase down a specific aide. Although the use of a single hub restricts the game's sense of scope, there are plenty of activities in town. From planting seeds to cultivate crafting supplies, evolving your Plushkin, and create new sundries, there are multiple avenues to advancement.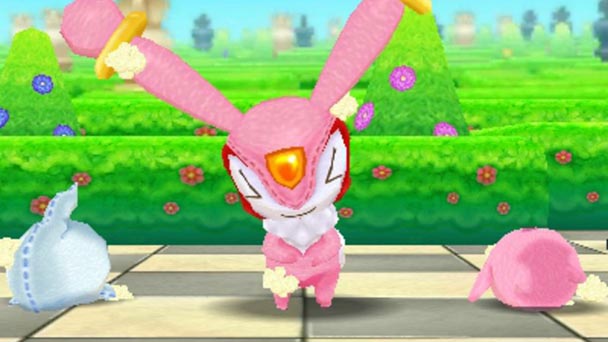 Graphically, Moco Moco Friends nearly reaches its textile-themed ambitions. When two-dimensional visuals are employed, the texture of yarn and quilting is evident, endowing the game with plush personality. But when 3D models are employed, the game's flat shading does little to persist this theme, and around the game's hub, characters reveal artifacting. While Plushkin are no match against some of Game Freak's designs, many of the creatures do have an undeniable charm that's best articulated during attack cinematics. Unlike Nintendo's senseless sanitization of Yo-Kai Watch, Aksys wisely left the wispy references to witchery remain, and kept the original Japanese voice work intact, while adding subtitles. This is how localization should be handled.
Some might find Moco's journey too derivative, with a core hook that relies on the "Gotta catch 'em all" incentive. Others might find things too simplistic, with the title lacking the nuances that goad gamers toward studying each action and reaction. But those who enjoy a light-hearted, perpetually perky, relaxed experience might just find gratification in Moco Moco Friends.
Moco Moco Friends was played on the 3DS with review code provided by the publisher.
Moco Moco Friends
Platform: 3DS
Developer: Racjin
Publisher: Aksys Games
Release date: November 17th, 2015
Price: $39.99 via eShop or retail
Review Overview
Summary : Moco Moco Friends might not offer innovation, but the title delivers an ample supply of Pokémon-style collection and cultivation across a variety of pastel-colored settings.