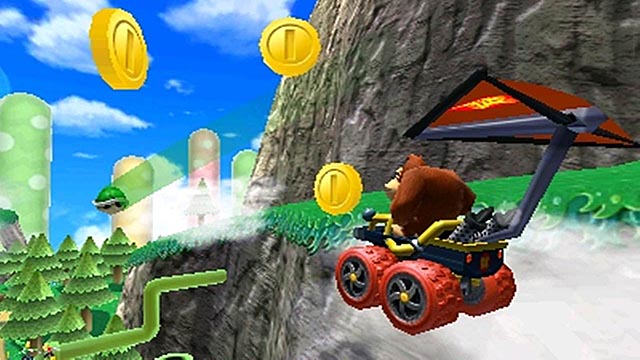 Developers take note: with their latest release, Nintendo has effectively dominated the kart racing genre on their portable system. While other studios will likely craft comparably whimsical competitions filled with diminutive vehicles, any outside attempt to surpass Mario Kart 7 seems destined to disappointment. With a bit of imperative balancing- as well as a steadfast framerate and impeccable net-code, Nintendo demonstrates once more that they are the unshakable kart racing kings.
Drawing from the success of 2008's Mario Kart Wii, the game removes snaking- the contentious mechanic of the last portable iteration. Whereas skillful players could gain an unfair advantage by executing short, oscillating drifts on straight segments of the track, Mario Kart 7 constrains boosting to the corners (although players can bunny hop from jumps for a slight, gratifying spurt of speed).  Pleasingly, this change endows the title with a tempting risk/reward component. While maintaining a skintight slide around a turn produces a nice surge of speed, it's also quite easy to careen right over the side of the track or veer into a wall. Since the rate of a boost corresponds to the tautness of your turning angle, Mario Kart 7 emphases dexterous driving nearly as much as savvy power-up usage.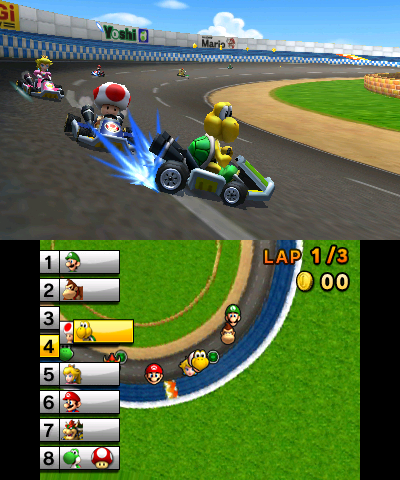 With a trio of additional offensive capabilities, the title poses a pleasing variety of techniques to stymie opponents. The Tanooki leaf sprouts a tail from the back of your vehicle- perfect for swatting incoming shells or upending encroaching foes. The Fire Flower lifted from the Super Mario Bros. series allows players to spit out a salvo of fireballs at adjacent racers, while the scarce Lucky Seven bestows a septet of power-ups on a privileged player. In keeping with Mario Kart convention, matches are kept competitive by distributing the most domineering devices to drivers in the back of the racing pack. Unfortunately, that means a near-perfect run can be upended just before the finish line by a single blue turtle shell. As players make their way through the 50, 100, and 150cc heats, they'll be pummeled by a fair share of the azure anger-makers, sullying the chance at earning a gold cup. Luckily, it's a minor offense, which does little to sully the title's otherwise enchanting qualities.
Although Mario Kart 7's driving model and weaponry are certainly proficient, a consummate selection of courses might be the game's greatest virtue. With sixteen tracks culled from the franchise's history as well as an equal number of new stages, the title delivers a gratifying medley of familiar and fresh. Legendary levels like Koopa Beach from Mario Kart 64 have been reworked to make use of MK 7's new gliding and aquatic abilities and some of the severe "L"-shaped corners have been tamed. Meanwhile, each of the game's new tracks offers a prominent hook- from the lethal s-curve in the futuristic Neo Bowser City to the nonrecurring road course in Wuhu Loop.  Cleverly, each stage is filled with concealed shortcuts, which only reveal themselves after multiple visits or once players augment their cars with the proper accessories.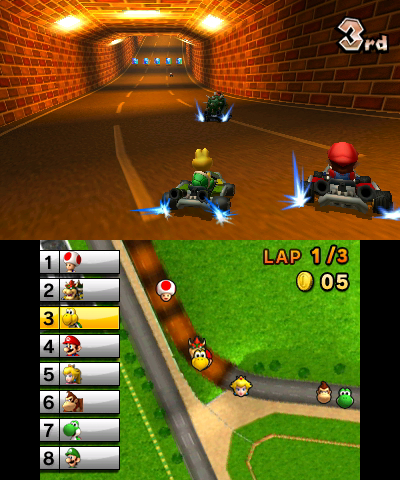 Neglected since 2001's Mario Kart Super Circuit, coins make a reappearance, supplementing a car's top speed when collected. To maintain the interest of solitary players, Mario Kart 7 also unlocks a new of equipment every time fifty pieces of currency are collected. Although it would have been to cherry-pick new parts, earning a cactus-themed or Koopa- modeled frame added to your garage is a satisfying surprise. Beating the game's superlative racing challenges doubles the game's roster of personalities, adding eight additional luminaries and an impetus to conquer a robust challenge.
Beyond MK7's single player cups, the game also offers an appealing selection of additional activities. Time trials task players with shaving seconds from their lap times; with the ability to record up to seven 'ghosts' per track, this feature is surprisingly robust. Streetpass functionality offers a way to trade these performance replays as well as spy the stats of a passersby. Local (including Download Play for 3DS owning friends without a copy of Mario Kart 7) and internet-based multiplayer contests allow for eight participants, an agreeable step up from the DS version's limit of rivals. Online tournaments comprised of international racers ran at a consistently flawless rate, revealing no indication of lag.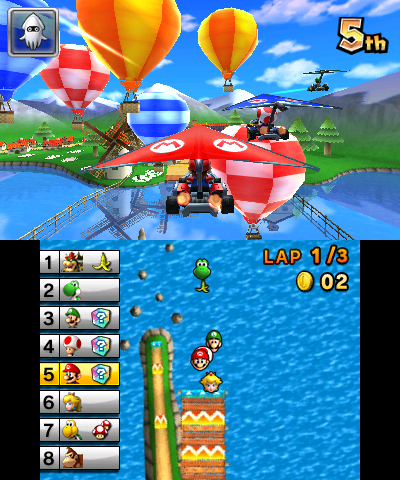 The game's unswerving sixty frame per second elevates Mario Kart 7 above all contemporary 3DS titles. Even with the depth switch cranked to capacity, a taut pack of competitors launching multiple simultaneous projectile doesn't blemish the title's refresh rate. With pleasing visual effects for many  tracks- like the twinkle of falling sakura leaves, reflective surfaces of water, or multitude of lens flares, MK7 delivers the most visually arresting interpretation of the Mushroom Kingdom seen to date. While some players might relish the inclusion of a first-person viewpoint, the majority will probably stick with the old omniscient perspective. Either way, the title's use of depth is nimble, avoiding unnecessary gimmicks.
With the release of Super Mario 3D Land and now– Mario Kart 7, any grievances of the 3DS's software library have been silenced. Like the plumber's recent platforming foray, this racing title is a rapturous mix of renovation, innovation, and celebration. As long as Nintendo keeps crafting titles like Mario Kart 7, they seem fated for success. Hopefully, the title is strong enough to have checkmated a potential current of lackluster karting clones as well.