Although industry marketing reps periodically throw around the word "synergy" when discussing their products, a scant number of developers actually make good on the term. One studio that has reliably delivered on the declaration is Tokyo-based Q Entertainment- who have crafted a handful of titles which seamlessly merge the visual and aural, forging a blissfully hypnotic and immersive set of experiences. From Child of Eden's amalgam of pulsating shapes and throbbing beats to Every Extend Extra Extreme's syncopated explosions, Mizuguchi-san and company have delivered some of gaming's most mesmerizing moments.
While both titles were well-received by critics and consumers, neither game seemed to connect with players as well as 2004's Lumines. As Q's inaugural title, the game was a perfect showpiece for the newly released PSP, flaunting the portable's vibrant widescreen display and ability to output distortion-free music. Equally instrumental in the achievement success, were the game's mechanics- which like Tetris, concealed a surprising amount of depth amongst the guileless tumbling blocks. Hoping to replicate the launch day coup of its predecessor, recent release Lumines: Electronic Symphony might just be the luminary of the Vita's launch library, offering a dazzling diversion capable of stimulating multiple senses.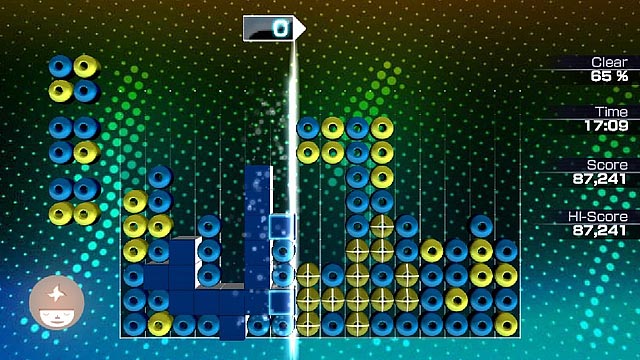 Graciously, Q Entertainment changed little of the Lumines' core gameplay. Square blocks still cascade down from the top of screen, challenging players to slide and spin these shapes so that four (or more) same-colored squares converge.  Meanwhile, a metronome-like 'timeline' sweeps past the playfield, eliminating matched blocks to the cadence of the music. To keep these conventions from becoming stale, Lumines employs skins- 43 different visual themes which alter the fundamental elements of each stage. Veterans will know these changes transcend mere aesthetic appeal. A simple transformation of green and grey squares into pastel colored circles can muddle perception, obliging a player to adapt to each new motif.
One component which has been thoughtfully altered is the game's avatar system. No longer just vacant visual personas, icons now provide special abilities, such as temporarily stopping the timeline or changing the color of blocks. While routine play fills up your avatar's gauge, so does tapping on the rear touch panel, encouraging games to drum their fingers to the beat of each song. There's even a sound effect which accompanies every tap, pulling players deeper into Electronic Symphony's engrossing elements. Whereas mounds of mismatched blocks once foreshadowed an imminent finale, this game's new shuffle block can offer a serendipitous reprieve by scrambling the color of on-screen squares.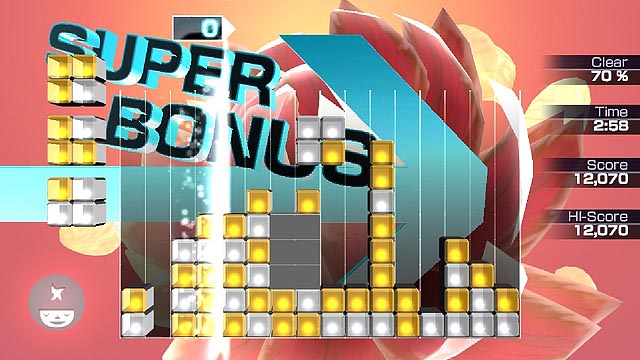 Unlocking new skins in the first iteration of Lumines meant persevering through the Challenge Mode, until a new stage was reached. If players failed, they were sent to the beginning, resulting in the mind-numbing repetition of early tracks. Electronic Symphony's similar Voyage Mode remedies this failing, permitting players to continue (albeit with a score reset) after piling their blocks to the top of the screen. Alternatively, gamers can cash out their progress, earning enough experience to purchase additional avatars. For those who wish to have a bit more control over their game, Stopwatch Mode allows participants to play for a preset duration while the Playlist option enables gamers to build a custom set from their favorite skins.
Although competitive-minded players have the option to clash in a local match, Electronic Symphony lacks any online duals, which would have bolstered the title's longevity. As a compromise, the game's on-line stat tracking is both nicely integrated and sufficiently robust, goading players with both global leaderboards as well as their friend's accomplishments. The game's most enigmatic online feature is its World Block mode, which tasks Lumines' collective audience with clearing more than two million blocks on a single day. Conceivably, players will be rewarded for this milestone, but at the time of this writing, no incentive has been revealed.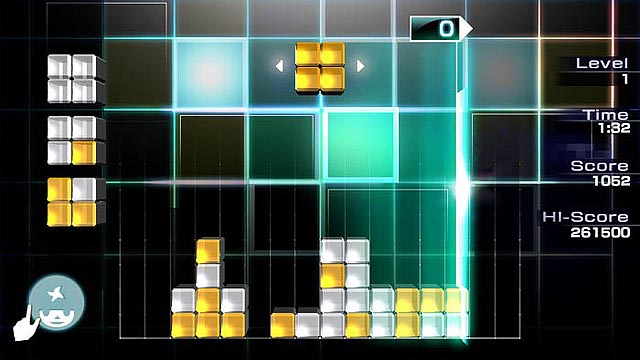 Beyond the absence of net-play, Electronic Symphony's other transgressions are minor. Although a front screen touch control method is offered, it's never obligatory, but it is ineffective.  Once stages start to accelerate the pace, moving and rotating blocks can't be performed as rapidly, rendering the input method as little more than a ploy to show off hardware functionality. While Lumines certainly has lasting appeal, some might take issue with the game's $40 price ($36.99 from PSN).  Electronica enthusiasts will be able to take solace knowing that Electronic Symphony's licensing fees must have been sizable, yet completely justifiable. With top-tier artists such as BT, Bebel Gilberto, Howard Jones, Kaskade, and Faithless, the title has one of the swankiest soundtracks in gaming history. Hopefully, producer James Mielke has some DLC cued up; block removal set to the strains of Massive Attack, Chicane, or Sasha would be ideal. Complementing the game's stellar collection of music is a razor-sharp visual output filled with a persistent procession of eye-pleasing graphical effects.
Remove the polygon-pushing playfields and supplementary touch control options and there's no reason why Lumines: Electronic Symphony couldn't have been successfully implemented on the PSP.  Yet, as a Vita launch title, the game's celebratory vibe seems fitting, ushering in an air of jubilant optimism for the fledgling hardware. Players with the slightest interest in rhythmic puzzlers shouldn't skip a beat and pick up the title as their earliest opportunity.