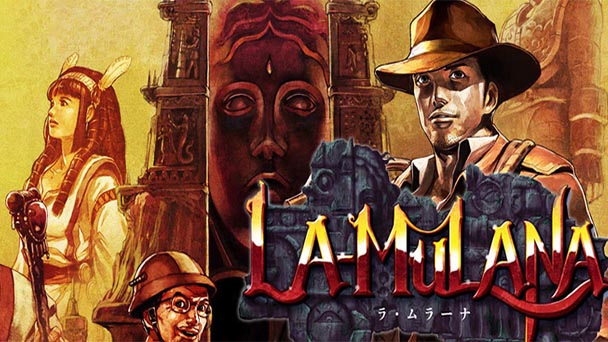 Modern games in the style of those found on retro consoles are nothing new. Over the years, countless developers have looked to gain instant attraction to their games by designing them to look like the games potential players grew up with. Originally released in 2005 on PC, La-Mulana was designed to pay homage to various MSX games from the 1980's, sporting not only similar visuals, but a level of difficulty that was common in games of that era. Now, nearly ten years later, La-Mulana EX, a 16-bit remake of the first game, sets out to explore ruins on PS Vita. Is it a buried treasure or merely a temple of doom?
Shockingly described on its PlayStation Store page as a "Metroidvania-style" game, La-Mulana EX is a 2-D action-adventure title. As the Indiana Jones-esque archaeologist, Lemeza Kosugi, you set off for La-Mulana; ruins that could contain the origin of life. Standing in the way of that potential discovery are numerous traps, puzzles, riddles, and monsters. While both the plot and the concept are far from original, the gameplay serves as a sturdy backbone for the adventure.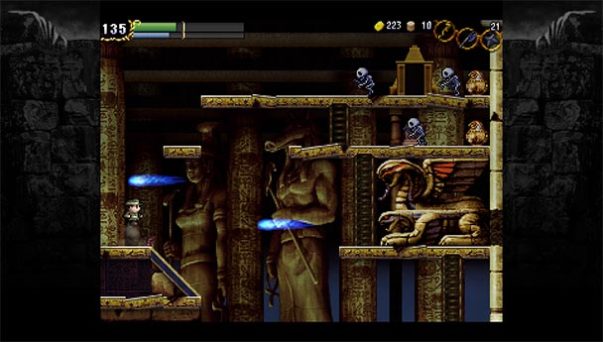 La-Mulana EX's action feels like a true Super Nintendo or Sega Genesis game; it's easy to learn, tough to master. Whipping an enemy is as simple as walking up to them and hitting a button when they are close enough. Where the challenge comes is in memorizing their attack patterns and knowing how to get them into the hit box of your weapon. This can be especially tricky when the room layout doesn't give you much space to maneuver. While the engine has a decent grasp on the fundamentals of action platforming, it is not without fault. Jumping and falling are somewhat awkward. If you jump without holding down a direction, you perform a vertical jump that won't let you adjust yourself in midair until you have reached the height of the jump and are descending. As for falling, Lemeza has no momentum when he walks off of edges; he drops straight down with no chance to adjust his fall, like when jumping. With the amount of precision needed for some jumps or drops, design choices like these can lead to real headaches.
As with any good Metroidvania game, exploration and puzzle-solving are the meat and potatoes of the experience. The ruins are divided into twenty-room interconnecting "fields". Each room possesses its own mystery, and solving it takes you one step closer to that field's boss fight. Traps make this no small feat. Placing a weight on the wrong switch can lead to serious injury or death at the hands of a falling object. Essential items, like the Hand Scanner and Glyph Reader, make the game a bit more forgiving by allowing you to read stone tablets and listen to the soul of a fallen explorer for hints or clues. Still, be prepared to reload your save frequently.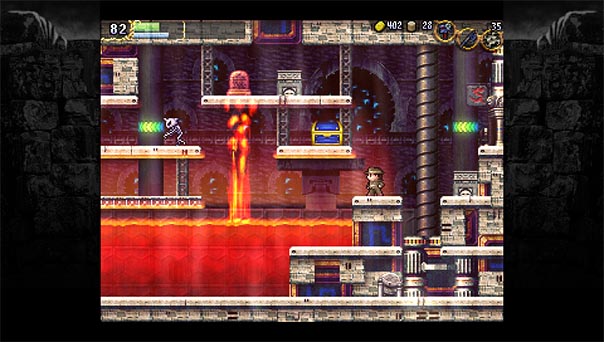 Difficulty is where La-Mulana EX begins to build a wall between itself and its players. Even with hints, figuring out what to do next or where to go can feel tedious. Compounding the issue is that the layout of rooms in fields can be inconsistent. For example, at one point, you can climb up a ladder to enter the next room and end up on solid ground with no way to climb back down way you came. The rooms are aligned in a way that makes more sense, by the instruction manual's own admission, as a four-by-five grid instead of the way they actually are in the game. It's pointlessly confusing game design.
On the presentation side of things, there is little room for complaint. Sprites, as small as they are on the Vita's screen, have a charm to them that's comparable to authentic 16-bit games of the nineties. While lacking in frames of animation, each sprite is obviously drawn with great care. Sadly, the music doesn't fare quite as well. Songs are repetitious, and with the amount of time it takes to complete a field to the point of moving on, they're bound to overstay their welcome. The most noteworthy, but understandable, presentational shortcoming is that the game runs in 4:3 with forced border artwork on the sides. I say "understandable" because La-Mulana's rooms are based around a 4:3 aspect ratio screen.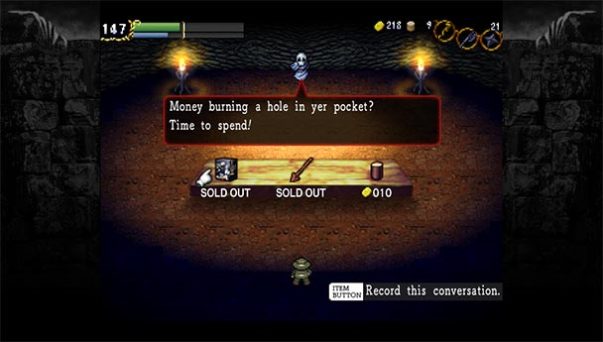 In the end, La-Mulana EX is a solid game, but not the must-have PS Vita title it could have been with a few tweaks. Its trial-and-error puzzles and traps will have even seasoned players reloading their saves on a regular basis. Time-tested Metroidvania fanatics and retro gamers will probably be the ones who get the most out of it. To the rest, La-Mulana EX boils down to a $19.99 gamble.
La-Mulana EX was played on the PS Vita with review code provided by the publisher.
La-Mulana EX
Platform: PS Vita
Developer: PYGMY STUDIO
Publisher: Rising Star Games
Release date: March 3rd, 2015
Price: $19.99 via PSN
Review Overview
Summary : Odd design choices and frustrating trial-and-error gameplay keep La-Mulana EX from fulfilling its true potential. However, it does enough things right to be worthy of a purchase, primarily to battle-hardened Metroidvania players and retro gamers.