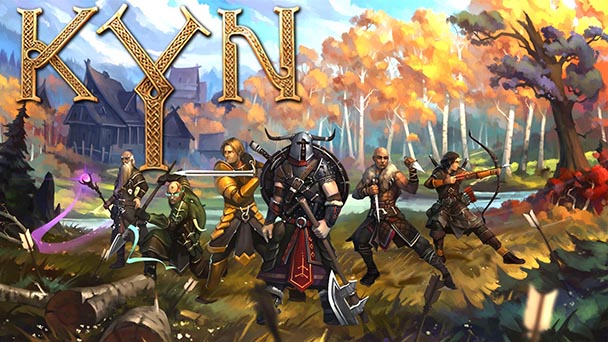 Scour the web for coverage on Kyn, and you'll discover one ubiquitous detail: the ambitious action role-playing title was developed by a team of two coders. While it might be charitable to champion the developmental dreams of a determined duo, we've seen smaller teams chase similarly-sized goals, only for them to deliver a disappointing effort. Generally, that's not the case with Kyn. Although the game certainly has several unpolished elements and its amalgam of the RPG, RTS and puzzler genres won't appeal to everyone, there's enough gratifying substance here for the title to succeed on the accomplishment of its gameplay.
Kyn's opening introduces players to Bram and Alrik, two young men who have just completed the arduous training required to become Magni Warriors- rugged combatants who are also versed in the mystical arts. Upon exiting their isolated, cavernous, campus, the two head back to their hometown of Vinborg, only to discover that the otherwise peaceful people of Aeshir have turned blood red and have started attacking any villager in crosses their path. While the plotline isn't poised to earn a Hugo Award, there are moments of proficiency. Epitaphs verge on poignancy, while the chatter between the two- as well at the interactions with the four additional party members that players will meet, is pleasingly succinct.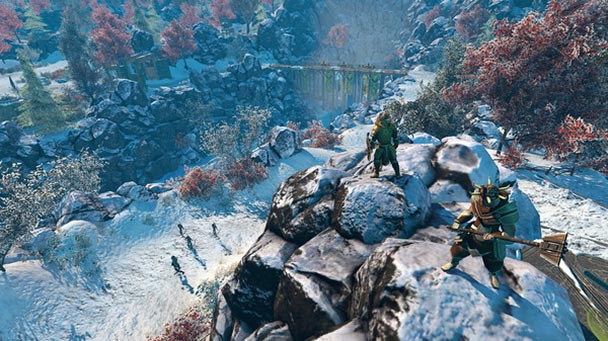 Gameplay guidance arrives in the form of hint icons that drop from the top left side of the screen, with each advice topic gradually disappearing from view if ignored by players. In execution, it's an astute decision, providing a smidgeon of support for newcomers, while remaining innocuously in the peripheries for role-playing professionals. Controlling Bram and Alrik adopts the methods of a real-time strategy game, with players pressing the number keys to select the individual heroes, using the mouse to lariat a group, and clicking the right mouse button to select a destination. For the most smart, AI pathfinding is adept, with adventurers able to navigate through twisting areas without incident. In fact, the only control problem stems from a camera that won't rotate, leading to the occasional click which sends adventurers toward faraway background object or the occasional treasure chest that's obscured from view.
Combat is founded in real-time strategy rule, with a right click on an enemy giving an order to attack an Aeshir (or the game's other creatures). Initially, Bram and Alrik deliver a pleasing one-two punch of melee and ranged attacks- the combatant's further strengthened by special strikes and abilities that are regulated by cool down timers. Since Kyn is fond of sending out large numbers of foes that can engulf parties, players will want to make use of the game's slow down timer. Clicking on the middle of the interface or pressing the space bar decelerates time drastically, allowing gamers to position protagonists, issue attack orders, and summon specials with super-human speed. To prevent abuse, Kyn limits the amount of slow-time, with the commodity refilling fast enough to not induce frustration.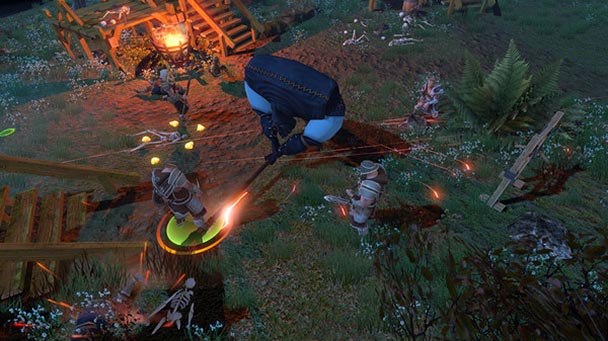 As with many contemporary role-playing gamers, Kyn shuns a rigid class systems, allowing players to spec out their party in three general areas: Mind, Control, and Body. In execution, the system does steer adventurers toward diverse specialization, prompting players to create collaborative teams, rather than just a party dominated by damage-dealing berserkers. But other that the need for variety, the game takes a hands-off approach, allowing gamers to augment their team though a robust skill-tree system and outfit with the products forged through a crafting system. Likewise, Kyn's landscapes strike an adept balance between being linear and open-ended, providing expansive lands which permit exploration and extend the lure of numerous side-missions. To keep players from getting too far off-track, periodically they'll be sent back home to Vinborg, where's they'll augment their equipment and receive a bit of obligatory exposition.
While Kyn's twenty-to-thirty hour adventure is largely enjoyable, a few elements won't sit well with all players. The game's most contentious design decision is the integration of puzzles, which will likely pause progress on quests until they are completed. While most aren't unreasonably difficult, typically tasking gamers with separating party members so they can stand on pressure plates or flip switches, they do disrupt the game's otherwise swift momentum. Additionally, any contentment that arises from solves the conundrums will be lost in future play-throughs. While that's a foundational design decision, other, potentially patchable blemishes will be found. Notably, ally hit point indicators can be obscured by enemy meters, not allowing players to see the vitality of their party members. One stealth-themed errand is undermined by the lack of any sneaking mechanic, forcing a sloppy sprint toward a gate switch. A handful of subordinate bugs might instigate the reload of a save file, such as the fallen teammate who is able to stand after defeat, but stubbornly resists resurrection.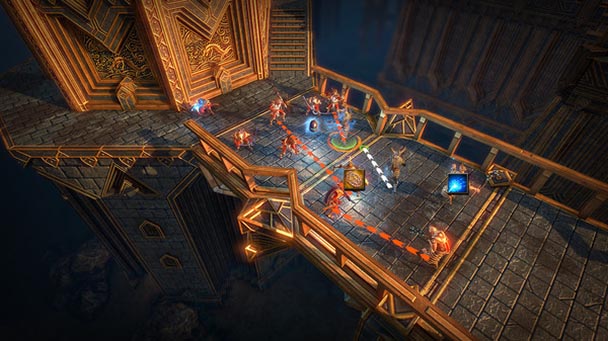 Aesthetically, Kyn shows little indication of a diminutive design team, offering lush flora, detailed landscapes, and attractive topography. While the game's characters don't deliver the same poly-count bestowed to its backdrops, the cutback isn't enough to be too much of a detrainment. That said, Kyn's constrained characters seem to have little impact on framerate, with the game revealing the sporadic instance of chugging on mid-range machines. Sonically, Will Bedford's (TinyKeep, Sublevel Zero) score is flawless, extending a vaguely Celtic opening theme, followed by compositions that wouldn't be out of place in a JRPG.
Remarkably, the two-person team at Tangrin Entertainment has pulled off the near-impossible, crafting an ambitious role-playing game that's not far removed from Baldur's Gate or Pillars of Eternity. While the title doesn't demonstrate the finesse or polish of the BioWare or Obsidian Entertainment titles, it's still an engaging effort, worthy of a modest investment by fans of the genre.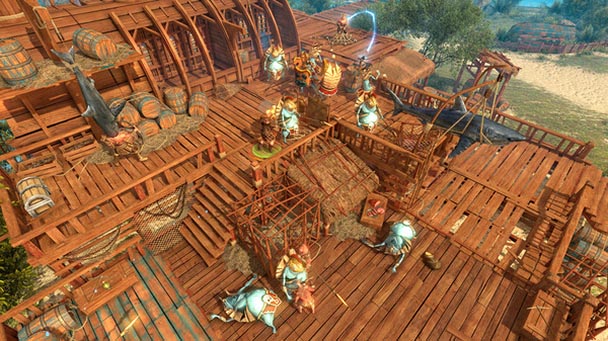 Kyn was played on the PC with review code provided by the publisher
Kyn
Platform:
 PC
Developer:
 Tangrin Entertainment
Publisher:
Versus Evil
Release date:
 July 28th, 2015
Price:
$19.99 via
Steam
Review Overview
Summary : As long as role-playing enthusiasts can tolerate Zelda-like puzzles as well as the occasional glitch, Kyn offers at least twenty-hours of amusement and adventure.