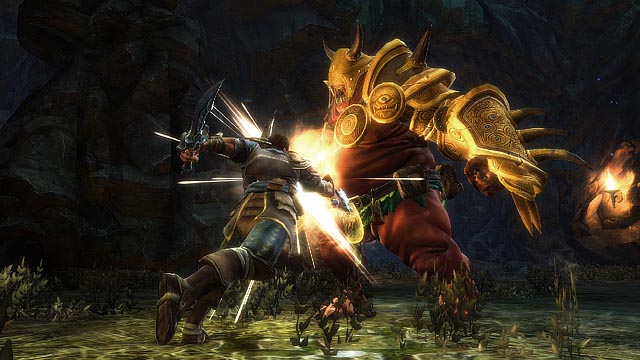 As an open world, high-fantasy adventure, the release of Kingdoms of Amalur: Reckoning is certain to draw comparisons to The Elder Scrolls V: Skyrim. After all, it's been less than two months since Bethesda published their magnum opus. Despite a richness that permeates both the lore and visual splendor of both titles, scrutiny reveals that the games are substantially distinct, offering two dissimilar interpretations of sword and sorcery archetypes.
One of the most conspicuous elements of Reckoning is its handling of combat. Although the game is still crunching statistics such as hit points, magic resistance and effectiveness of weapons, all these calculations are well concealed from players. Instead, gamers are encouraged to become absorbed in the visceral, dynamic combat which has the responsiveness and tempo of a refined action title. Whether players lean toward ranged, melee or magic weapons, Reckoning sidesteps the immersion-breaking clumsiness often associated with switching arms and aiming, perceptively focusing on the nearest threat. Like Skyrim, the title also abandons the rigid character classes of fantasy lore, allowing players to cultivate satisfying hybrid equally adept at sword as well as spell.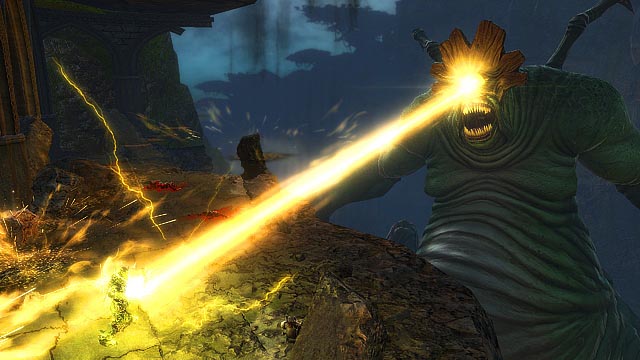 Complementing the game's formidable weaponry is Reckoning's skillful AI, which can often challenge a player's mastery of blocking and parrying. While low-level experience fodder abound, the title's more aggressive foes are particularly interesting, exhibiting conspicuous attack patterns (like the pack of wolves which encircled to prohibit escape, then attacked at opposing sides). Likewise, antagonists have a mind of their own, fleeing when critically injured or occasionally directing their ire at an unfortunate NPC.
Beyond combat, blacksmithing and potion creation are capable of seizing a gamer's attention. The former task simulates vocational expertise as players gradually learn how to construct new, more robust weapons and armors after successfully crafting rudiments. Gratifyingly, players can reclaim the best components of two similar items- creating a more powerful tool with Reckoning's salvage mechanic.  With a myriad of functional flora growing around Amalur's realm, alchemy can be an absorbing trade- especially once player sink points into the skill which increases the likelihood of successfully harvesting ingredients. Hardcore potion producers may want to pre-order the game, as a diving rod capable of seeking out reagents is one of the perks for locking in a purchase.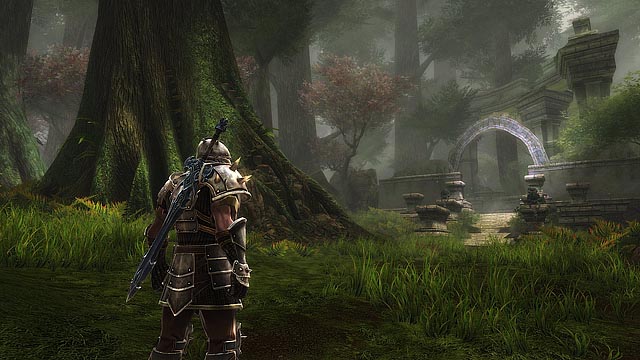 Although much has been written about Reckoning's synergistic pairing of R.A. Salvatore and Todd McFarlane, some remarkable nuances have been overlooked. Whereas most western role-playing characters are notably static during conversation, the Amalur's personalities continue to display life-like traits, exhibiting suitable facial expressions and occasionally allowing their body language to divulge their demeanor. Pragmatically, the game's engine is capable of articulating the land of Amalur- which except for the sporadic framerate sputter when a crown of enemies attack and slightly truncated draw-distance, keeps the action consistently engaging.
Building on the experience gained from crafting PC pleasers such as Rise of Nations and the Asian Dynasties expansion for Age of Empires III, Big Huge Games and 38 Studios have undoubtedly taken on an immensely ambitious project. Yet, the recent Kingdoms of Amalur: Reckoning demo demonstrated that this rich amalgam of talent could pull off the unprecedented, and deliver an elaborate, satisfying sandbox capable of bewitching the most fastidious fantasy fanatic.