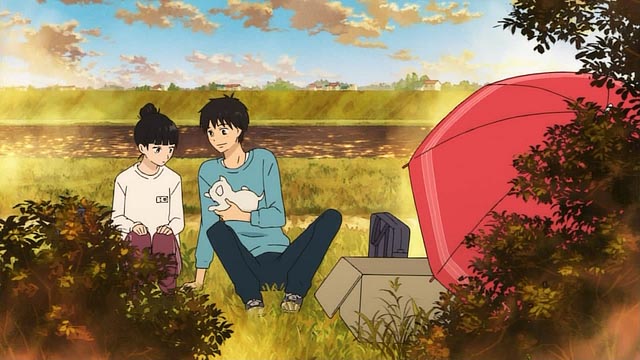 I typically loathe the star-studded, Hollywood romantic movie. Originally, I thought contempt for the genre stemmed from being socialized to appreciate their assumed antithesis: big, dumb, action flicks. Upon closer analysis, it was the medium itself: two hours simply wasn't enough time to convincingly explore the nuances of a blossoming relationship, obliging cliché to fill in the minutiae. Evidence supporting this assertion can be found within NIS America's recent release of the first volume of Kimi ni todoke: From Me to You. Across a dozen episodes, viewers observe the subtle transformational capacity of romance. While not every moment of the series 273 minute running time in engaging, there are enough instances of rapturous charm to warrant a purchase to shōjo fans.
The first episode introduces viewers to Sawako Kuronuma, a perpetually courteous and thoughtful teen who has the misfortune of having a haircut that similar to the main character from the film Ringu. Nicknamed "Sadako" by her classmates, a belief that she can see ghosts and can craft curses instigates isolation. Once she crosses paths with the ever-amiable and well-liked Shota Kazehawa, not only do we see the foundations of a poignant bond being established, but we also witness the budding relationship act as a catalyst for the two characters.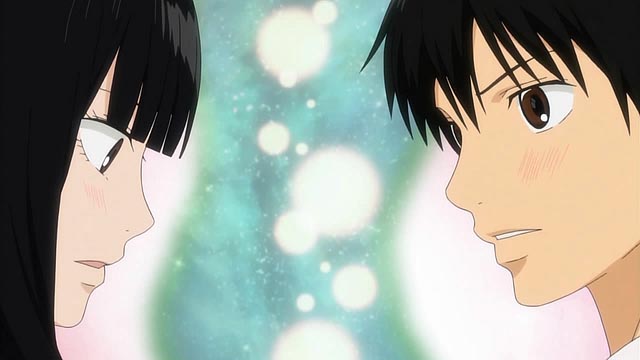 As a textbook case of complementarity, we gradually see changes in both teens.  Sawako begins to shirk her social awkwardness, garnered a new circle of friends, and gaining self-esteem, Meanwhile,  Shota,  accustomed to the superficial affections of his female classmates is initially shown as being oblivious. Steadily, as he confirms Sawako's admiration, Shota becomes more conscientious, recognizing his own weaknesses. To underline these transformations studio Production I.G. (Eden of the East, xxxHOLiC, Blood+) often interweaves Kimi ni todoke's dialog with unbelievably exquisite interpretations of nature.
These interspliced scenes also communicate the series' worldview. With characters so untiringly polite, thoughtful and selfless, Kimi ni todoke can seem inoffensively idealistic. While some viewers won't mind the series uninhibited optimism, some might take issue with the series' pacing. Director Hiro Kaburaki embeds every frame with relevance and offers an ample amount of foreshadowing, complexity (including the appearance of an obligatory villain), and analysis. Yet, for those accustomed to the pace of throwaway romantic fluff, Kimi ni todoke can move at a decidedly torpid tempo.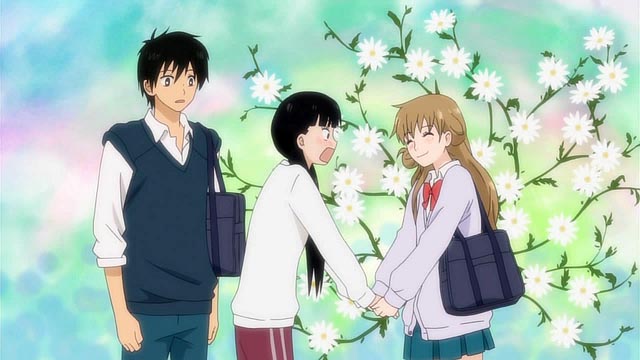 As is customary for NIS America, the twelve episodes are housed in two slim cases. Whereas previous editions revealed slight bubbling on the surface of each cover, the vexing blemishes seem to have been eliminated. Accompanying the two DVDs are a set of Blu-ray discs, which offer an expectedly pristine viewing experience. The ancillary hardcover book, entitled, "My Memories" offers a pleasing collection of character bios, scenery stills, as well as brief episode recaps peppered with bits of dialog.
The first volume of Kimi ni todoke: From Me to You has more tender, subtle, and honest moments than Hollywood has likely churned out in the last half-decade. As other shōjo have shown, allocating more than four and a half hours to observe the quiet tempest of emotions which accompany a young romance can be advantageous. Fortunately, Kimi ni todoke rarely squanders its time, using each moment to explore the interplay between a cast of likable and intriguing characters. As such, the series would be an ideal token of admiration to the anime aficionado in your life.