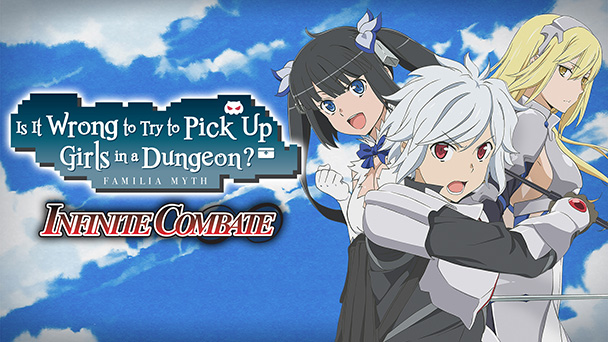 Mage's adaption of DanMachi succeeds when the developer plays to their strategies but stumbles when the game tackles dungeon crawling. There's some fun to be found and a Hestia knife to be had. But occasionally, the game can feel like the equivalent of Hestia's workload.
Is It Wrong to Try to Pick Up Girls In A Dungeon? – Infinite Combate
Platform:
Switch, also on PlayStation 4, PC
Developer:
Mages
Publisher:
Blitworks
Release date:
July 29th, 2020
Price:
$19.99 via digital download
Availability:
Nintendo eShop
As the title suggests, the most obvious allure of Is It Wrong to Try To Pick Up Girls In A Dungeon, is the fan-service. If you're seen J.C.Staff's adaption of Fujino Ōmori and Suzuhito Yasuda's light novel, you'd know the anime doesn't shy away from suggestiveness. Early on, Hestia, a buxom goddess who's clad in a tattered dress, straddles protagonist's Bell Cranel's bare back. The purpose of the interlude is to read Bell's character stats. DanMachi, as it's known on both sides of the Pacific, details the MMO-style exploits of adventurers. Each enters the labyrinth to battle respawning monsters. If they make it out alive, chances are they'll be a little stronger.
Within that premise are two restrained reasons why Is It Wrong to Try To Pick Up Girls In A Dungeon? fascinates. The first centers around bored deities, who give up their omnipotence to descend onto the medieval-style hamlet of Orario. Primarily drawing from Greek and Norse mythology, these goddesses forgo their standing to interact with those who worship them directly. In DanMachi, even the almighty gods have a desire for affection.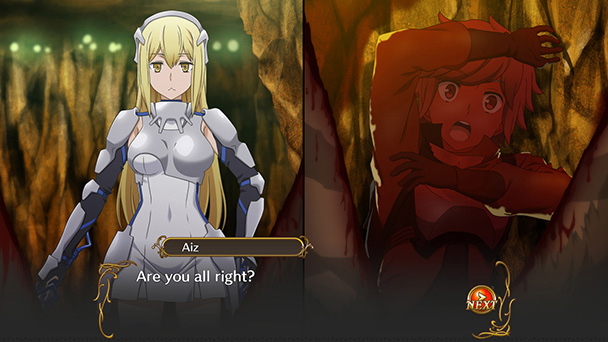 The other captivate component is the properties incorporation of a game-like world. Anyone who's played a MMO, RPG, or even table-top game will immediately recognize the rules of DanMachi, where defeated monsters disintegrate, leaving behind a bit of loot. Under duress, Bell even has access to a special attack capable of turning the tide of an overwhelming battle. For impassioned gamers, Is It Wrong to Try To Pick Up Girls In A Dungeon? can feel disconcertingly familiar.
Hestia is Bestia, and Maybe Breastia
The recent PlayStation 4, Switch, and PC release of Is It Wrong to Try To Pick Up Girls In A Dungeon? – Infinite Combate transports the property back to one of core inspirations. As such, you'll find a role-playing dungeon crawl intermixed with visual novel-style exposition. While the former is a bit underdeveloped, it's the latter component that redeems the game. Venture in, and you'll find a retelling of DanMachi along with elements culled from side-series, Sword Oratoria: Is It Wrong to Try to Pick Up Girls in a Dungeon? On the Side.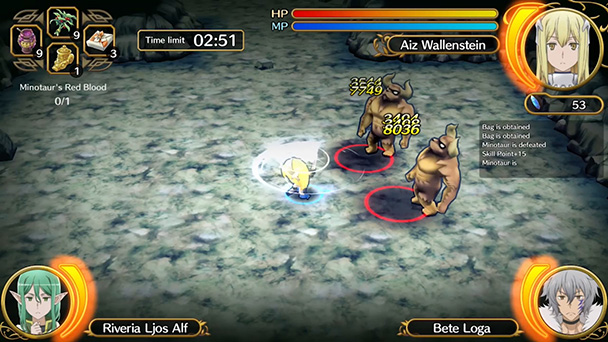 Naturally, a lot of the nuances from the original light novel, manga, and anime are glossed over. Sure, he's still the cliched nice guy lead that helms dozens of different properties. But the more interesting and relatable facet of his personality, his badgering sense of self-doubt, isn't as evident in Infinite Combate's script. Largely, that's understandable. Although the game is unmistakably aimed for fans, there's enough explanation in the dialog to appreciate DanMachi's enthralling world.
Saved by the Bell or Saving Bell?
Unsurprisingly, Bell's exploits lead thing off. But about halfway through the game's On the Side's Aiz Wallenstein is intermeshed into the plotline, with chapters alternating between the two leads. You'll meet many of the familiar faces and races, many of whom are part of familias, a group that's named after and serves one of the DanMachi's deities.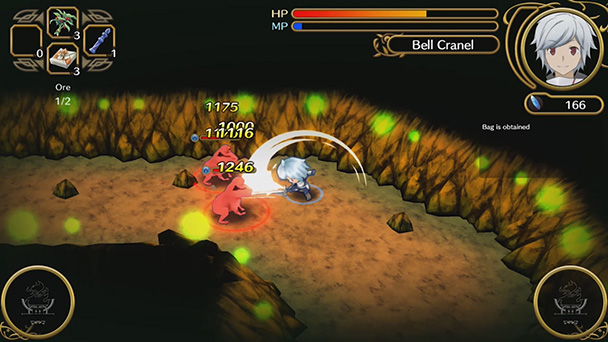 While the source material has evading answering its eponymous question, you'll get to provide an answer in Is It Wrong to Try to Pick Up Girls In A Dungeon's Extra mode. It's here that harem and reverse-harem elements come into play, with both Bell and Aiz able to date a cast of characters. While it arrives well into the game, developer Mages (Steins;Gate, Muv-Luv, Psycho-Pass: Mandatory Happiness) demonstrates their expertise with writing engaging dialog. Satisfying relationships aren't always easy to write, and while this isn't close to Mage's best, it's a respectable effort that remains true to the source material.  And it's all elevated by the inclusion of many of the same voice actors from the anime. While it's slightly disappointing that the title doesn't utilize Live2D or some similar middleware to breath life into its character, the character portraits are consistently well-drawn.
Dungeons, not Fungeons
Unfortunately, Infinite Combate's battles aren't as adept. Instead of applying a Mystery Dungeon-like template, the game delivers real time action, with players having access to a trio of attacks as well as a dodge button. Although there's a bit of complexity, requiring you to read enemy animations and to hitstun foes, it's all a bit simplistic, and quite often, repetitive and short. These problems are exacerbated by bland dungeon designs (although they get better in the Extra mode), and a shortage of mission types. Essentially, dungeon crawling channels the austerity of a mobile title, which doesn't capture the MMO-like ambience of the light novel, manga, and anime.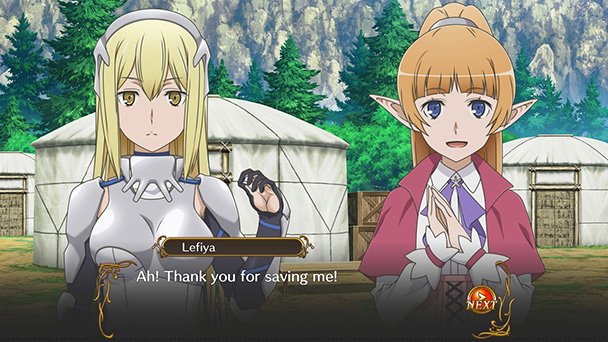 On the upside, there are a few incentives to keep you returning to the labyrinth. From upgrading equipment, selling loot to augment the inventory of Orario's market, the traditional motivations stimuli are present. But ideally, you should want to delve into the dungeons for the enjoyment and challenge of combat. A bit too often, Bell and Aiz's exploits feel like drudgery, which is a shame. If there's a sliver lining to the simplicity, it's that Infinite Combate provides a solid framerate on Switch, even in handheld mode. Also, small details, such as the speed of Bell's character growth will not be lost on fans.
Conclusion
Mage's decision to meld visual novel-style storytelling with action-based dungeon crawling is full of potential. But all too often, Is It Wrong to Try to Pick Up Girls In A Dungeon? – Infinite Combate squanders its prospect, with a mission that stretches far too long, or even a brief assignment rooted in monotony. On the upside, DanMachi fans might appreciate the game's retelling of events, potentially rekindling enthusiasm for the property in another medium.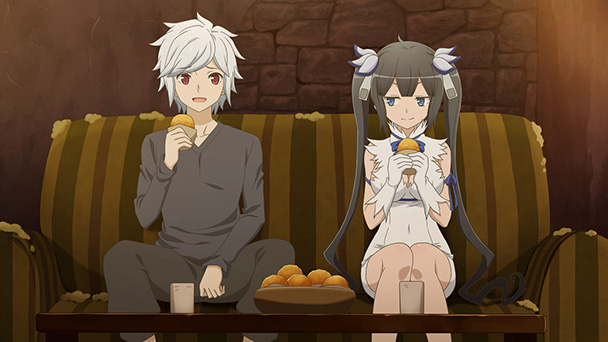 Is It Wrong to Try to Pick Up Girls In A Dungeon? – Infinite Combate
was played on Switch with review code provided by the publisher. 
Review Overview
Summary : Is it Wrong to Pick Up Infinite Combate if You're a Fan of the Source Material? No, but set your expectations on level with Hestia's neckline.