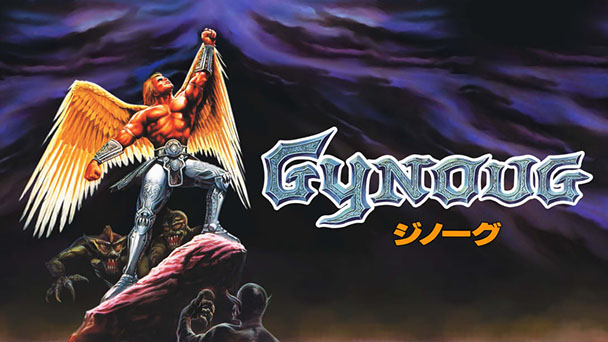 Gynoug is a pleasing trip back to the nineties, when coders kept hands sweaty, composers made modest soundchips sing, and artists brought giant, alien phalluses onto the family television. 
Gynoug
Platform:
PlayStation 4, Switch, Xbox One
Developer:
Masaya Games, Ratalaika Games
Publisher:
Ratalaika Games
Release date:
November 12th,  2021
Price:
$6.99 via digital download, $5.59 launch price (Switch)
Availability:
PlayStation Store
, Nintendo
eShop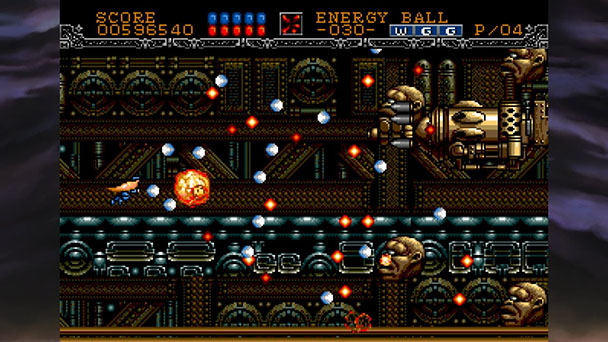 As a enthusiast of '90s-era STGs, witnessing the resurrection of titles like Cotton 100%, Espgaluda II, and Gleylancer has been gratifying. And the cavalcade of coin-op and console cult classics shows no signs of slowing. Ratalaika's latest port revisits Masaya Games' (Gley Lancer, Assault Suits Valken) 1991 title, Gynoug. Localized in the West as Wings of Wor, the title arrived with cover art drawn by fantasy art maestro Boris Vallejo. Despite a depiction of a jetpack-powered muscleman punching a bio-mechanical dragon in his toothed face, the game didn't sell in large numbers.
Which is a bit tragic since Gynoug is a respectable horizontally scrolling shooter that evokes comparison to Thunder Force III and IV. Much like Technosoft's series, you'll fly through Gynoug's six stages as a constant procession of enemies fly across the screen.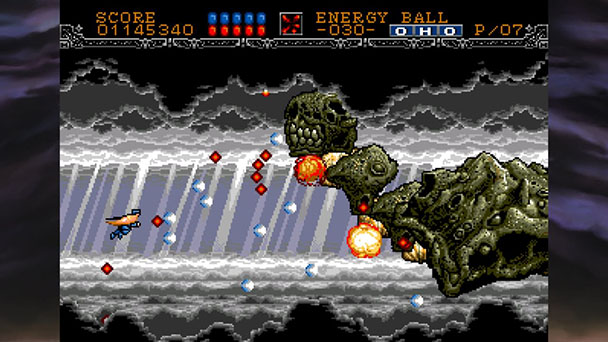 A Wonderfully Surreal Shooter
What isn't expected is the game's beguiling blend of art styles. Backdrops and playfield borders evoke the steampunk vibe of The Bitmap Brother's The Chaos Engine (aka Soldiers of Fortune). Subordinate enemies draw from all kinds of games, with everything from innocuous 8-bit era seagulls to cascades of severed arms. And with bosses like the H. R. Giger-esque human/locomotive hybrid, and a biomechanical corpse with pulsating growths and a swinging spine, there's some fascinating viscera on display. Perhaps the topper is the penultimate boss, who sports what seems to be a giant alien boner.
Sure, it can seem like a sprite-based freakshow. But the feeling of not knowing what kind of sprite Gynoug will toss at you next is thrilling. Save for Masaya Games' Cho Aniki, when was the last time a STG dumbfounded you with its enemy selection? The downside to this approach is the development couldn't keep the creativity flowing for too long- the game's last stage is by-the-numbers boss rush. Another disappointment is the game's final showdown, which feels like a war of appreciation against an excessively defensive foe.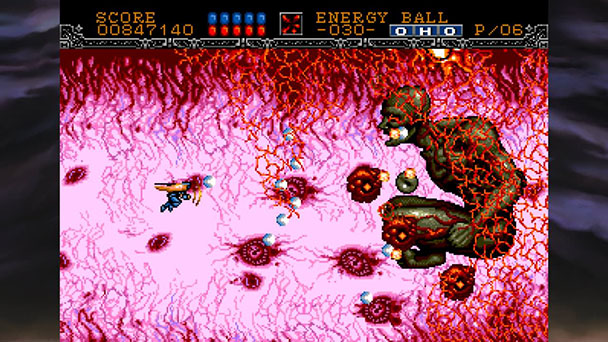 Don't Let up on the Fire Button
But beyond the sheer multitude of different power-ups, there's little fault to be found in Gynoug's arsenal. Collecting red and blue orbs from defeated drones augments the power and spread of your shots respectively. You'll start the first stage with a modest V-shaped output of firepower. Gathering blue orbs and three different colors of gems provide different firing formations.
The latter is especially useful with gem providing opportunities for a forward-facing onslaught, a form with some vertical protection, and a formation that provides posterior protection. While a majority of enemies will race toward you from the right side of the screen, Gynoug likes to sporadically send foes from all sides of the playfield, making for some intense maneuvering. Adversaries aren't the only danger, with a few stages requiring some skill flying to avoid crashing into objects.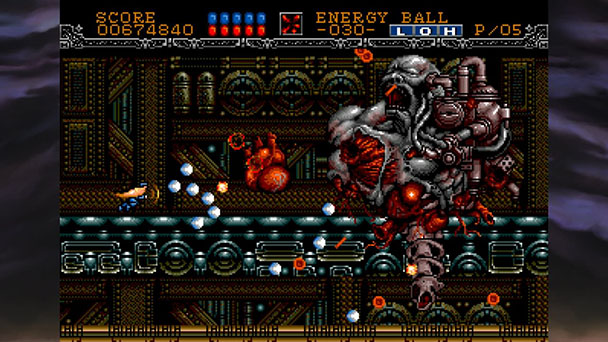 Grabbing scrolls with different letter on them provides additional assistance. Up to three of these can be collected at once, and if you're adept enough to collect the same scroll type, the effect will be augmented. Expectedly, there are some life-saving perks like energy balls that absorb enemy shots. But they are also some defense options like a shield that will temporarily protect your winged hero.
Conclusion
Noriyuki Iwadare's soundtrack is every bit as imaginative as the game's visuals and demands to be listened with a set of headphones. With some ear-pleasing stereophonic panning and some resourceful instrumentation squeezed out of the Mega Drive/Genesis' Yamaha soundchip, each track manages to convey moodiness without sacrificing the beat-per-minute count.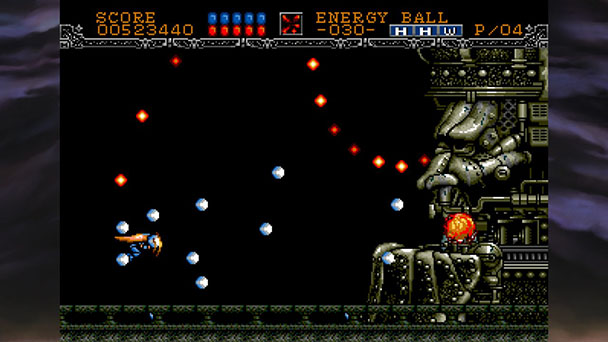 This time out, Ratalaika Games provides cheats from the onset, instead of requiring players to beat the game first. There's a possibility that you might need the assistance of unlimited lives or maintaining the level of your arsenal upon death. While Gynoug first few stages are pushovers, the game escalates the intensity quickly. Without cheats, the last two stages will demand undivided concentration as waves of foes make a beeline toward you. But for STG enthusiasts, this is our drug, making Gynoug a gratifying fix for any junkie.
Gynoug was played on Switch with
review code provided by the publisher. 
Review Overview
Summary : Whether you know it as Gynoug or Wings of Wor, Masaya Games' 1991 shooter deserves revisiting, if only to marvel at the game's wonderfully gruesome spritework.