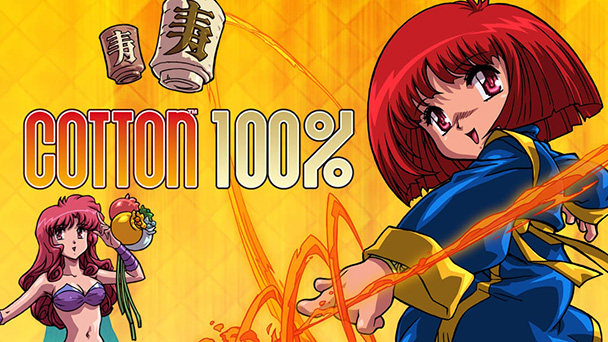 On the heels of the masterful Cotton Reboot, Cotton 100% reissues the 1994 Super Famicom title. There's a modicum of extras and supplemental material, which is slightly disappointing, but not enough to spoil the enjoyment found in this classic cute 'em up.
Cotton 100%
Platform:
Switch, PlayStation 4
Developer:
Success, Ratalaika Games
Publisher:
ININ Games
Release date:
October 28th, 2021
Price:
$14.99 via digital download, $34.99-$75.99 Physical
Availability:
Nintendo
eShop
, PlayStation Store (digital), Strictly Limited (physical)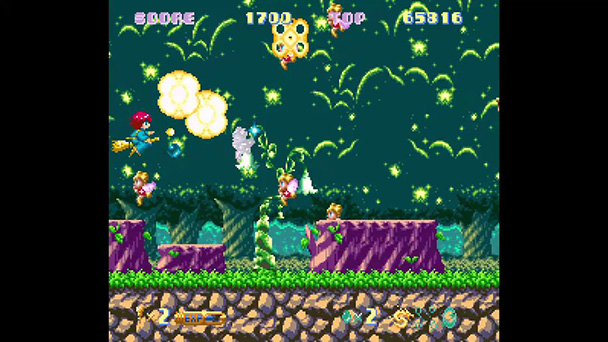 From the ubiquity of season passes to a "release first, patch later" approach, the modern game industry has several troubling practices. But it's not all negative. One contemporary upside is seeing prodigious franchises receive newfound localizations. One noteworthy example is Success' Cotton series. Save for the 1993 TurboGrafx-CD adaptation of Cotton: Fantastic Night Dreams, the series failed to make a Westward journey. But now that Cotton Reboot opened the floodgates, older entries are arriving.
Before considering a purchase of this fifteen-dollar title, keep your expectations tempered. This isn't a comprehensive overhaul like the recent reboot. Instead, Cotton 100% is a fairly direct port of the original, Japan-only Super Famicom title, which later saw a budget-priced, and tragically downgraded release for the PlayStation.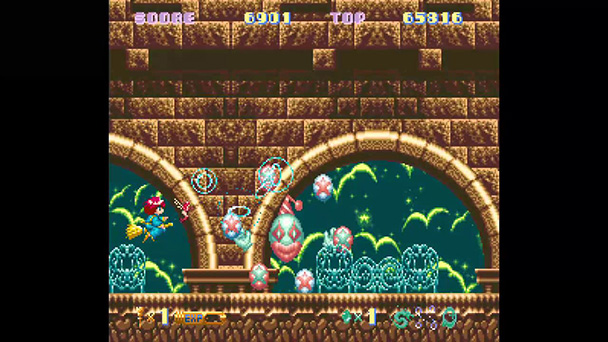 A Softer, More Vibrant Cotton
Revisiting Märchen Adventure Cotton 100% offers a remarkable revision of Success' original title. The inaugural title offered a spooky vibe, with the broom-riding protagonist rising across dusky backdrops, shooting at everything from zombies, scythe-wielding reapers, to a monstrous dragon with a mouth on its belly. Here, the palette is more reflective of the bright hues favored by the Super Famicom. With Cotton 100%, pixies are just as common as demons, waterfalls are pervasive, and even the eerie looking clouds now resemble playful puffs of mist.
But the core concept remains the same. Each of the game's seven succinct stages send you across horizontally scrolling landscapes, where you'll face a pair of bosses. Beyond a forward-facing, rapid-firing barrage of projectile, you can also drop bombs that arc toward ground-based targets. Like the inaugural game, picking up crystals augments the effectives of your weaponry. Cotton remains adept at magic use; her dragon and lightning spells are especially effective against many of the game's more resilient foes.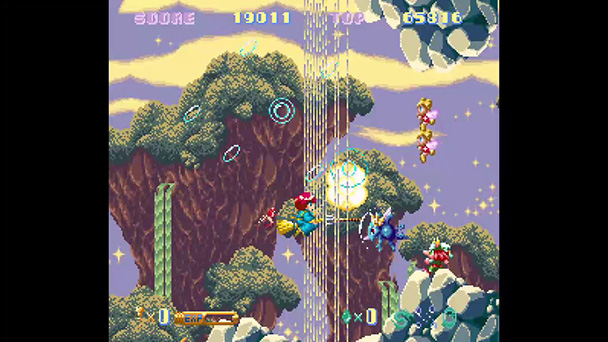 With 100%, our red-hair protagonist has the ability to select from one of four loadouts at the start of a game, much like Gradius III. This affects which set of three magic spells you'll carry into battle, and you can use a magic selection button to cycle between them. Interestingly, your formation of fairy 'options' is also determined by your loadout selection, offering a bit of replayability.
95% Cotton is a more Accurate Title
Yet, calling Cotton 100% a localization is a bit of a misnomer. Sure, the game's menus are in English, but all the storytelling inexplicably remains in Japanese. Sure, the storyline is skeletal, but not offering any translations feels like a lackadaisical effort. While this iteration of Cotton 100% offers the ability to rewind time, reverting any fumbles, the game's other cheats are oddly locked away until you complete Challenge Mode. And while the rights might have been hard to obtain, but the inclusion of audio from the mini-CD that shipped with the original game would have been cool. A collection of four songs performed by Silk's voice actress, this can still be found online.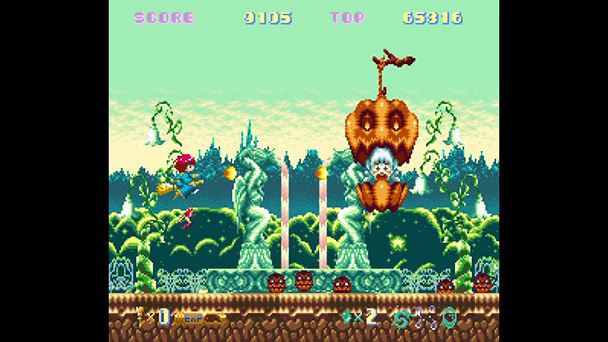 Despite the slipshod localization and odd way of handing difficulty adjustments, Cotton 100% retains its charming visual style and solid gameplay. But for a retail price of fifteen dollars, you'll probably expect more than just the original rom and a few conveniences provided by what appears to be an open-source emulation.
Cotton 100% was played on Switch with
review code provided by the publisher. 
Review Overview
Summary : While it's great to see Cotton 100% make it stateside, a bit more care should have been put into this re-release.