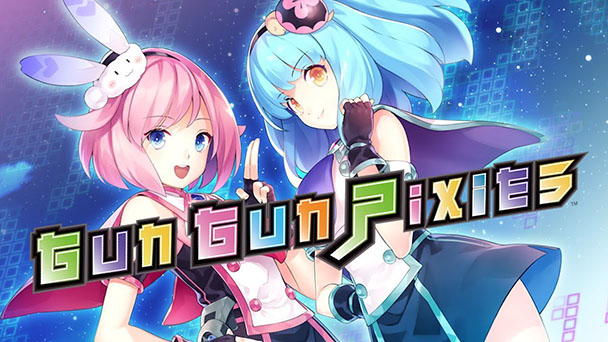 If someone ever created a softcore send up of Toy Story, it might be a lot like Gun Gun Pixies. Here, the banter between protagonists Buzz and Woody is recreated in the oft-uneasy pairing of military cadets Bee Tan and Kame-Pon. The former girl-crushes incessantly, while the latter serves as the fretting tsukkomi. In execution, their contrasting personalities allow for some amusing repartee during the game's visual novel-style segments.
Unsurprisingly, we witness the duo's bond grow across a succession of missions, providing an appealing expositional arc. What is unexpected is the game's wiliness to tackle social issues like eating disorders. Sure, the subjects aren't handled always handled with the nuance they deserve, but kudos to Compile Heart for injecting some compassion alongside the puckishness.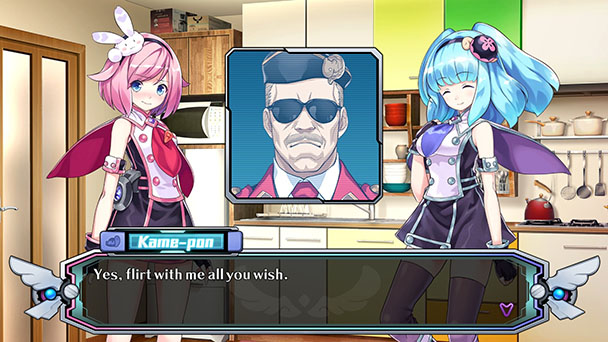 An Existential Crisis
Unlike the rescue missions of the Pixar films, these Pixies have a more urgent undertaking. Their home planet of Pandemo is facing a crisis with face-to-face relations falling out of style. Hoping to reinvigorate a dwindling population, Bee Tan and Kame-Pon decide to observe a women's dormitory to pick up a few pointers on human socialization.
As pint-sized creatures in a regular-sized world, the pair's third-person surveillances are done in secrecy. Space decree states that reconnaissance cannot be perceived, for fear of initiating an intergalactic incident. So just like how Woody, Buzz, Hamm, and Slinky sneak around when humans aren't looking, so must the diminutive Pixies.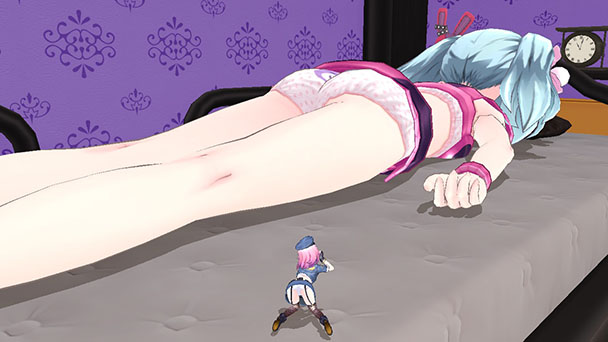 Strike a Pose!
This means players will have to pay attention to the Maiden Sensor. The meter on the left represents visual detection, while the right side has a gauge that represents how much noise you're making. Max out either and your mission ends, which contributes a bit of urgency to your proceedings. Luckily, you'll be raising the human's endorphin level, putting them in an orgasmic state, which makes the women seem distracted. Often, they shuffle mindlessly back and forth around the room, projecting a red cone on the ground to signal their field of vision.
Their roving behaviors means your selected Pixie is sporadically forced to take cover under furniture, crawling around on all fours. Unsurprisingly, Compile Heart doesn't miss a prime opportunity for fan-service and you'll frequently get a clear shot of pixie pantsu. Of course, progress in Gun Gun Pixies rewards players with currency to purchase additional outfits, weapons and underwear. Occasionally, the game's definition of undie is impishly suspect, with bits of melted chocolate covering a pixies' pretty parts. One of the funniest ways to avoiding detection is by striking a Pixie Pose, fooling the humans into thinking you're a misplaced action figure.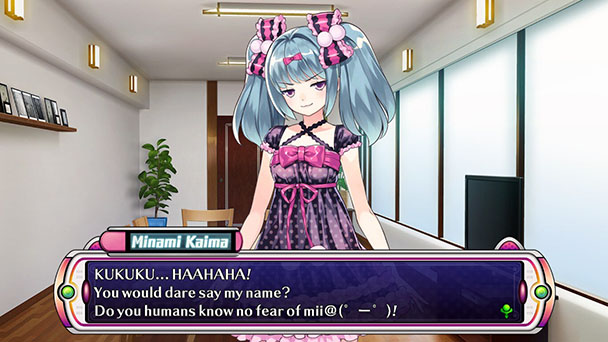 The Age-old Debate: Weapons or Lingerie?
When crouching under tables and dressers, you'll find an ample supply of picoins, the in-game currency, alongside ammo supplies. These are also spread across elevated parts of the environment, conveniently placed on bunk beds, entertainment centers, and sets of books, which you'll have to scamper across when pursuing your mission goals. Unfortunately, navigation isn't as enjoyable as it should be. The Pixies' jump feels unnatural and stiff, almost like one some of gaming's earliest three-dimensional platformers. Another problematic element is the game's camera system. Intermittently, you view is blocked by environmental objects.
For some, the presence of fan-service will make these concerns forgivable. Across the Story and Free Play modes, you'll often be shooting at girls with 'happy bullets' in an effort to remove their distress. This involves targeting their head, boobs, or butt which is every bit as amusing as it sounds. Seeing a six-inch pixie looking skyward and shelling a derriere covered in animal print panties is a pervy delight only rivaled by a post-mission bathing sequence. Of course, you aren't always targeting T&A. Enemy elimination and gathering intel are only part of your assignment too, but neither is anywhere near as entertaining.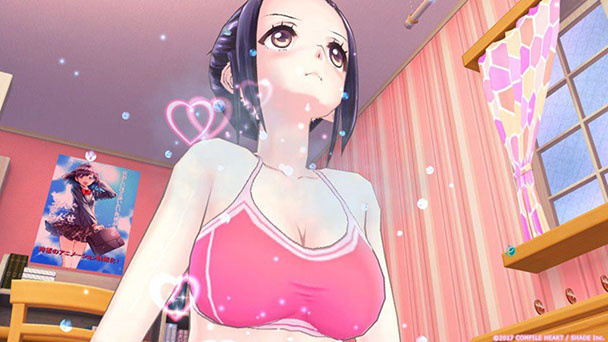 Sharing My Feelings With You
Beside getting noticed, you can also succumb to the barrage of projectiles emitted by each human, representing an outpour of negative emotions. The game's equivalent of boss battles has the women sending out danmaku-style bombardments, which must be shot down. Let these hit you and the pixies begin dropping their clothes. Lose all of your clothes and your dignity seemingly surrenders, resulting in a game over.
Originally released on the Vita in 2017, Gun Gun Pixies' portable origins are evident on PC. Beyond a constrained number of environments, some of the locations you'll be scouting employ a limited number of polygons when generating the game's architecture. On the upside, texturing has been upscaled and now seeing the details on posters that adorn each dorm is possible. Although the game's soundtrack is rather ordinary, voice acting is well-done, allowing the multitude of comedic moments to shine. Elsewhere, the localization is largely adept, save for a few noticeable blemishes, such as conflating "several days ago" with "several days later".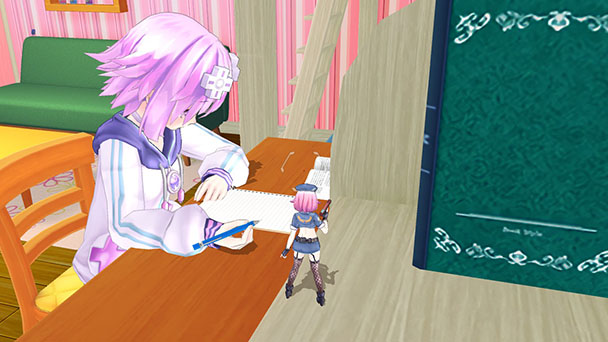 Conclusion
Gun Gun Pixies' moment-to-moment gameplay is merely serviceable. That's disappointing since titles like Toy Commander, Chibi Robo, and Earth Defense Force have demonstrated how enjoyable things can be when games scale the player down. That said, fan-service aficionado will find that Pixies exposes an impish spirit, showcasing amusement and amorousness in equal measure. Despite a multitude of mechanical jank, I was charmed by the title and motivated in helped the humans work through their issues. If there was a tiny alien shooting me with her happy bullets during the review process, I was unaware. But it would make a lot of sense.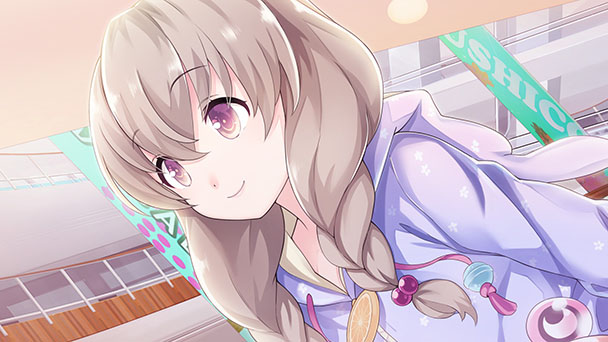 Gun Gun Pixies was played on PC with review code provided by the publisher. 
Review Overview
Summary : Gun Gun Pixies' foundations are built on fan-service, as a pair wee rangers take aim at breasts, butts, and brows. While the mischievous is welcome, you'll end up wishing the mechanics were more polished, since navigation is a chore.