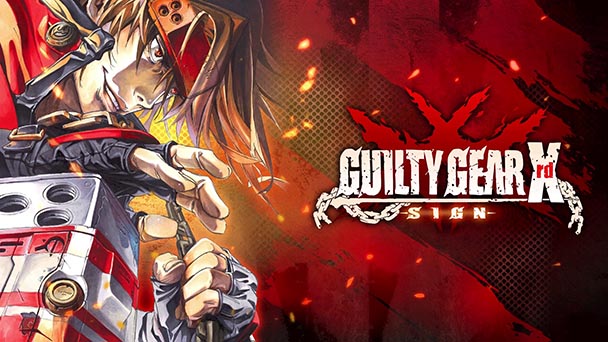 As anyone who has ever survived those oft-turbulent teen years knows, transitions can often be awkward periods. So when Yokohama-based Arc System Works, the gurus behind the Guilty Gear, BlazBlue, and Persona 4 Arena franchises announced that their next fighting game would move from hand-drawn animation to a polygon-based characters courtesy of the Unreal Engine, devotes began to fret. After all, even if the soon to be released Guilty Gear Xrd –Sign- could mimic the appearance of their previous fighters, the meticulous construction of hitboxes and hurtboxes could surely be disrupted during the transition. For purists, even a hint of imperfection could undermine the studio's seventeen-year legacy.
Fortunately, Daisuke Ishiwatari's magic remained delightfully undiluted. Not only is Guilty Gear Xrd -Sign- a visual powerhouse, with its cell-shaded cast looking like as if they belong in a top-tier anime, but playability is uncompromised. Save for a few oddities with the delivery of the main storyline and a few absent combatants, Xrd Sign is another one of Arc's near-faultless fighters. Pleasingly, the recently released PC version is a formidable contender, and save for some online lag, demonstrates how ports should be handled.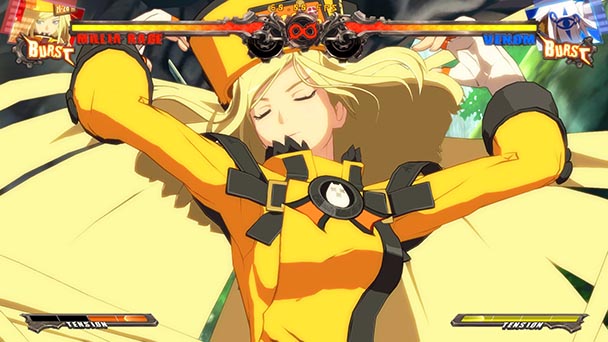 As with preceding iterations in the Guilty Gear series, there's a wealth of sophisticated mechanics waiting to be mastered. Roman Cancels now come is three color-coded varieties, with a trio of attack buttons trading either a quarter or half of your tension gauge to drop out of any attack. Psych Bursts are an indispensable offensive and defensive tool, permitting players to create an energy field that can sear opponents, with Blitz Shields allows certain strikes to be reflected, promoting a stun.
Dig deeper into Xrd Sign and you'll discover significant changes to the Clash system. Following tradition, when two oppositional hitboxes connect, this event will be triggered. Upon occurrence, opponents have the ability to cancel out of a strike and begin a new attack. But intermittently, Danger Time is now activated, with the background darkening to signal the opportunity for opponents to deals out an extra twenty percent of damage. Unsurprisingly, Instant Kills make a reappearance, offering overwhelmed players the rare chance to earn an upset victory.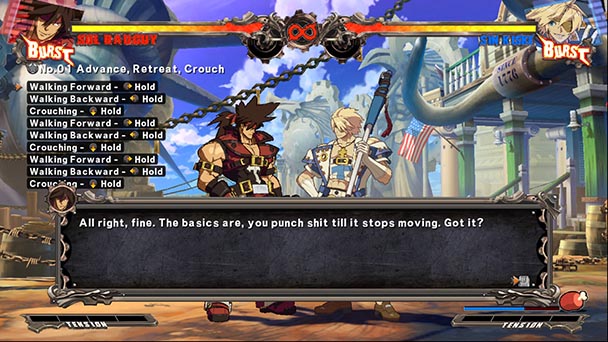 These developments escalate the level of sophistication for Guilty Gear, but fortunately, the game offers a tutorial which walks players through almost all of the game's intricacies. Since these lessons can often be monotonous affairs, filled with successions of description and drills, it's pleasing that Xrd Sign keeps things light-hearted, offering comical dialog to keep the training from becoming too tedious. To ensure you've absorbed the game's mechanics, players can make their way through Challenge and Mission modes, as well as spar against CPU drones.
For those who prefer their adversaries to more closely emulate the actions of a real person, players can enter Arcade mode. Make your way through a procession of eight opponents and you'll glean a sliver of the Guilty Gear storyline. Alternatively, there's Medal of Millionaires (or M.O.M.), where players choose a character, and using a persistent health bar, fight their way across a hex-board of adversaries. As your selected scrapper receives a steady flow of stat increases, there's a bit of longevity found in the mode, offers a gratifying change of pace from the conventional progression of fights.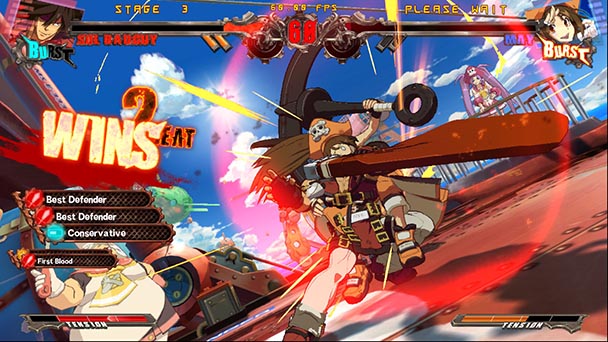 While Story Mode (along with the in-game encyclopedia of unlockable lore) is supposed to explain Guilty Gear's mythos, the lack of any kind of interaction is poised to stymie some players. Start the story and you're treated to an elaborate visual novel-like yarn, which contributes a wealth of additional exposition. But eager fighters looking for a brawl backed by a heated impetus won't appreciate that Story Mode never hands over the reins to players. Instead, they'll be treated to a protracted plotline constructed from the in-game engine.
For fighters seeking to test their proficiency against others, they can jump into Xrd Sign's online component, which extends both player and ranked matches. The former uses a figurative arcade setting, allowing participants to either observe others or engage in fights across a quartet of imagined cabinets in each room. While the interpretation is solid, with the diminutive room size keeping wait times down and participation high, servers were largely empty. Most competitors could be found seeking ranked matches, although recurrent lag reduced the enjoyment of human competition.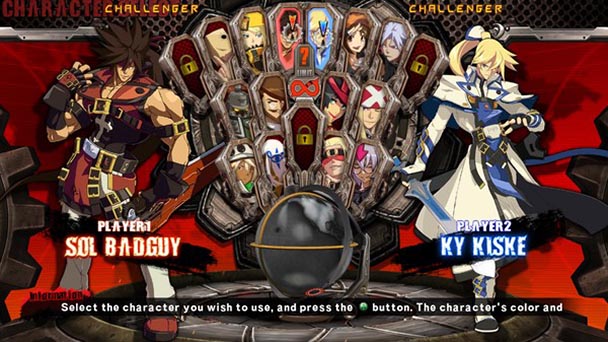 Largely, the size of character rooster isn't too contentious. Buy the PC port before January 21st and you'll receive the fourteen base characters as well as a trio of DLC fighters (as well as the extra palette colors and voices). The only lingering issue is that a few fan-favorite combatants, like Testament, Bridget, and perhaps Baiken are no-shows. If you're able to look past this omission, Guilty Gear Xrd –Sign- runs like a dream on Windows machines, with post-match, sweeping three-directional cinematics unable to shake delivery below sixty frames-per-second on a GTX770/i7 system.
Largely, Xrd Sign is a sight to behold, offering fidelities up to 1080p. Scrutinize the polygonal delivery and you won't find an instance of anything like clipping. In fact, the only telltale sign that the game isn't using sprites is exhibited when aliasing is turned off; the edges of fighters can look a bit rough. Match entries and post-fight boasts looks remarkable, with camera sweeps offering a dazzling perspective on players. Expectedly, Ishiwatari-san and Norichika Sato soundtrack offering the kind of searing guitar licks that helps to fuel the action, while the announcer and character voices exude professionalism. I might be along on this one, but I'll miss the nostalgic charm of an accented "Heaven or Hell" at the start of a match.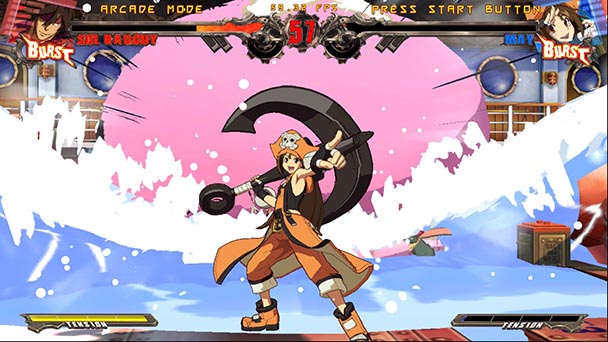 Beyond a gorgeous new visual aesthetic, Guilty Gear Xrd -Sign- is remarkably faithful to its predecessors. Switching to the Unreal Engine has allowed the fan-loved fighting franchise to bring its colorful cast of personalities to the forefront, with the series' intricate fighting mechanics receive slight augmentation. Given the game's eleven year hiatus (it's best to pretend Guilty Gear 2: Overture didn't happen), Arc System Works has done an astounding job with the revitalization. A recommended purchase on console, the PC version's bundling of DLC and practical price make it a frontrunner for players who own capable systems.
Guilty Gear Xrd -Sign- was played on the PC with review code provided by the publisher.
Guilty Gear Xrd -Sign-
Platform:
PC, Previously on PS4
Developer:
Arc System Works
Publisher:
 Arc System Works
Release date:
December 9th, 2015
Price:
$29.99 via
Steam
Review Overview
Summary : If Arc System Works can tweak the netcode, Guilty Gear Xrd -Sign- on the PC could easily be the definitive version. Even without mending, the masterful title might be a worthy pick-up for fighting game aficionados.