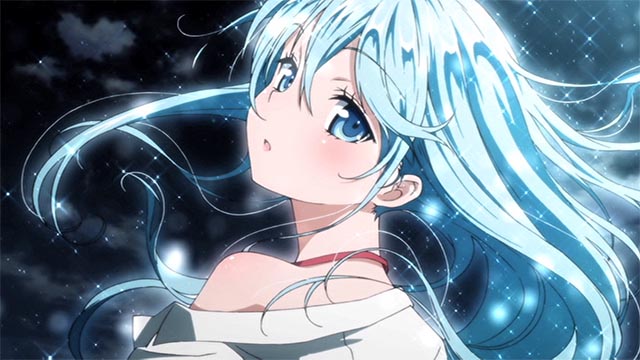 For decades, extraterrestrials have been used to invigorate the oft-mundane American sitcom. As a variation of the 'fish out of water' motif, series such as My Favorite Martian, Mork and Mindy, ALF, and 3rd Rock From the Sun have hewed humor from the muddled interactions between humans and amicable aliens. Yet revisiting any of these programs reminds viewers of a bygone context- an era when skepticism and suspicion subsisted at moderately minimal levels. As such, ABC's writers never plumbed the possibly of Mork being a delusional nutjob. After all, those end-of-episode debriefings with Orson could have easily been the ramblings of a schizophrenic.
The recent release of NIS America's Ground Control to Psychoelectric Girl (Denpa Onna to Seishun Otoko) explores this contemporary twist without sinking into sullying cynicism. Instead, the absorbing thirteen episode series balances its 'space visitor' hook with a heart-warming exploration of the uncertainly and elation of adolescence. A connotative translation of the Japanese term denpa refers to electric waves- the type of transmissions assumed to be emitted and received by people who act eccentrically. In that sense, lead character Makoto Niwa is our rational guide through an otherworldly landscape where serio-comical dysfunction saturates the spectrum.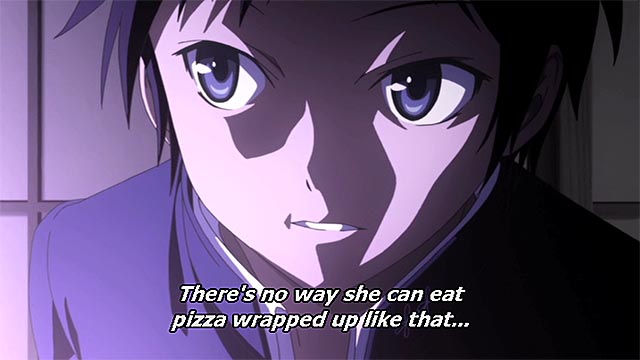 With his parents transferred overseas, Makoto's move to his aunt's metropolitan residence seems like an opportunity brimming with possibility. Occasionally, those prospects are realized, especially when Ground Control flirts with (but never succumbs to) harem fantasy- as several of the protagonist's quirky classmates vie for his attention. However, one consequence of the move that Makoto didn't foresee was the meeting of a cousin who claims to have been abducted by extraterrestrials. Cocooned in a futon, Erio Tōwa (E.T.) speaks in stilted phrases and seems to follow an alien agenda.
Across Ground Control's first three episodes, characters are decidedly defensive, carefully guarding their weaknesses and masking their faults with eccentricity. Take Makoto's aunt Meme, who shirks most inquiries about her daughter Erio, and initially appears like an appallingly incapable mother. Later episodes explore the misguided motivations of her character, revising the way viewers perceive Meme. Other protagonists reveal a similar sense of protracted disclosure, such as Makoto's classmate Maekawa, a reserved girl who initially comes across as idiosyncratic for her insistence for cosplaying. Regretfully, once characters start opening up, Group Control largely abandons its alien angle, which may leave some viewers disappointed.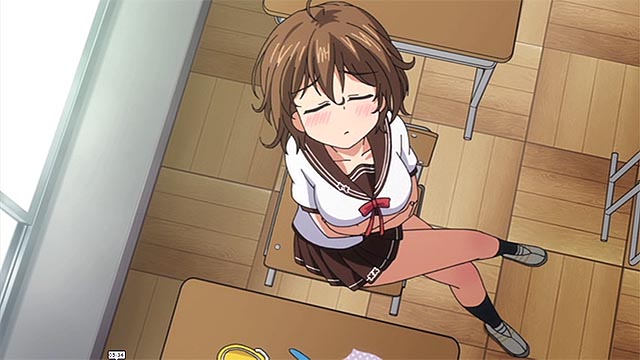 Despite the sudden shift to the 'slice of life' genre, the series core virtues remain in place. Dialog is exceptionally pleasing, consistently filled with sharp allusion. Shaft's (Arakawa Under the Bridge, Maria Holic, and ironically ALF Tales with MOOK DLE) animation is consistently masterful, with stunningly articulated locales and an exhibition of moe mastery. The series' signature aesthetic is camera shots from peculiar perspectives; a concession to fans means an ample supply of jiggle and panty shots as well. While the Ground Control's OP and ED express the eccentric tone of the series, the true highlight is Makoto final summary, which quantifies his experiences on a mathematic scale, ensuring each episode ends with a smile.
NIS America's archetypal attention has gone into the premium edition of Ground Control to Psychoelectric Girl, offering a tempting investment for fervent fans. Opening the sumptuously housed box set reveals two attractively packaged slim cases, which each hold Blu-ray and DVD iterations of the series. Across each medium, picture quality is immaculate, each version flaunting sharp edge quality and no perceptible artifacting. Naturally, the 1080p and LPCM 2.0 output of the Blu-ray discs, give the high definition delivery a slight edge. Rounding out the package is a thirty-six page art hardbound booklet which offers interviews with the cast, character design sketches, and plot synopsis.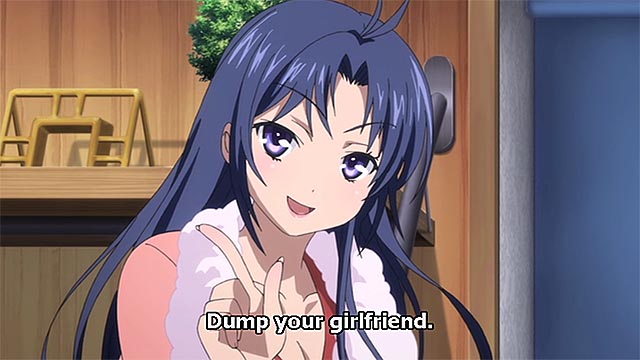 Save for a swing in tonality and a few flirtatious sequences which extend too long, there's much to like about Ground Control to Psychoelectric Girl. Blending comical eccentricity, first-rate dialog and impressive aesthetics, viewers can expect the series' oddball charms to gradually win them over. Although casual anime admirers are likely to form appreciation, fans of the 'slice of life genre' will be over the moon with Ground Control.