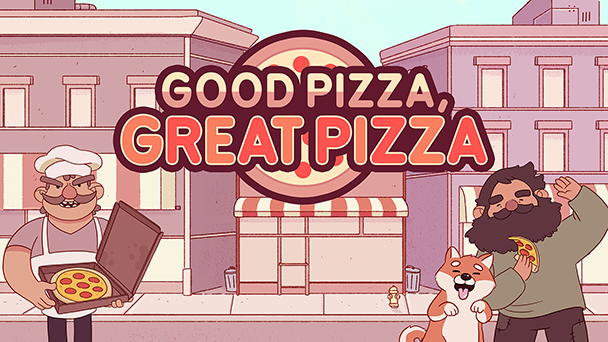 Light on challenge, but heavy on amusement, Good Pizza, Great Pizza has an endearing recipe that might not be to everyone's tastes. But for those seeking laid-back fun, it's worthy of consideration.
Good Pizza, Great Pizza
Platform:
Switch, also on PC, mobile
Developer:
TapBlaze
Publisher:
PM Studios
Release date:
September 3rd, 2020
Price:
$9.99 via digital download
Availability:
Nintendo eShop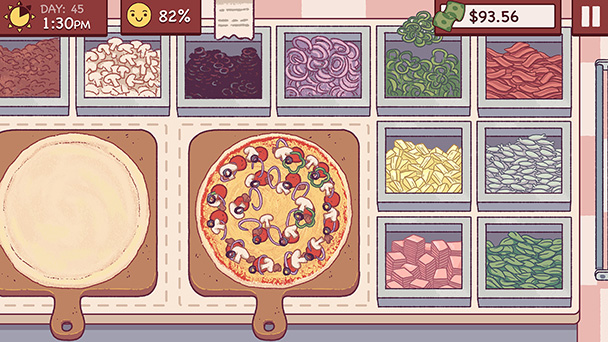 You might have played one of those restaurant simulations that emulate a busy atmosphere through manic multitasking. Often found on mobile platforms, each game tasks players with satisfying the hunger of an ever-increasing number of ravenous patrons. Customers have their own idiosyncratic requests, and meeting those, while balancing several simultaneous food preparatory duties gets quite hectic.
Even with a few co-op chefs striving to work in unison, games like Overcooked! (and its sequel) can leave me feeling mentally drained. They're undeniably enjoyable but following a busy workday with an hour working in a chaotic sim-kitchen isn't always the best way to wind down.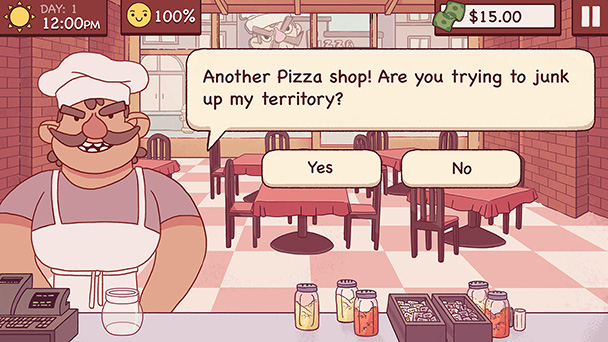 One or Two Pies at a Time
Although the release of Good Pizza, Great Pizza shares some similarities with these frantic food-prep games, it mercifully dispenses with the multitasking. While there's a time limit, with your restaurant open from noon until nine o' clock, much of the strenuous hustle has been eliminated, as your serve customers in a single-file cue.
Given this change, the emphasis isn't on producing an onslaught of shoddily assembled foods. Instead, you're able to put a bit of care into each pizza you create, making you feel less like an ungreased cog in a massive assembly line.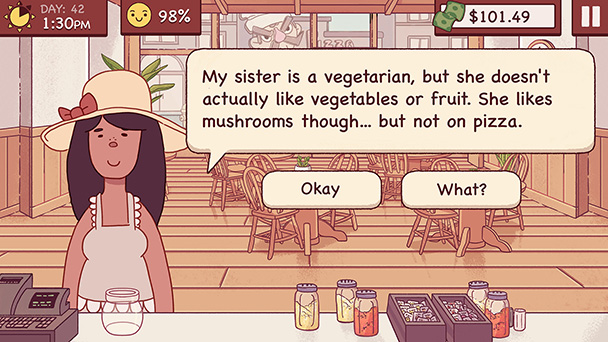 No Touch Support, But a Skilled Control Scheme
You'll play the part of an upstart pizzeria owner pitted against a rival that's been in town for years. Smartly, the game doesn't burden players will long sections of storytelling. At the start of each business day, you'll watch a short broadcast on the Pizza News Network that dishes details on Alicante, your competitors across the street.
The game's tutorials are quite succinct as well. You're receive the rudiments of pizza preparation from a prickly chef who dishes out instructions and criticisms in equal measure. Good Pizza, Great Pizza was originally a mobile title, and while it doesn't offer touch-screen support, the game's Cooking Mama-style actions are persistently responsive.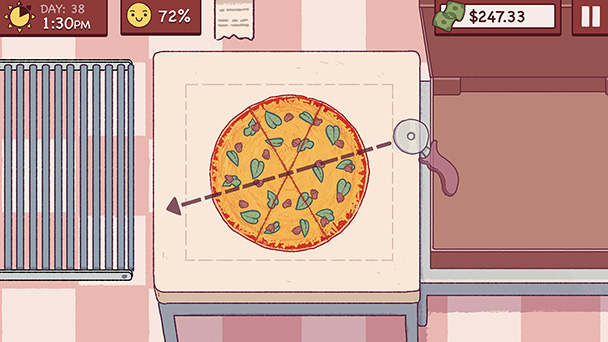 No Burnt Hands, No Cut Fingers
You start with a ball of dough that's automatically formed flatted for you. Typically, you'll add sauces and cheese by using the right analog stick to select the ingredient and painting the pizza with the left stick. You'll want to evenly coat the pie. Leaving gaps causes customer dissatisfaction (and lower tips), while sloppily using an excess amount of ingredients wastes money. And you can skimp on ingredients to save a bit of cash but expect patrons to notice your penny-pinching ways. Finally, pizzas are sliced with a roller, with an on-screen guide showing the path of your prospective cut.
Initially, you'll make cheese pizzas but as the profits trickle in, you'll purchase essentials like pepperoni, mushrooms, sausage, and onions. These must be manually placed, and if you don't spread ingredients out in an aesthetically pleasing manner, expect customers to express their displeasure. And yes, occasionally, they'll ask for a refund when you hand them a slipshod pie or take too long with preparation. Unfortunately, you don't get direct feedback from customers. As such, ingredient placement can be a bit of a puzzle. Likely, developer TapBlaze didn't want players figuring out the formula for success too quickly.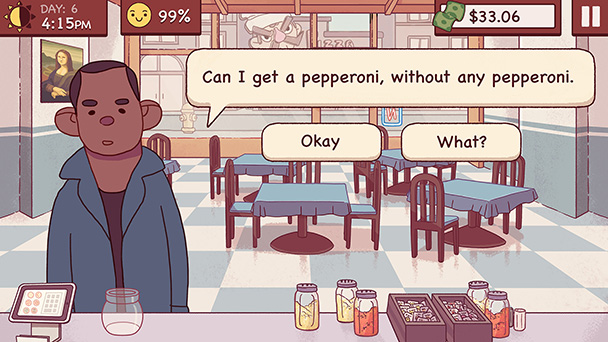 The Customer is Always Right, But Not Always Clear
Unlike most restaurant sims where customers are clear about their desires, Good Pizza, Great Pizza captures the imprecision of communication. Some customers orders can be cryptic, while others are exceedingly explicit about their wishes. You have the option to ask them to elaborate but expect the explanation to cut into your tip.
Another realistic quirk is found in the variety of requests made by customers. Some want a pizza without sauce, while others demand their pie cut into a specific number of slices (or occasionally, not cut at all). Like in real life, there are also patrons who want different ingredients on each half. Good Pizza, Great Pizza also demonstrations variety in the number of different character portraits. The game's deliberately derpy art-style offers everything from hipsters to tourists. Light customization is rooted in the ability to dedicate your restaurant with cosmetic decorations.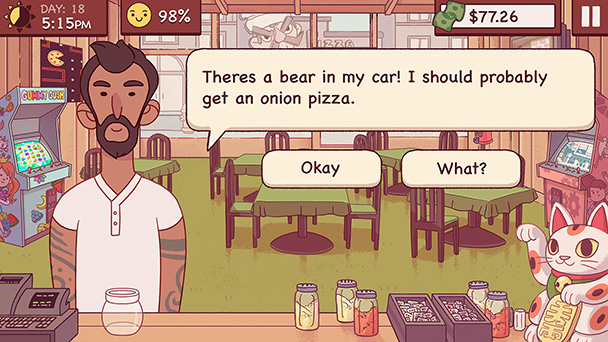 Running a real Restaurant Should Be This Relaxed
Unlike most restaurant sims, your pizzeria is a strictly one-person operation. You won't be hiring staff to prep ingredients, clean, or assist in any way. While purchasing different ingredients boosts revenue, don't expect to make decisions about advertising or franchising. As such, Good Pizza, Great Pizza can feel more charming than challenging, with success all but guaranteed if you invest enough time.
For some accustomed to persistent adversity, Good Pizza, Great Pizza might be a little too laid back. But I suspect others who looking for a feel-good game they can relax with, will find that running their quaint pizzeria to be pleasing. Once you discover the differences between good pizza and great pizza, the title might become repetitive. But until then, the game feels like the interactive equivalent of comfort food.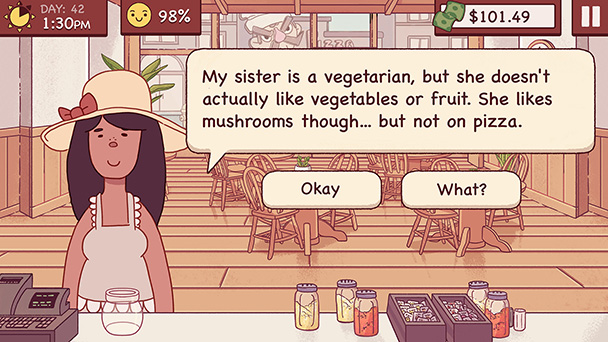 Good Pizza, Great Pizza was played on Switch with review code provided by the publisher. 
Review Overview
Summary : Smartly, Good Pizza, Great Pizza isn't just another frantic test of culinary multitasking. Delight is rooted in the attention of a single meal rather than being part of some fast food assembly line.