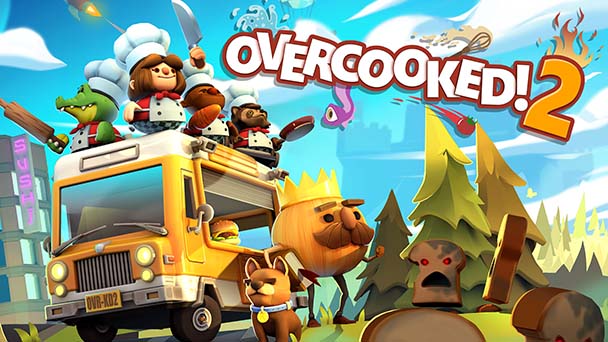 "Kitchens are hard environments and they form incredibly strong characters."
– Gordon Ramsay
2016's Overcooked! was pure indie ingenuity, placing players inside cartoonish kitchens as they went through streamlined steps of food preparation. It hung on the premise on cascading failure- simple oversights would trigger a sequence of additional problems. If you weren't methodical, a simple unheeded pot would boil over, igniting a blaze that could quickly spread across the entire kitchen.
But in order to truly appreciate Overcooked!'s comical chaos, you needed some local partners. Yes, you could play solo, but the gratification of working in harmony was lost as you toggled between characters. Also, self-blaming isn't nearly as enjoyable as pointing the finger at a friend.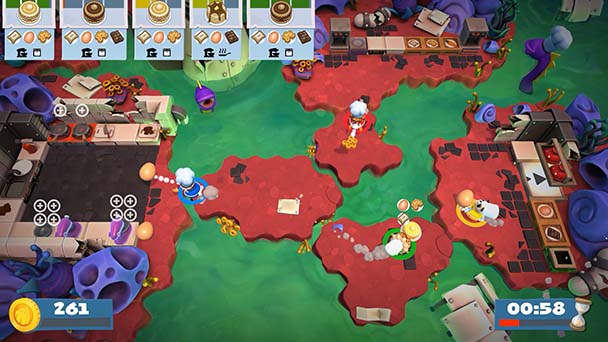 With the release of Overcooked! 2 for PlayStation 4, Xbox One, Switch, and PC, developer Ghost Town Games remedied the requirement for having your fellow chefs share adjacent physical space. Now, up to four chefs can try to work in the game's madcap workspaces, united by an internet connection, allowing individuals to relish the pandemonium of a kitchen staffed to capacity.
Like the original Overcooked!, the sequel splits the culinary arts into simple steps. When making sushi rolls, one of the new recipes, you'll need to combine a sheet of nori, steamed rice, and chopped shrimp. The latter two tasks require you to put rice in a pot and let it boil for a few seconds, while ebi slicing entails putting the crustacean on a cutting board. Then, a single button press automatically orders your chef to sliver the shrimp. Unlike say, the Cooking Mama games, Overcooked! doesn't make you do the menial tasks. Instead, it's array of dishes are deceptively easy to make.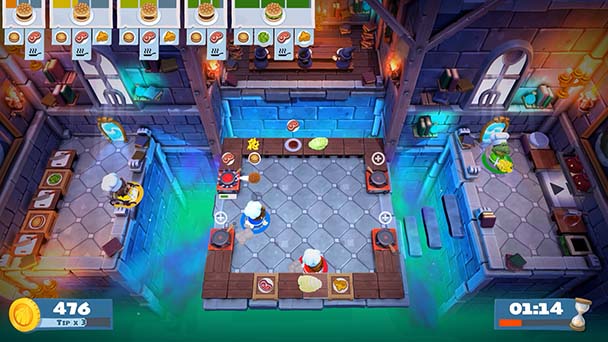 For the sequel, the frantic fun arrives more quickly, with Overcooked! 2 throwing its difficultly increasing variations at you earlier. Soon, you'll be tasked with washing dirty dishes, when the plate dispensaries run out of stock midway through the rapid-fire cooking sessions. Then, you'll encounter the changing nature of kitchens, where conveyer belts might slow movement, rafts rock stoves back and forth, and in one instance you air-balloon galley crashes into a sushi restaurant.
Compared with the original game, Overcooked! 2's kitchens contain many more novelties, ratcheting up the tension as you strive for a three-star rating across each stage. Individual play remains serviceable but isn't the best way to enjoy the title. To truly see Overcooked! 2 shine, you'll want at least one other partner. At the time of writing, online play with the Steam version didn't have many collaborative chefs looking in the matchmaking system, but once a participant was found, performance proved to be lag-free. The only caveat is that chat isn't baked into the game, since the emote system only offers broad expressions rather than specific directives. Local sessions are still the ideal way to enjoy Overcooked!, with two to four acquittances agitatedly yelling as the timer inches toward expiration.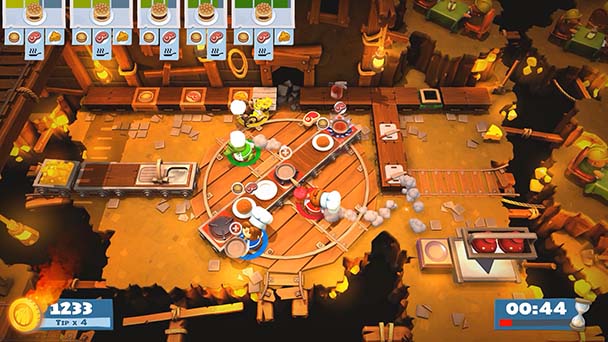 To counterbalance the outlandish new kitchen layouts, Overcooked! 2 permits players to toss raw food about. Now a button press can send ingredients flying across a stage, which is convenient when obstacles slow your navigation. And with a bit of practice, you can hurl items right into pots and pans, which feels almost as satisfying as nailing a three-pointer before the end-of-game buzzer. Control-wise, Ghost Town Games opts for a two-button input system, hoping that you'll momentarily issue the wrong command, kicking off a chain of events that manages to end in catastrophe. Like the first game, these become some of the most memorable games, spurring spirited disagreements over culpability.
Despite Overcooked! 2's ability to create friendly arguments, a few problems might produce unintended frustration. Progress through the game unlocks new levels and rewards with player skins. But if you're playing with an online group, only the host gets the dividends. Others might be bothered by the game's tuning, which permits single players to three-star stages without too much trouble. Unfortunately, this means undermines the incentive toward mastery, since you'll rarely have to retry levels. Although the game begins for play with a controller, those opting to use the keyboard should be able to remap commands.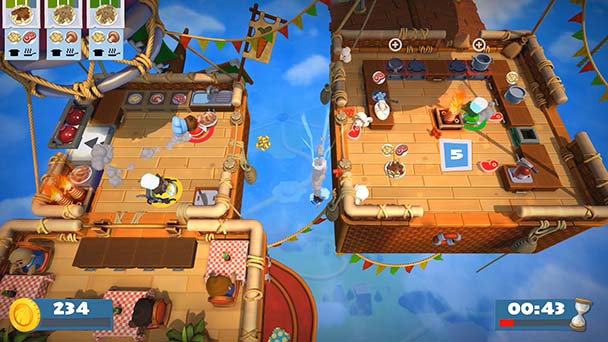 Like its predecessor, Overcooked! 2 works by recreating the frenzied agitation of kitchens. When you're working in perfect unison with a team, it's about as gratifying as cooperative experience gets. But of course, harmony is hard found, thanks to the developer's succession of new obstacles. If you have a group of like-minded local players, the game comes recommended. But solitary gamers unamused by communal bumbling will want to seek employment at another venue.
Overcooked! 2 was played on PC with review code provided by the publisher. 
Review Overview
Summary : Overcooked! 2 builds on the first game with creative new hurdles, the ability to toss raw food around, and the ability to play online. Largely, that's a recipe for success.