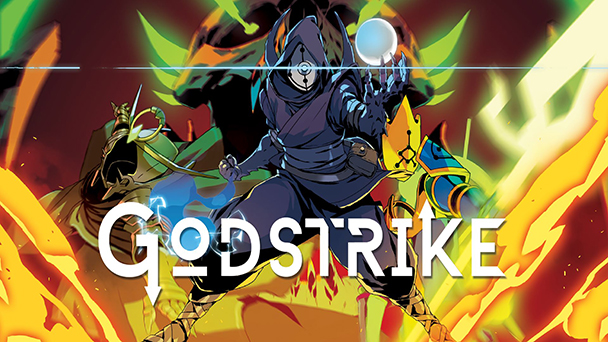 Godstrike's merger of twin-stick shooting, bullet-hell evasion, and a boss rush format seems enticing in theory. But in execution, the title isn't quite as innovative or as fun as you might expect.
Godstrike
Platform:
PC, also on Switch
Developer:
OverPowered Team
Publisher:
Freedom Games
Release date:
April 15th, 2021
Price:
$14.99 via digital download, $11.99 launch discount price
Availability:
Steam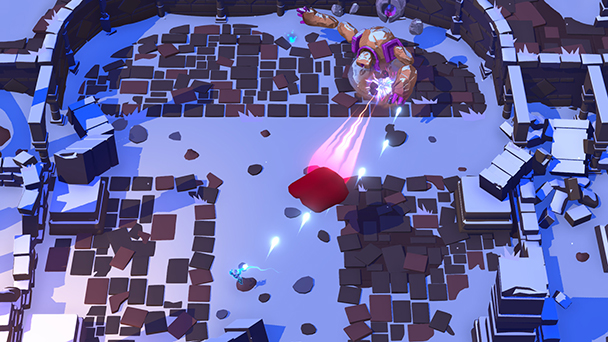 Godstrike follows the industry trend of delivering an unflinching level of challenge. Unless you're a shoot 'em up prodigy, you'll probably parish several times before defeating the game's first adversary. But that's not a criticism, there's a multitude of celebrated titles that inspire players to improve their performance. But whereas many strenuous games offer motivations as encouragement, Godstrike too often feels punitive.
Instead of a standard health bar, play revolves around a time-based system. At the beginning of each stage, you're given about five minutes to beat the boss. Once the timer expires, you are completely prone and a single hit leads to your demise. Every hit subtracts between ten and thirty seconds from the timer and many of your equippable skills cost time to use.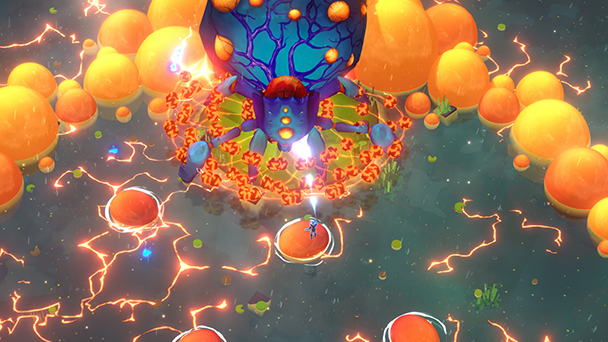 Time Isn't on Your Side
Functionally, the system isn't far removed from a traditional health meter, but one where a character is poisoned and steadily losing life. Tragically, there are no opportunities to regain health or even pause the countdown. Ideally, there would be a way to earn extra time, perhaps by bullet grazing. But with no upsides, there's little since of reward.
At the end of each level, you'll earn new perks. The passive upgrades are undoubtedly beneficial, with elements like shielding that can counter a few hits, faster movement, reflective shots, and decreased time deductions. Eventually, you'll earn a multitude of ways to tweak your loadout, providing a semblance of autonomy as you assign these freely to shoulder buttons and triggers.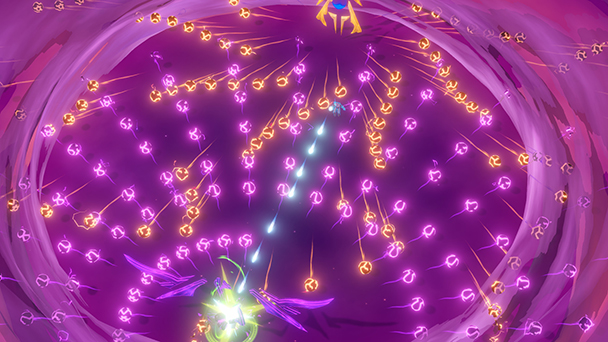 Weaponry That Feels Underpowered
But mostly, a sense of freedom is undone by the ineptitude of your main weapon. Without the balance of fighting subordinate foes who can be killed in a single shot, Godstrike's boss battles feel like wars of attribution, as you pump hundreds of rounds into the elevated enemies. Worse, active abilities eat away time with use. So, while projectile-evading dashes might be useful, they're not worth a full fifteen seconds of clock time. For many active skills, the risk/reward equilibrium is too off balance to be useful.
Yet another issue is found in the game's ten bosses themselves. Many lack personality, such as the first opponent who throws more temper tantrums than a cranky Kylo Ren. Sure, their attack patterns change every time you whittle down their health bar, but otherwise the bosses lack distinction. From giant skulls to centipede-like creature you've found all these adversaries before, and probably it games where they have backstory.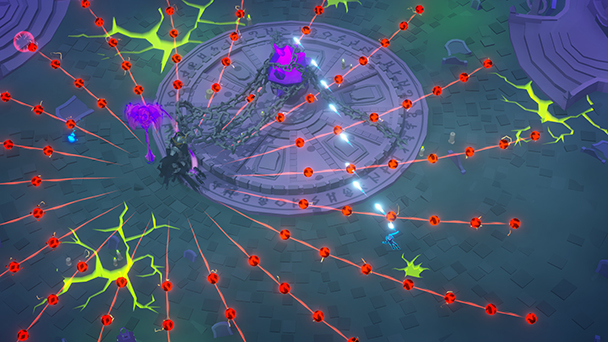 One Mask to Rule Them All
Sure, Godstrike has a bit of storyline that attempts to wrap the action in narrative. Lead character Yissia dons a magical mask in an effort to confront god-like opponents known as Heralds, who are corrupted by their own mask-power. An opening cinematic and a bit of pre-showdown exposition detail internal conflict between the Heralds, which threatens the world of Eonora. But the dialog isn't all that interesting, and it's often not quite clear whose point-of-view is represented.
The game's one upside is difficulty that subverts tradition. Early battles are tough in Godstrike, given the lack of any passive abilities in your loadout. But gradually, you earn more, making subsequent fights easier. It's also feeds into the game's Arena Mode, where you confront any single boss with an arsenal of your choosing. Likewise, there's a Challenge Mode that offers a shorter run as well as Daily Challenge, that attempt to add a bit of longevity. But back top the Story Mode, expect frustration to surface again as you face off against near-impossible odds before completing the campaign.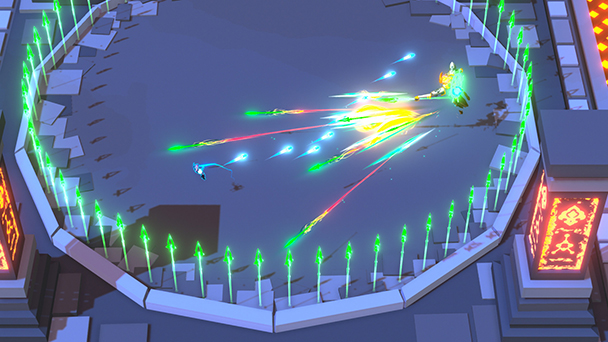 Conclusion  
Godstrike demonstrates the importance of enemy fodder between boss battles. Without subordinate foes to pick off, weaponry can feel inept as hundreds of well-placed shots leisurely wear down your adversary's health. As such, the game can often feel like a slog, especially when everything from time to active power-up are working against you. While the essentials of an engaging shooter are here, a lack of balance and a shortage of personality consistently work against the title.
Godstrike was played on PC with review code provided by the publisher
Review Overview
Summary : Don't squander your time with Godstrike, there are far better twin-stick shooters and bullet-hell experiences out there.