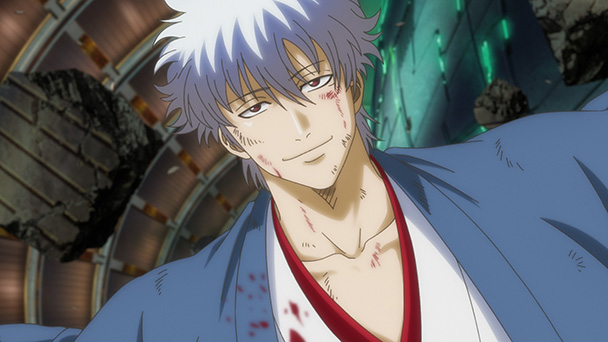 Too often, media like manga, television, and film aren't on a predetermined trajectory. Instead, storylines are drawn out as long as there's money to made, with writers striving to offset the inevitability of stagnation. Anyone who has endured a succession of formulaic sequels, filler episodes, or lackluster story arcs knows that being strung along isn't always satisfying.
With a body of work spread out across 367 episodes, several OVAs and Jump Festa specials, and as well as feature-length films, Gintama is one of those perpetually sprawling properties. Undoubtedly, creator's Hideaki Sorachi work has occasionally flirted with becoming overbloated. Since its 2003 debut, the manga and animated adaptation has expanded its bulky roster of characters, factions, and Amanto races. It's also faked its own ending no less than four times, with 2013's Gintama: The Movie: The Final Chapter: Be Forever Yorozuya purportedly wrapping up the exploits of our beloved heroes, the Odd Jobs.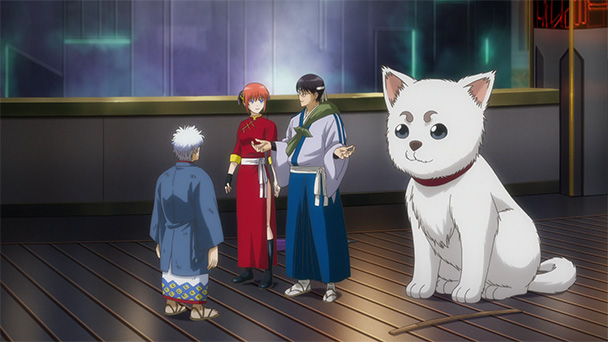 For your average shōnen, attention would have likely lapsed a few seasons ago. But Gintama is hardly a conventional work. The series' context, which imagines nineteenth-century Edo struggling with the mass migration of space aliens, offers a stimulating premise. Repeatedly, Gintama takes advantage of this setup, envisioning a closed off society confronting a forced opening, mirroring the real-life changes brough on by the Treaty of Kanagawa.
The main cast of lazy master swordsman Gintoki Sakata, his apprentice Shinpachi Shimura, and perpetually hungry and charmingly naïve, Kagura, offer plenty of engaging character interaction, as they struggle to make a living by taking on any assignment that's offered to them. And given studio Sunrise's seemingly modest animation budget, there were a plethora of intense action scenes that catapulted the series onto top-ten lists.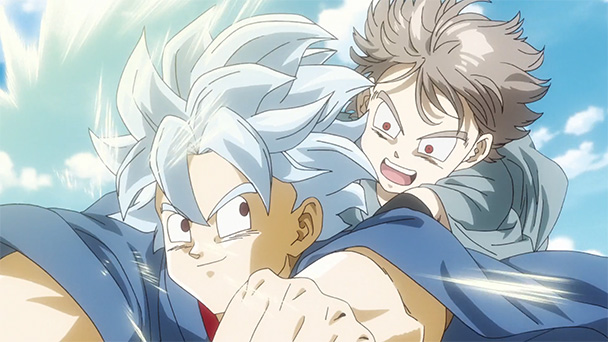 But a significant portion of Gintama's success rests on its tendency for spirited irreverence. While self-referential media has grown increasingly common, Gintama's comical, often forth-wall destroying humor remains peerless. This is a property that's unafraid to poke fun of itself, as well as the conventionality of manga and animation. From episodes where characters in bathroom stalls attempting to find a substitute for toilet paper, panty thievery, to a myriad of pop culture references (be sure not to miss episodes 98-99, where the Bentendo Owee arrives, delivering a succession of game-related silliness), Gintama is habitually hilarious.  Occasionally, the humor is remarkably poignant, with one episode dedicated to the realization that one day Gintama will eventually end.
With Gintama The Very Final, that perception becomes a reality, offering a suitable, 104-minute send off for the Odd Jobs. And given the film's closing moments, this really seems like a decisive curtain call for Gintoki, Shinpachi, Kagura, and Sadaharu. Expectedly, wishing the team one last farewell feels a bit melancholic. Even if you haven't watched every episode, the film will probably evoke memories of reuniting with childhood friends and cultivating those salient life-bonds.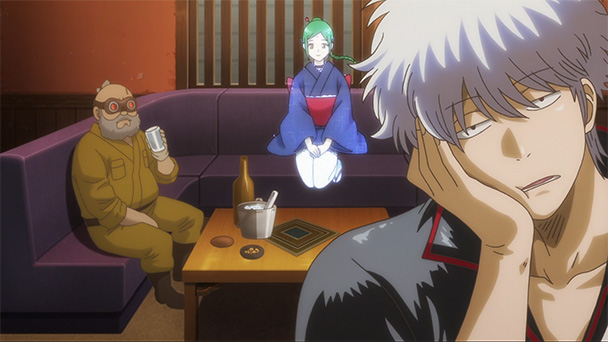 Palpably, The Very Final captures the inelegance of an earnest goodbye with those you're spent years with, occasionally channeling the forced sanguine tenor of a retirement party. But Sorachi, as well as director Chizuru Miyawaki don't risk breaking Gintama's tumultuous spirit. Preceding the anticipated showdown with the reprehensible Utsuro, there are plenty of action scenes intercut with dialog intended for reminiscence. If you're coming to The Very Final for finality, know that the film largely succeeds in providing a sense of closure.
The film opens with a rapid-fire synopsis of the Silver Soul arc, conveyed with manga-style borders and page turn transitions as well as art styles that parodies the two biggest animation properties. While regular Gintama fans will probably appreciate the ten-minute opener, the sequence is less successful as a synopsis for curious newcomers. As such, it's recommended to start from the beginning, instead of coming right into The Very Final fresh.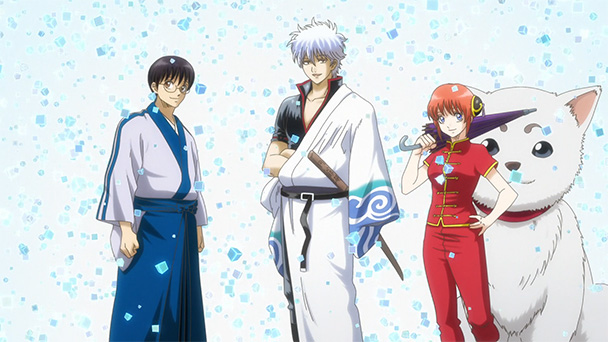 But for diehards, Gintama's trademark meta humor will be a delight, with jokes about everything from the effectiveness of the exposition to the industrious work of the film's own animators. There's a lot of truth in the latter gag, with The Very Final showing a bit more quality when it comes to animation. Sure, there's the occasional substandard animation loop, but that might be just another crack in a property that enjoyed skewering the shōnen genre. Any film with a post-credit cameo of its creator responding to fan conspiracies
If you own for the Blu-ray/DVD version, Shout Factory's physical media offers 1080p widescreen, anamorphic encoding that no visible flaws as well as DTS-HD 5.1 audio. Alongside the two disks, you'll find a 16-page color booklet filled with character art and storyboards. Although no other commemorative material is offered, The Very Final is a celebratory send-off.